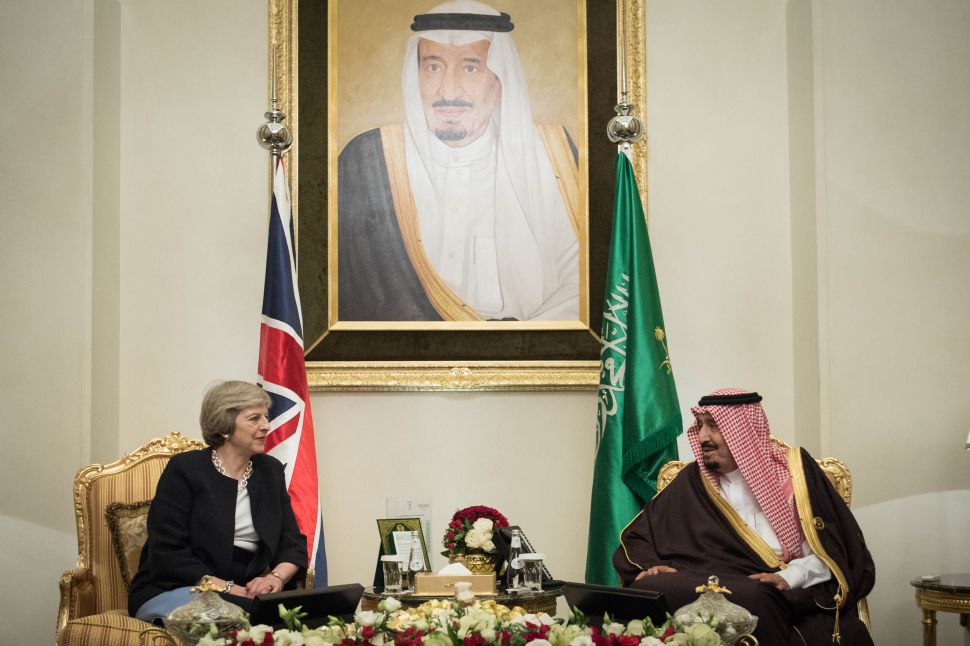 While just three months ago Saudi Arabia was losing allies rapidly, as I demonstrated in the Observer, now the momentum has clearly shifted. This sea of change proves how geopolitical fortune can turn around quickly. The catalyst was the election of Donald Trump as President of the United States. The likely shift back towards America's usual allies in the Middle East including Saudi Arabia, Israel, and Egypt is going to un-do Obama's flawed strategy in the region.
It seems that the West has realized that Saudi Arabia remains a potentially vital ally and a substantial market. The liberal Canadian Trudeau government has defended a $15-billion arms deal with Saudi Arabia tooth and nail in front of a federal court judge in Montreal. Germany's Defense Minister recently visited the kingdom to conclude a training deal for Saudi military officers. The United States is helping Saudi Arabia enhance its border security and training the Saudi Air Force on targeting issues. The UK has been adamant in continuing to sell weapons to Saudi Arabia. British Foreign Secretary Boris Johnson has said a threshold has not been crossed in Yemen yet that would preclude the sale of arms. He added in his very blunt style that "if we don't sell arms to Saudi Arabia, someone else will." Even UK Prime Minister Theresa May, repeating her predecessor David Cameron, said that intel from Saudi Arabia has saved Britain from large scale terrorist attacks.
Saudi Arabia's relations with other nations in the Muslim world seem to have improved as well. First, Chechen strongman Ramzan Kadyrov didn't hold any grudge against the kingdom when he visited the country and was warmly received by the Deputy Crown Prince, Mohamed bin Salman. This is after hosting a worldwide conference of Sunni religious figures that criticized Wahhabism in August.
Tunisia didn't want to rock the boat with the kingdom and therefore sacked its Religious Affairs Minister for "attacking the foundations of diplomacy" after his very critical remarks on Saudi Arabia's Wahhabism.
Lebanon's new Hezbollah-supported president Michael Aoun is courting Saudi Arabia in an effort to restore billions of dollars of military aid after the relations between the countries almost came to a halt because of Iran's increasing control over it. During talks with President Aoun, Saudi King Salman stressed that strengthening ties would ensure stability. Then, Egypt, which has been both hot and cold, has made efforts to de-escalate tensions with the kingdom. For Proof, Egypt's leader al-Sisi got the nod from an appeals court to give control of two islands in the Red Sea to Saudi Arabia.
Lastly, Oman, which brokered the Iran nuclear deal and had excellent relations with the Islamic republic, recently joined the Saudi-led coalition against terrorism in a clear sign of warming relations with Riyadh. Coincidentally, Oman is going to receive billions of dollars of cash deposits from the GCC.
While Iran was on top of the world just a few months ago after winning a PR war over Saudi Arabia, Tehran and the international community have realized that the new White House is not going to be the ally they had in the Obama administration. Both the public statements and the appointments of President-elect Trump are pointing to a massive foreign policy reversal towards Iran. Both corporations and nations have taken note of this. Indeed, BP has opted out of the first wave of agreements for developing oil and gas reserves in Iran after the lifting of international sanctions. Interestingly, two countries that have been long-time allies of Iran have very recently operated a charm towards Saudi Arabia that is offensive to Iran. First, Italy—a close historical partner of Iran—has decided to resuscitate a 2007 dormant security pact with the kingdom. The second country is even more surprising: Algeria. The warming of relations began with Crown Prince Nayef spending a very long "holiday" in Algeria. Usually, Saudi royals spent most of their free time in Morocco; it is therefore quite telling that Nayef spent all this time next door in Algeria. Historically, Algeria has been one of the only Sunni countries that has sided with Iran, but now it seems ready to engage with Saudi Arabia. The Algerian economy, which relies almost exclusively on energy, has been in dire condition and seems to have turned to the kingdom for urgent financial help.
Saudi Arabia considered Obama as the worst U.S. president and could not wait for him to leave the White House. While it remains to be seen what the new Trump administration's policy vis-à-vis Saudi Arabia will be, its anti-Iran stance is already reaping sizable benefits for the kingdom. Although Syria and Yemen remain thorns in the side of Riyadh, the diplomatic position of the kingdom has improved dramatically in a three month span.
Olivier Guitta is the Managing Director of GlobalStrat, a security and geopolitical risk consultancy firm. His clients include governments in Europe, Africa and the Middle East along large multinationals, Sovereign Wealth Funds, asset managers and large law firms. Olivier appears very often on numerous outlets including the BBC, CNN, Sky News, NBC, CNBC, The Times, Le Monde, Forbes. Follow him on Twitter @olivierguitta