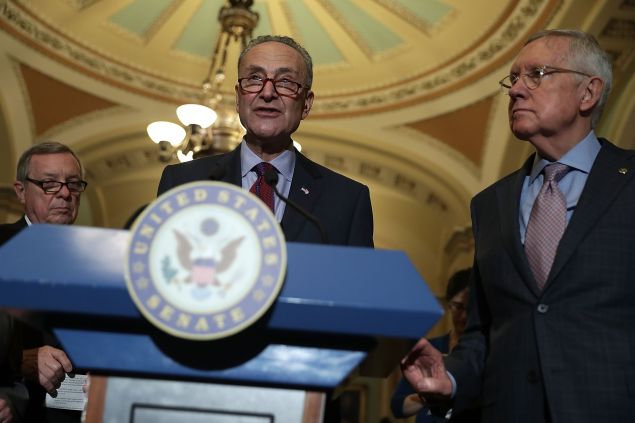 Senate Minority Leader Charles Schumer said last night that the Republican effort to repeal the Affordable Care Act has hit a dead end, in part because the GOP has no plan to replace it, because Democrats are "totally united" against it—and that his 48-member conference "ain't resting" until the obstruction effort "has a dagger through its heart."
Speaking on a conference call organized by MoveOn.org and the Progressive Change Campaign Committee, Schumer said that the Republicans are going to hit a roadblock when people realize the benefits of ACA, including coverage for 20 million people, protections for people with preexisting conditions, anti-discrimination provisions for women,  and allowances for youth under the age 26 to stay on their parents' healthcare plans. The call came in advance of the Democrats' planned "National Day of Action " against Republican repeal efforts on January 15.
"This is our first big fight against the Republican majority and the Trump majority and so far we're only into our second week but we're having big success," Schumer said.
Most important, the Democratic leader said, was that his caucus is unified—a stark contrast with the GOP caucus, which has seen at least four senators "peeling off" the push to rescind the healthcare law without a replacement program ready.
"The second bit of good news is Democrats are totally united on this issue," Schumer continued. "Every one of our Democrats voted against the move to go forward and debate the Republican repeal bill, and that ran from [West Virginia Sen.] Joe Manchin to [Vermont Sen.] Bernie Sanders—the whole length of our caucus."
Indeed, he said that people were losing hope in the aftermath of President-elect Donald Trump's defeat of Clinton in the presidential election but that they have become aroused by the possibility of actually defeating the Republicans, which seemed remote even two weeks ago but is now "very, very real." While Senate Republicans are hoping to abrogate the Obamacare law in budget reconciliation negotiations, where Democrats can't deploy the filibuster, they cannot succeed if three or more members of their 52-strong conference vote against it.
That also goes for Republican hopes of slashing funding for family planning programs, Schumer said.
"If they try to knock out funding for Planned Parenthood, which the House wants to do, there are some Republican senators—particularly [Alaska Sen.] Lisa Murkowski and [Maine Sen.[ Susan Collins—who could vote no," Schumer said. "We have today [Sen.] Bob Corker from Tennessee putting legislation saying they better delay repeal until they can put something in place."
He said the party is kicking off a national movement to protect ACA and that he's been on many calls with different groups—and that the Democrats will continue fighting until the GOP effort to obstruct ACA ends.
"We ain't resting until the move to remove ACA is dead, has a dagger through its heart and will never be revitalized," he said.
Massachusetts Sen. Elizabeth Warren said that Americans should phone their senators and representatives, as well as the office of Senate Majority Leader Mitch McConnell. They should also use social media and other platforms to get the word out, the progressive icon said.
"We have to make it clear: every senator and every representative who votes to destroy healthcare in America will be responsible for the disastrous consequences that come next," Warren said during the conference call. "The way I see this is we have been able to count on MoveOn and PCCC in this big fight, and I can't think of a bigger fight than this one right now."
In a CNN town hall last night, Vermont Sen. Bernie Sanders, who has emerged as one of the country's most prominent progressives in the past year, said that ACA may not be perfect, but that scrapping it isn't the solution.
"I'm going to do everything that I can, I believe I speak for virtually every member of the Democratic caucus, we'll do everything that we can to improve the Affordable Care Act…but we damn well are not going to see it repealed and have no replacement there at all," Sanders said.
Ben Wikler, the Washington director of MoveOn.org, said the organization's members and allies organized 82 demonstrations outside of Republican Senate offices and that 15,000 members called their senators last week. And this Sunday, MoveOn.org will go to nearly 500 Resist Trump meetings nationwide and rallies organized by Democratic senators and members of Congress in a wave of actions under the banner, "Our First Stand."
He said it's unusual for congressional offices to organize days of action across the country and in a space of a couple weeks—the first wave of "coordinated inside, outside grassroots-connected" leader-led action by the new Senate leadership team.
"This is the first big public wave of actions that will happen under the auspices of Senator Chuck Schumer, the newly sworn in Democratic leader," Wikler said. "And this is the kind of fight back against this Republican extremism and overreach and betrayal of the public. That's exactly the kind of fight back that we need."
Over the weekend, four Democratic Congress members representing parts of Brooklyn rallied with unions and Mayor Bill de Blasio's head of the municipal hospital system to protect ACA. The mayor recently launched his #GetCoveredNYC initiative, which deploys $8 million in city resources to enroll tens of thousands of New Yorkers through the program by the end of this month.