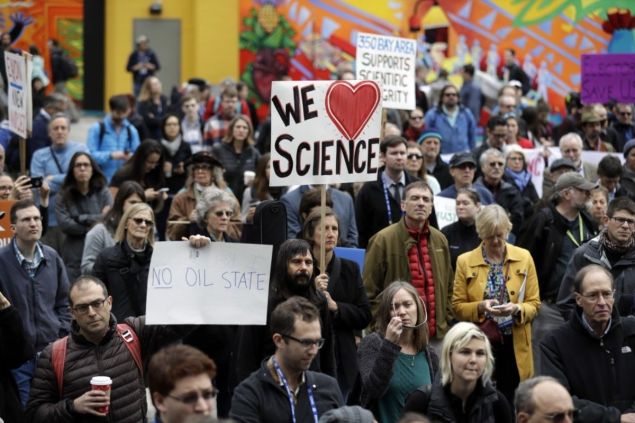 Yesterday the Trump administration instituted a media blackout at the Environmental Protection Agency and barred staff from awarding any new contracts or grants. In response, several national parks began tweeting out climate change facts, and once those were deleted a group of national park staffers started an "alternative" account.
Now the science community is taking a page from last weekend's Women's March on Washington (and the People's Climate March) by planning a demonstration of its own.
The idea for the Scientists' March on Washington (which some have shortened to the Science March) was hatched over the weekend on the r/politics subreddit and quickly gained steam. A Facebook group connected to the protest already has over 92,000 members, and 31,000 people follow the Twitter account for #ScienceMarch.
The demonstration is set for April 22, and the website states that "anyone who believes in empirical science" can participate. The group behind the march has created a Google form where interested parties can volunteer to help, including by organizing satellite marches around the country (over 4,500 people have responded so far). It is also working on a legal framework for donations.
According to the website, the march will heavily focus on diversity because "science is done by POC, women, immigrants, LGBTQ, indigenous people, people of all beliefs and non-belief."
The march will be nonpartisan, but organizers hope it has an impact on policy.
"Politicians who devalue expertise risk making decisions that do not reflect reality and must be held accountable," the site reads. "An American government that ignores science to pursue ideological agendas endangers the world."
SEE ALSO: 35 Images Just Released by NASA That Prove Climate Change Is Real
While the website speaks in general terms, Caroline Weinberg, a science writer and researcher who is one of the organizers of the march, told the Observer that its message was aimed squarely at President Trump.
"Scientists worldwide have been alarmed by the clear anti-science actions taken by the Trump administration," Weinberg said in an email. "It has been less than a week and there have already been funding freezes and efforts to restrict scientists from communicating their findings. People from all parts of the political spectrum should be alarmed by these efforts to deny scientific progress.  Scientific research moves us forward and we should not allow asinine policies to thwart it."
Weinberg said that organizers will be meeting on Saturday to iron out more details about the march and its mission.
Some protesters are getting ahead of the game—this morning Greenpeace protesters unfurled a banner reading "Resist" on a 270-foot crane at a construction site visible from the White House.