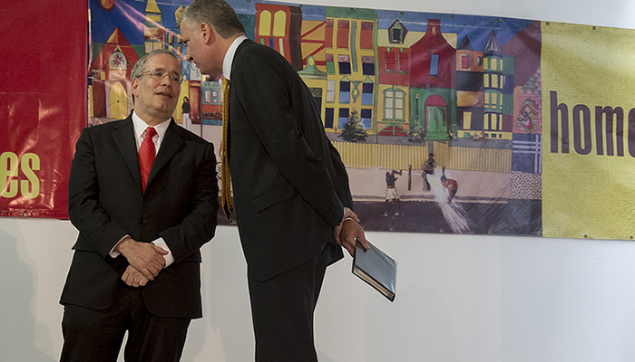 City Comptroller Scott Stringer took the stage at Rev. Al Sharpton's Dr. Martin Luther King Jr. Day rally in Harlem to present what he said was a program for thwarting President-elect Donald Trump—but instead was a litany of his critiques of Mayor Bill de Blasio's administration.
Speaking just moments after the embattled de Blasio at Sharpton's National Action Network headquarters on 125th Street, Stringer asserted that the way to stop the incoming GOP commander-in-chief would be to fix the deficiencies of the current liberal Democratic administration—particularly as regards the record-obliterating homelessness crisis, the affordable housing and contracting with minority- and women-owned business enterprises. The comptroller has been the mayor's most outspoken critic in city government, stoking speculation that he might challenge de Blasio in this fall's Democratic primary.
"We have got to make sure in New York City that we now lead by example," said Stringer, reiterating past attacks on de Blasio that his affordable housing plan does not reach deep enough into the lowest brackets of the poor, and that his administration has failed to properly utilize city-owned lots for housing. "The way to beat Trump is to solve the homelessness crisis in New York City. The way to beat Trump is to give 1,150 vacant properties in this town back to the people, not the developers. In this city, if you take the thirty percent of the people who are homeless and working and give them a real affordable housing unit, I mean a real, low-income affordable housing unit, that's how you reduce the homeless in this city."
The comptroller also reprised his critiques of the current mayor's record of contracting with businesses belonging to females and nonwhites. Last fall, Stringer released a withering analysis that determined the de Blasio administration only allotted around five percent of city monies to MWBEs, prompting him to give the city a "D+" grade for its efforts.
These findings prompted de Blasio to launch a new plan to increase the percentage of contracting dollars going to women- and minority-owned firms to 30 percent, and to place Deputy Mayor for Strategic Initiatives Richard Buery in charge of it.
"We have got to have an honest conversation about economic opportunity," Stringer said today. "The next battle is that we've got to up the spending in this city with women and minority-owned businesses. Listen to this $15 billion is spent on procurement—that's hiring law firms, accounting firms, buying paperclips and pencils. It's called procurement. Of that, 4.8 percent go to women- and minority-owned businesses."
This culminated in Stringer leading the audience in a surreal standing chant of "no procurement, no peace"—a variation on the famous civil rights cry of "no justice, no peace."
The comptroller then returned to the homelessness issue, hitting the mayor's administration for lodging homeless families in motels, which have had recurring safety problems and often lack necessary facilities. It has also led to bitter clashes between the administration and residents of the communities surrounding the inns.
"The third thing that I just want to show Trump in Washington is we are judged in this city by how we treat our children. Plain and simple," he said. "I have to tell you: it's not right, it's not acceptable for our babies, your babies, the babies that we never meet. As long as there's a child in a commercial hotel with no services, with no daycare, we cannot credibly go to Washington and say, 'look at us.'"
Stringer's conclusion may excite a surge of hope in Bradley Tusk, the former aide to ex-Mayor Michael Bloomberg who founded the group NYC Deserves Better to try and dislodge de Blasio. Tusk has commissioned ads, petitions and polls targeting the mayor, and most observers believe his goal is to draft Stringer to take de Blasio out.
"So what we have to do is fight Trump by lifting up every person in New York City in a real way. Let's do that together. Let's take some chances. Let's start thinking out of the box. Let's become an example for every big city in America," Stringer said at the rally in Harlem. "I have the numbers as comptroller, and the numbers say that we are not doing nearly enough for the people who struggle in our homeless shelters, in our public housing, and I'm telling you we can do better."
The mayor's office sneered at Stringer in response
"The Mayor spent his day talking about Dr. King, not taking political potshots from the cheap seats," said spokesman Eric Phillips.
So far, de Blasio's only Democratic challengers are Queens State Senator Tony Avella and former Brooklyn Councilman Sal Albanese—both longshots who have failed to gain traction in past mayoral primary contests.
Updated to include comment from the mayor's office.