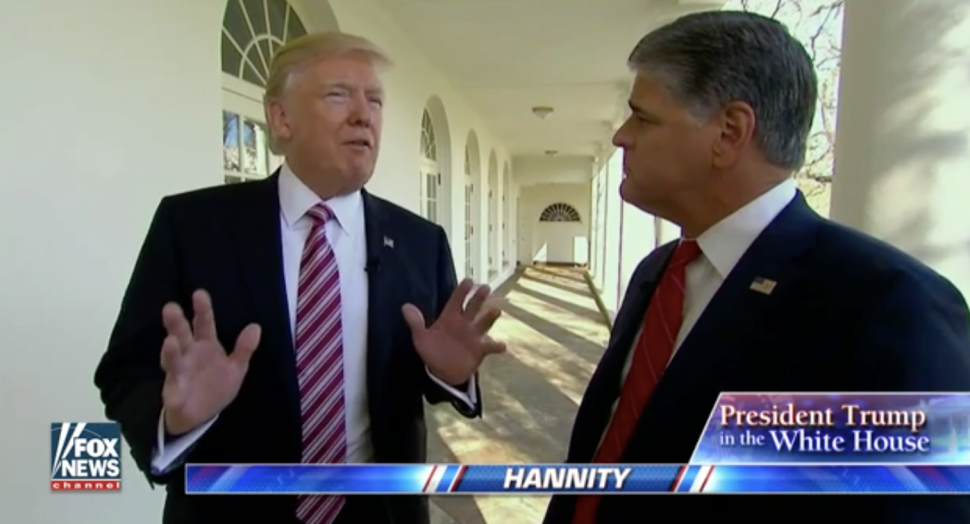 A recent New Yorker cartoon showed a man held hostage and tied to a chair in a small basement room. He faces a television screen that shows a man talking. Behind the hostage, two interrogators converse.
"We've tried all the news channels," one interrogator says. "This guy is unbreakable."
The cartoon appeared before President Donald Trump's most recent praise of criminal torture as an effective tactic for interrogation of terror suspects.
And it spoofed cleverly how excruciating it can be to watch a lot of cable news since last Friday's modestly attended inauguration of The Great Leader.
More propaganda spewed through the tube Thursday night when Sean Hannity of Fox News Channel interviewed Trump in the White House. As he often does, Trump studied his reflection in the video glass.
"I watch the people on television," Trump told Hannity. "'Ohhh! Donald Trump's in favor of torture!' Look, I mean people who knocked down the World Trade Center . . . and we're not allowed to waterboard? It seems so foolish and so naïve."
Discomforting as it can be to watch this stuff for several hours a day, it's hard to turn away because you know Trump is watching, too, as much as anyone and sending down lightning bolts when displeased with what he sees and hears.
He sounded off not only with Hannity Thursday but also with ABC's David Muir the day before.
Both conversations were from Trump's personal reality bubble filled with "alternative facts," rhetorical smoke and funhouse mirrors of a bleak existence only he can heal.
To Muir on ABC Wednesday night, Trump said: "The world is a mess. The world is as angry as it gets. What? You think this is going to cause a little more anger? The world is an angry place . . . The world is a total mess."
And to Hannity on Fox Thursday night, Trump said: "The whole world is angry right now. There's such problems in the world and such anger . . . our country is in bad shape."
When Hannity asked about media commentators who call Trump a liar for telling lies about things like voter fraud that could not possibly have occurred involving as many as five million people, Trump replied that reporters "are very hostile people. These are very angry people. They're very dishonest people."
The subject changed to Russia, which—according to American intelligence agencies—interfered with the American election in favor of Trump.
Rather than dwell on that sore subject, Trump told Hannity that it would be great to work together with Russia to defeat ISIS, the terrorist outfit.
'You're a workaholic!' gushed Hannity, who revealed that Trump has contacted Hannity as late as 1 a.m. and as early as 5 a.m.
"They're sneaky, dirty rats," Trump said of ISIS (not Moscow), "and they blow people up."
He chose a lesser target for his first Twitter belch Thursday at 6:04 a.m. after he saw something on Fox & Friends First.
Former Army private Chelsea Manning—convicted of disclosing American secrets—criticized President Obama despite Obama freeing Manning by commuting 25 years off her sentence.
"Ungrateful TRAITOR Chelsea Manning, who should never have been released from prison, is now calling President Obama a weak leader," Trump wrote. "Terrible!"
Never mind that this is exactly what Trump said for years about Obama. And don't even think about how the novice 70-year-old caretaker of American nuclear weapons rarely seems to sleep and often toggles between rage and delusion.
"You're a workaholic!" gushed Hannity, who revealed that Trump has contacted Hannity as late as 1 a.m. and as early as 5 a.m.
In the Muir interview, Trump said ABC unfairly covered Trump's unhinged speech last Saturday at the Central Intelligence Agency.
Most critics panned the speech as selfish and incoherent. It included a vague threat to invade Iraq again and steal its oil.
Other topics covered by Trump at the CIA were obvious lies he told about the crowd size at his inauguration and a strange detour from reality when he seemed to suggest the CIA was part of the armed forces.
"That speech was a home run," Trump said. " . . . Look at Fox . . . . See what Fox said. They said it was one of the great speeches . . . Turn on Fox and see how it was covered."
To call Trump's bluff, consider what was said on Fox right after his CIA speech by Charles Krauthammer, a Fox pundit who might be the intellectual core of that right-wing network.
"He wanders around in a way this is rather troubling," Krauthammer said, in reference to Trump's loopy, stream-of-consciousness speaking style.
In Trump's CIA speech, Krauthammer noted, Trump cited "that he had an uncle who was a professor at MIT" and thus, by extension, that means that President Trump, himself, is also smart.
"You should show a little more discipline," Krauthammer said.
Krauthammer added of Trump's Iraq threat: "Plundering the oil is a war crime." When Fox colleague Chris Stirewalt used the word "surreal" to describe Trump's speech, Krauthammer called the word "a nice way of saying 'just plain weird.'"
Such limited criticism won't disturb Fox's status as Trump's sanctuary network and his loyal brown-nosers will benefit.
Most obsequious of them is Hannity, who spent the week near the Oval Office to interview Trump aides Kellyanne Conway on Monday, Sean Spicer on Tuesday and Reince Priebus on Wednesday. (How's THAT for "fair and balanced?")
Rather than embarrass them with questions about "alternative facts" offered by the Trump administration and the precious delusions of the President, Hannity offered an infomercial format that allowed the mouthpieces to say what they pleased.
Perhaps if Hannity needs one more guest from the Trump White House on Friday he should interview Steve Bannon, a top Trump strategist, who called The New York Times this week to attack the media in general.
"I want you to quote this," Bannon told the Times. "The media here is the opposition party. They don't understand this country."
The way to understand it, Bannon suggested, is for the media to "keep its mouth shut and just listen for a while" after being "embarrassed and humiliated" by Trump's victory.
Bannon saw no reason for concern about Spicer's credibility after his attacks on the media and his repetition of Trump's lies and fantasies about crowd size and illegal immigrants voting against Trump.
"Are you kidding me?" Bannon said. "The media has zero integrity, zero intelligence and no hard work."
Nevertheless, a few brave journalists seemed to be working—and thinking critically—on networks other than Fox on Thursday night.
On MSNBC, Rachel Maddow, in her roundabout way, told a story of a Russian intelligence officer pulled from a meeting in December and taken away with a bag over his head to be charged with treason.
He hasn't been seen since then, she said. At 9:26 p.m., almost halfway through her show, Maddow finally got to the point.
"He may have tipped off U.S. intelligence agencies to what Russia was doing to influence our election," Maddow said.
Trump's Kremlin connections also were noted on CNN.
There, Kirsten Powers said on Anderson Cooper 360 that she was puzzled by Trump threatening a trade war with an ally like Mexico while cozying up to a rival like Russia.
"Something's wrong here," Powers said.