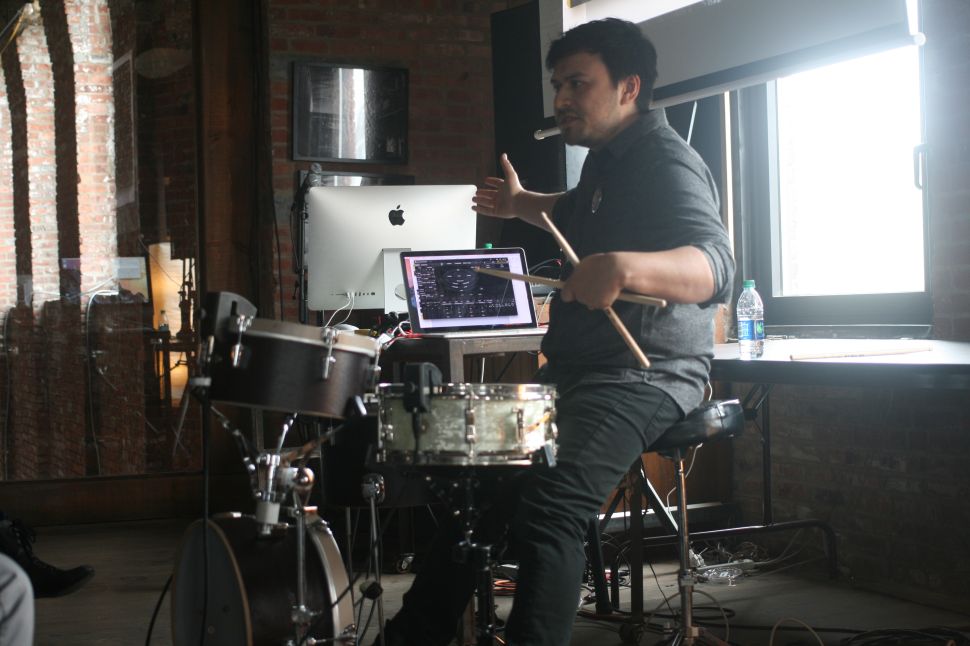 Music purists should probably just stop reading here. You've been warned.
At a presentation yesterday at Software for Artists Day at Pioneer Works in Red Hook, Tlacael Esparza explained that we've all become accustomed to the deeper range of electronic music and the traditional stuff will never be able to compete again.
"When you're producing electronic sound, you can produce it at any frequency," he explained to the Observer during an interview after his talk. For example, machines can make sounds that would require an unrealistically giant physical drum to produce. This gives electronic music a depth and range that acoustic instruments can't match.
Old fashioned musicians still shine live on stage, though. Esparza, a drummer himself, wondered if he could bring that depth of sound to live performance, using real percussion instruments as the interface with the machines, "so that electronic sound can now finally be performed," he said.
With a small team, he built Sensory Percussion, a sensor and software system that learns how to read the timbre of a drum strike so that computers can play sound samples programmed to correspond with particular kinds of hits. He demoed the system this weekend at a one day gathering of creative types with technical skills.
Sensory Percussion works by reading the actual sound from the drum and playing electronic sounds or beats programmed to correspond to it.
Every drum can make a complex range of sounds, depending on where the drummer hits it. The middle of a drum resonates more deeply than the edges, for example. The drummer simply plays around a drum to let the sensor (basically, a microphone) read the timbre of each of the strikes. Timbre is the qualities of a particular sound that make a C note sound different on a saxophone than a piano. It takes about four minutes per drum to teach the system the different sounds a drum can make. Once that's done, the drummer can tell the machines what sound to play when it hears a particular part of the drum struck.
"The idea is the software is now listening to you as a musician," Esparza said.
Since successfully closing a crowdfunding campaign on Kickstarter in August 2015, Sensory Percussion is now available starting at $699 for one sensor and the software.
SEE ALSO: This iPhone app will teach you to play guitar.
The current system only works for the kinds of drum kits seen in modern bands. The company hopes to create a system that can work with traditional drums eventually, but the current sensor needs the metal rims of drum kits to latch on to. In response to a question from the audience, Esparza said it remains to be seen whether the software can be made to work with cymbals, as well.
Bands using Sensory Percussion may not qualify for an episode of MTV Unplugged, but it is worth checking out the video above for the drummers that demo the software live. Marrying electronic sound with the drummers' beats adds a trippy new level to a performance.
Typically, live musicians have to rehearse to match up nicely with electronic tracks. With this system, the electronic track matches up with their performance.