It's the second time Smith has listed the home.
Corcoran
Fox News anchor Shep Smith is trying to offload his Greenwich Village condo.
Corcoran
The master suite.
Corcoran
Mirrored accents and hardwood floors throughout.
Corcoran
The formal dining room.
Corcoran
Taking serious interior inspo from this room.
Corcoran
All stainless steel appliances.
Corcoran
Jon Stewart once lived in the building.
Corcoran
Fox News anchor Shepard Smith is once again offering up his Greenwich Village condo.
The Shepard Smith Reporting host first listed the apartment at 65 West 13th Street back in 2011, testing out the waters of the New York real estate market and attaching a $4 million price tag onto the unit. Alas, by early 2012 he delisted the home, which he bought in 2004 for $1.88 million.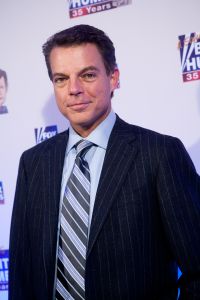 But now it's back, and asking $4.9 million with Corcoran brokers Ric Swezey, Michael Weiss and Rob Jackson. The quite charming loft features a 40-foot gallery and a great room with 13-foot ceilings and south-facing windows. The kitchen includes custom cabinets and backsplash, as well as a granite center island, while the formal dining room "comfortably" seats eight.
The master suite is comprised of two custom-built walk-in closets, a dressing room and a renovated en-suite bath complete with a steam shower and Jacuzzi. There are also lovely modern light fixtures throughout, as well as mirrored accents. We're quite impressed with the anchor's interior design skills and to see the entire fashionably-decorated abode, click through the above slideshow.
Perhaps Smith, who has been with Fox News Channel since its began in 1996, is planning on upgrading to a larger residence. He is, after all, one of the highest paid television news anchors in the city―his contract with Fox is reportedly worth $10 million.
It does seem television personalities are particularly attracted to this Greenwich Village building—Jon Stewart previously resided in an eleventh floor unit in the condo, which he subsequently sold to fashion designer (and previous Project Runway judge) Michael Kors.