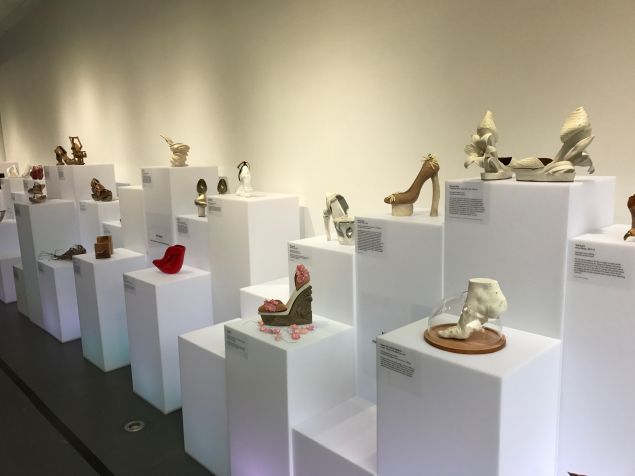 Shoes are far from banal. Sure, you may be have worn the same faded Doc Martens every day for the past ten years, but shoes are more than just functional; they hold a lot of symbolic meaning. In folklore, shoes are depicted as magical agents of power and throughout history, shoes have been the subject of erotic fantasies and fetish. By virtue of its rigid, three-dimensional structure, a shoe is also a sculptural object; a work of art. All of these ideas and more are explored in a new fashion exhibition, "A Walk of Art: Visionary Shoes," on view at the pop-up exhibition space Parasol Projects in the heart of the Lower East Side.
"It's interesting to see what happens when you let go of conventions of comfort, beauty, [and] balance," said Israeli curator Ya'ara Keydar, who obtained a masters in costume studies at New York University. The exhibition features 60 shoes by 37 students and alumni of the Bezalel Academy of Art and Design, an arts institution located in Jerusalem. 
The Bezalel School of Arts and Design was founded in 1906, and its existence is inexorably linked to Zionism and the founding of the State of Israel. "The academy continues to stay attentive and respectful to its rich history and heritage, all while looking to the future and promoting innovation," said Keydar. "Bezalel's focus on teaching craftsmanship while valuing and promoting their students' creative freedom is a unique cornerstone which helped the exhibition come to life."
For Keydar, it was important for her to showcase the creative side of Israel—a land known more for its inability to attain peace than design ability. "Design and art in general are a way for people to communicate and to overcome challenges. So this is why I think my focus on Israeli design is very important. This is a really interesting way of showing what Israel is about other than all the headlines that we're used to."
The exhibition is organized into 9 themes, ranging from "Natura Morta"—which explores ephemerality with Sigalit Landau's shoes that were suspended in the Dead Sea until they were encrusted in salt crystals—to "Painfully Beautiful," which explores footwear's associations with fetish in Eitan Bartal's "Anti Heels," subverting the functionality of the heel by placing it in the middle of the sole. In a nod to the school's history, many of the shoes have Biblical and artistic inspirations. Take, for instance, Kobi Levi's "Slingshot Shoe," which uses the heel to create the base of a slingshot; the leather straps resembling  David's slingshot that killed the mighty Goliath. Or Gal Souva's vibrant, curvilinear "Lip Gloss Shoe," in a homage to Salvador Dali's lips-shaped sofa. "Curating this exhibition, it was important for me to focus on shoes as objects of enchantment, that represent culture and history as well as trends," said Keydar.
Most of the pieces on display are not only conceptual one-offs, they were made without pairs. And others were not made to walk in at all. Kolker's "Trust" features two pairs of shoes fused together at the heels and soles; the only way to wear them is to sit across from another person, preferably clasping your partner's hands in Tantric harmony. "I thought it was interesting to see how a shoe as a pair can be a metaphor for more complicated ideas about human relationships as well as the connection between the feet themselves," said Keydar.
Even though the shoes at the exhibition are not meant to be worn in the traditional sense, the exhibition catalogue emphasizes that these shoes can be worn. Nearly every shoe is photographed being worn by a model, highlighting the fantastical and occasionally, absurd contortions the foot is manipulated into because of the shoe's construction. But the fact that they can be worn and even walked in is what makes each of these pieces shoes, despite their curiously different shapes.
"A Walk of Art: Visionary Shoes" is now open at the Parasol Projects Gallery until February 13.
Parasol Projects Gallery
208 Bowery
New York, NY 10012