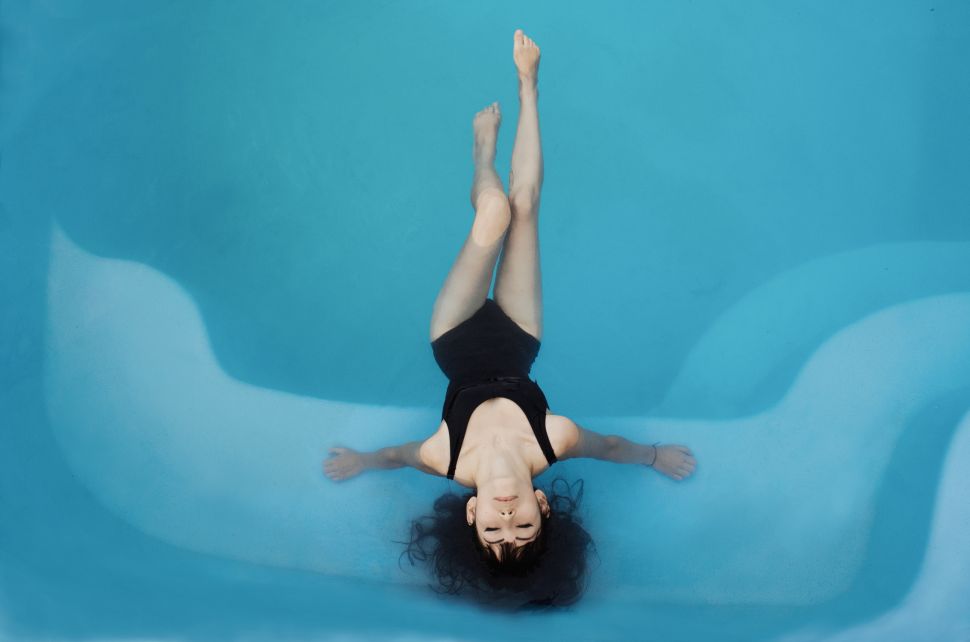 Plenty of us obsess about the skin on our face, and many put almost as much thought and energy into keeping our bodies soft, smooth and supple. But very few devote sufficient resources to treating the skin on our chests as well as it deserves—until we hit a certain age and realize how much damage our neglect has done. Whether it's deep 'clinkles' (cleavage wrinkles), uneven skin tone, age spots, or scars from heat rash, the ruin can be extensive.
When it comes to addressing what's already been inflicted, there are many topical options. Regular use of a good vitamin A (AKA retinol or retinoid) product to renew skin is as important for the chest as for the face. Dr. Dennis Gross Skincare Ferulic + Retinol Fortifying Neck Emulsion ($75) uses ferulic acid to counteract the often sensitizing effects of retinol, which is key to treating the skin of the décolletage as gently as possible. For the moisturizing stage, Yes To Blueberries Face & Neck Oil ($16) is an antioxidant-rich product full of high-quality plant oils with strong skin repair benefits. Mix one or two drops with your moisturizer or apply under your usual face cream across your cleavage on a consistent basis, and you will notice a difference over time. Many women have found rosehip oil to be a game-changer for their skin, and one of the best on the market is Ole Henriksen Pure Truth Vitamin C Youth Activating Oil ($45). A natural source of active vitamin C, vitamin A and essential fatty acids, this organic oil absorbs easily and can work wonders on scars, spots and other blemishes.
In severe cases, a visit to the doctor's office might be the only solution. "Since skin is much thinner on the décolletage than it is on the face, traditional hyaluronic acid fillers won't work effectively and can leave clumps in the skin," says cosmetic dermatologist Dr. Paul Jarrod Frank. He recommends a variety of Fraxel laser treatments to repair sun damage and Elixis Ultra treatments to tighten the fragile skin on the chest.
But an ounce of prevention is still worth more than a pound of cure. The most important thing is to stop any destruction in its tracks, starting now. A massive mistake many women make is simply ignoring their décolletage. In fact, products used on the face during your twice-daily routine should be applied right on down to the top of the breasts, too. As skincare guru Caroline Hirons says, "Take it to the tits. Your face doesn't end at your chin in skincare."
This routine should include chemical exfoliators, which are key to turning over old, damaged skin cells and exposing younger skin. You can use the same one on your chest as you do on your face, or you can opt for a body-specific product. Superb exfoliators include Pixi Glow Tonic ($18), Peter Thomas Roth Un-Wrinkle Peel Pads ($45), and Cane + Austin Body Retexture Pads ($70). Make sure you neutralize the powerful acids with a hydrating toner afterward, like Clinique Moisture Surge Face Spray ($24.50), Caudalie Grape Water ($13), or Omorovicza Queen of Hungary Mist ($90).
You don't absolutely need a special serum or moisturizer for your cleavage, no matter what skincare brands try to sell you. But there are some targeted treatments that are better suited to the delicate skin on your chest, such as H2O Plus Infinity+ Chin & Neck Firmer ($56). And just as your face needs sun protection, so does your décolletage. Drunk Elephant Umbra Sheer Physical Defense SPF 30 ($38) omits chemical ingredients that can irritate skin. Same goes for Dr. Dennis Gross Skincare Sheer Mineral Sun Spray SPF 50 ($42), which comes in a handy mist and boasts a water-resistant formula that delivers UVA/UVB protection even after 40 minutes of activity.
Jackie Danicki created one of the first and most popular beauty blogs in 2004, and has consulted some of the world's most iconic brands on digital content strategy and innovation. Jackie blogs at http://burnedoutbeauty.com, and you can find her on Twitter, Instagram, and Snapchat as @burnedoutbeauty.