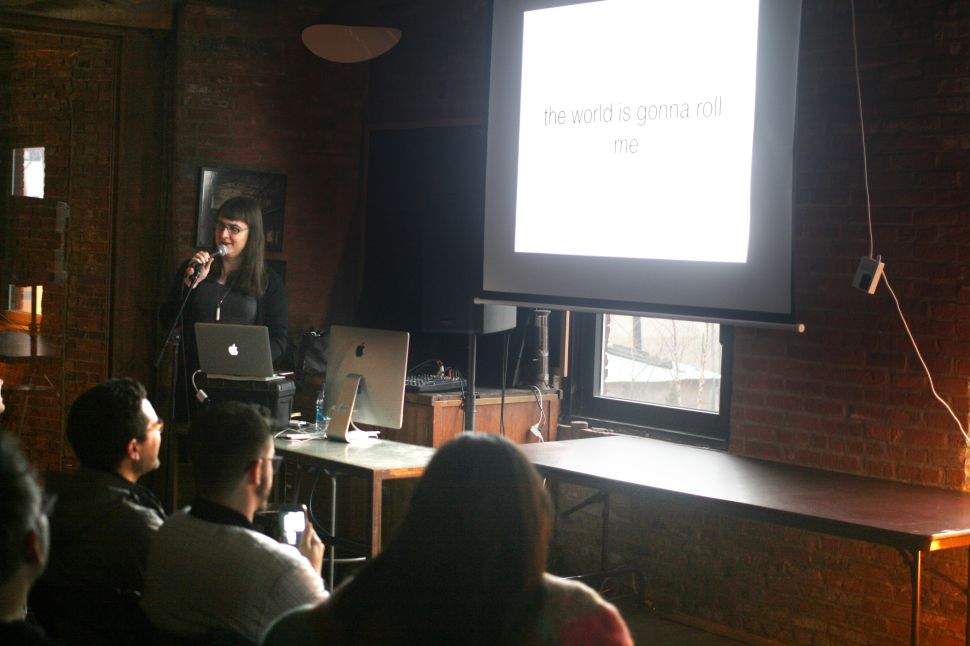 Allison Parrish is either a poet or a programmer. It depends on who she's talking to, she admitted during a talk this weekend in Red Hook, Brooklyn. "I write computer programs that write poetry," she said before a live reading of a computer-powered interpretation of Smash Mouth's 90s rock classic "All Star."
She translated the song through software that matched each line with a line of poetry from the corpus found on Project Gutenberg, the online repository of public domain literature.
So, "Somebody once told me" became "Some lost, some stolen, some as relics kept."*
"The world is gonna roll me," became "The world is tired, the year is old."**
She read each line chosen by her software aloud to a delighted audience at Pioneer Works on Sunday, while projecting the song's corresponding line on the screen beside her. Her presentation was part of the one day "Software For Artists Day" event at Red Hook's Pioneer Works. She called it a cover of the song.
My favorite coupling came when "Your brain gets smart but your head gets dumb" turned into "Your voice has sung across my heart, but numb."***
See more pairings in this tweet from the poet:
Parrish explained that she usually chooses Genesis 1 to demo the software, but was really more interesting marrying the present's vernacular with that of hundred year-old poetry, in this reporter's opinion.
She used a library of encoded pronunciations called Arpabet to break down the sounds in the words from the corpus of 3.5 million lines she collected from Project Gutenberg. She then wrote software that would do the same for any text she input, so that it could match it to the line that sounded the most similar phonetically from the lines of poetry she found online.
SEE ALSO: This website can compose sonnets on any subject using lines written on Wikipedia.
Arpabet also helped researchers at Carnegie Mellon build the transcription software we wrote about last year.
When she runs her own name through the software it transliterates "Allison Parrish" to "Alfred Lord Tennyson," she said.
Promising.
* From "Idylls of the King" by Alfred Lord Tennyson.
** From "November" by Sara Teasdale.
*** From "Frankincense and Myrrh" by Amy Lowell.