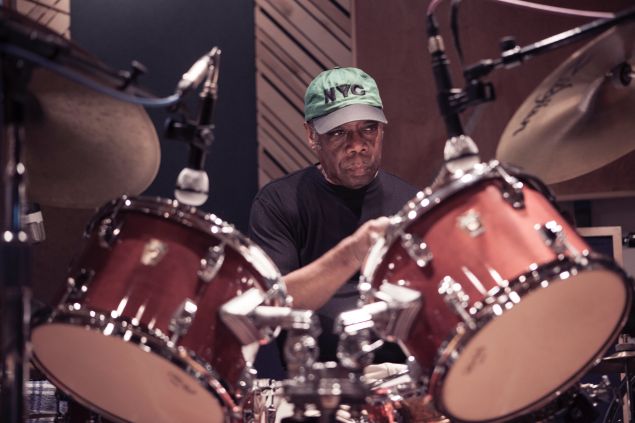 "Why would people be afraid of jazz?" asks Andrew Cyrille softly in a tone that presents the idea as unfathomable.
The veteran avant-garde jazz drummer is talking about how jazz remains a less popular draw than rock or pop, even though it birthed both those genres to some extent or other. He might not understand it himself, but for some audiences much of jazz remains an unpredictable, note-heavy, trickily rhythmic, intellectual pursuit. "I guess, some people, if they are afraid, then jazz is as good a thing to be afraid of as anything else," he surmises, speaking from his home in Montclair, N.J.
Our conversation revolves around the 2017 Winter Jazzfest, which takes place in several New York City venues from January 5 to January 10. Cyrille will not only play in at least three different groups during the festival; he's also this year's artist in residence.
It's no coincidence that the event, which began 13 years ago, happens at the same time as the annual Association of Performing Arts Presenters (APAP) Conference in the city. Winter Jazzfest founder Brice Rosenbloom began the festival in 2005 with a single jazz marathon night, in part to attract talent buyers attending APAP to experience jazz musicians in their natural setting: an intimate club, improvising. (APAP Conference attendees receive discounted Winter Jazzfest passes.)
"We always need publicity. Not enough people know about the jazz scene or hear jazz artists. Not like rock groups, which get so much attention. It's a big boost for the jazz community," Cyrille says of Jazzfest. "People come from all over the world, so they can catch Winter Jazzfest as well as APAP. Whether it's APAP or Winter Jazz, we're still selling our music, our art. But this is great cross-fertilization."
Business aside, the festival is about giving jazz artists a platform, and to further educate the masses about jazz's continued growth with each successive generation of artists and listeners.
[youtube https://www.youtube.com/watch?v=GMMapoptCg0&w=560&h=315]
"For the festival goer it's about discovering as much jazz as possible, but the festival is also about exposure for the jazz artist," says Rosenbloom during final preparations in December.
It is also a platform for artists to collaborate. Over 150 groups composed of more than 600 artists—besides Cyrille, those include Dee Dee Bridgewater, Marc Ribot, Jason Moran, Erik Friedlander, Linda Oh, Terri Lyne Carrington, and Sam Amidon—perform on 13 stages across Downtown Manhattan and Brooklyn.
Winter JazzFest 2017 has some unmissable music events: The prestigious opening concert at (le) Poisson Rouge on January 5 is led by avant-garde saxophonist and onetime John Coltrane group member Pharoah Sanders, with support from British saxophonist Shabaka Hutchings and his group of South African musicians, The Ancestors. "We can expect an intense collaboration," says Rosenbloom of that get-together. "Also, we will celebrate the 100th birthday of Thelonious Monk with different performances in different configurations—from solos to duos to trios to quartets."
READ THIS: The 20 Best Jazz Albums of 2016
The festival closer is also auspicious: composer and double bass player Charlie Haden's Liberation Music Orchestra plays Le Poisson Rouge on January 10 at 6 p.m. The group will perform the late jazz visionary's fall-released final album, Time/Life (Song for the Whales and Other Beings).
Notable single events such as these have boosted the festival's growth: Winter JazzFest Began 13 years ago with 150 devotees at the now defunct Knitting Factory; over 8,000 people attended last year's festival and the figure is expected to be higher this year.
Among the new elements to the festival this year is a series of artist panels, which are free and open to non-festival goers, and mostly take place at the New School.
The Brooklyn-born Cyrille, who played with the likes of Coleman Hawkins and Rahsaan Roland Kirk, and whose work is often paired with dance, will take part in one of the new panels; Cyrille's will be a one-on-one interview recounting his lengthy and notable career.
[youtube https://www.youtube.com/watch?v=depsP_t7F_A&w=560&h=315]
Other panels, and performances highlight the underlying 2017 WJF theme of racial and social justice. "This year a large number of artist's work related to racial and social justice," says Rosenbloom. "We just couldn't ignore what they were saying in their work. Jazz is inherently a music that responded to the race experience over the decades. At This year's festival there's an influx of these elements and it's our responsibility to showcase it. That's the relevance of the music beyond the stage," he adds.
Then, of course, there is the core event: the improv marathon, which for many remains the key point. This year, the Revive Music Stage jazz marathon expands to two new venues, the Bowery Ballroom (January 6), and the relocated landmark live music venue Nublu at Studio 151 (January 7).
"The heart and the soul of the festival and the work of most of these musicians is to improvise, and for the audience it is to hear unique brand new music created on the spot," Rosenbloom says. "It started around the marathon model. What motivates me is to present the audience and inspire other presenters. We hope we're doing our part to do a different take on the usual festival format of just compiling a list of artists performing their own work."
Whether it's improv, compositional jazz, big band, swing, avant-garde, be bop, post-bop, Latin jazz, jazz-funk, fusion, hypermodern, world-jazz, or pop jazz, Winter Jazzfest seeks to be all-inclusive, with something for everybody.
And on that matter, we'll give the singularly thoughtful Cyrille the last word: "Well," he says, "there's something for some people, but everybody is a lot of people to please."