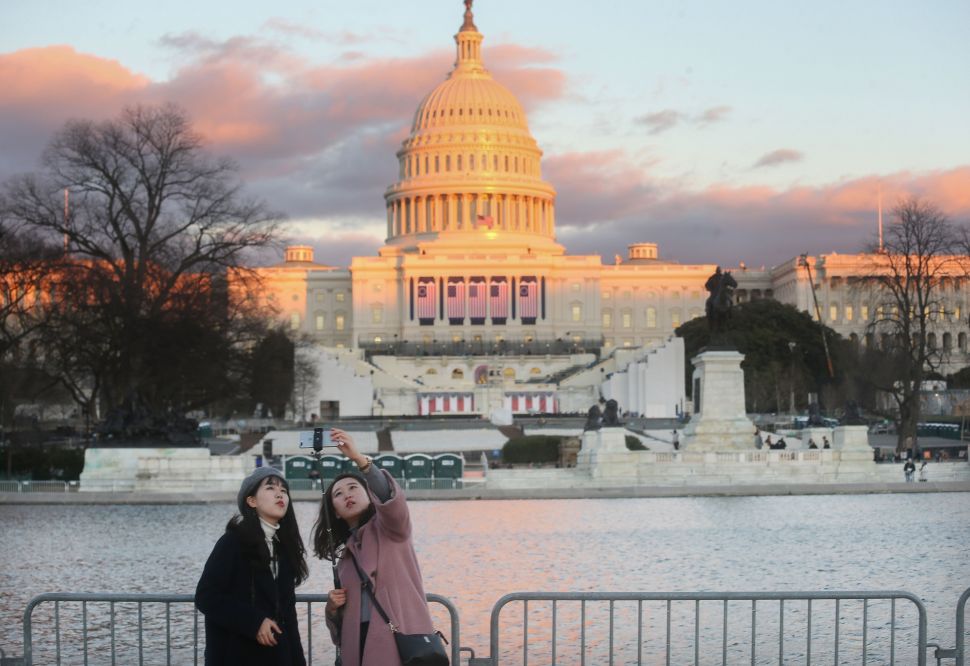 Tomorrow Donald J. Trump will become our 45th president, an event heralded by his supporters as a big step towards changing the course of our politics and, per their mantra, making America great again. While the festivities have produced giggles from the president-elect's semi-comical inability to get top talent to play his inauguration, a considerably more serious problem for Trump has emerged on the espionage front.
He weathered last week's spy-storm, generated by buzzfeed (BZFD)'s leak of a 35-page dossier of allegations regarding his clandestine ties to the Kremlin, by mocking them in customary Trumpian fashion. In a series of angry tweets, the president-elect denounced the Intelligence Community as the source of that leak—even though it was not—while proclaiming the dossier to be "fake news." Since he recently compared American spies to Nazis on Twitter, Trump seemingly wants a full-fledged war with the IC from his first day in the Oval Office.
If America's 17-agency spy empire isn't on Trump's side, Vladimir Putin is. In defense of the president-elect, the Kremlin strongman proclaimed the dossier to be "rubbish" and "clearly false information," mocking reports of Russian kompromat, colorfully adding that those who he claimed were smearing Trump were "worse than prostitutes."
To be fair, the dossier, which was compiled by Christopher Steele, a former British intelligence officer with extensive experience in Russian matters, does have dodgy aspects. As I explained last week, it's raw, unfiltered human intelligence from multiple sources with varying levels of access and credibility. Some of the dossier's claims are quite plausibly true, others are demonstrably false, while much of it is unverifiable and may be Kremlin disinformation. Given the long history of Russian provocation and deception against Western governments, a high degree of skepticism is in order here.
In particular, Steele's most important accusation, that Trump's lawyer met in Prague in late August to coordinate Russian hacking of the Democrats, has yet to be confirmed and in fact seems likely to be false—a case of mistaken identity. Steele presented his findings to the FBI months ago, but they were unable to verify the Prague meeting, leading the ex-spy to grow frustrated with what he considered to be Bureau foot-dragging as the election loomed.
Newsweek has reported that Estonian intelligence actually did have information that confirmed the meeting in Prague, which would be a game-changing fact if true. But the author of that piece, Kurt Eichenwald, has a history of making fanciful claims about Trump's foreign ties based on unnamed intelligence sources. Moreover, it would be a very exceptional thing for Estonian intelligence to surveille a meeting in the capital of a fellow NATO and European Union country without conducting a joint operation—which would mean the Czechs and presumably the Americans know about it too. Most importantly, my friends in Eastern European intelligence think the Prague story is deeply flawed. One top security official in that neighborhood flatly told me, "If there's intelligence confirming that meeting, I would have been briefed on it—and I wasn't."
It seems that the Prague story is based on a kernel of truth. However, the story which Steele reported seems to be disinformation, notwithstanding the fact that, as I reported when it happened, Czech security really did arrest a prominent Russian hacker in Prague, at the request of the FBI, just a couple weeks before our election. There appears to be a trail that might have led back to Trump in that case, but the Russians are playing their usual spy-games, exposing false trails of inquiry to muddy the waters and confuse investigators.
Now the whole case has been blown wide open again with yesterday's bombshell McClatchy report that the IC has been looking into possible ties of, as the McClatchy report put it, "a few Americans who were affiliated with Trump's campaign or his business empire" to individuals "from Russia and other former Soviet nations." This has supposedly happened at least since the spring, months before Steele shared his dossier with anyone in Washington. In particular, a specially created IC working group, comprised of representatives from the FBI, CIA, NSA, and the Departments of Justice and Treasury, looked into clandestine Russian money that may have been sent to finance the Trump campaign.
In other words, the Steele report is hardly more than a cover mechanism for the real IC investigation, which knew everything that was true in that dossier already – and presumably knows what's not true as well. The IC working group found sufficient information on Trump's secret ties to Putin to get a Federal court to issue warrants under the Foreign Intelligence Surveillance Act, which gives them access to phone calls, emails, and bank accounts which may be tainted by connections to foreign spies.
Team Trump refused comment on the McClatchy story. Since the Senate Intelligence Committee will be conducting an investigation into Trump's Russian links, including subpoena powers and full access to what the IC knows, the president-elect may have a great deal to worry about. The clearest sign of Trump's concern is that, almost 24 hours after the report appeared, he hasn't taken to Twitter to denounce or mock it. His uncharacteristic silence indicates serious trouble in the Trump camp.
Neither are the Senate and the IC all that Trump has to worry about. Several European intelligence agencies have watched the new president's clandestine ties to Putin with interest and alarm. For small countries close to Russia, the prospect of an American president colluding with the Kremlin is terrifying. What they know was hinted at in a tweet by Harri Ohra-aho, in response to an all-caps claim tweeted by Trump: "I HAVE NOTHING TO DO WITH RUSSIA – NO DEALS, NO LOANS, NO NOTHING!" Ohra-aho's response, which translates as "Lord, give me patience, AND NOW!" is important mainly because the tweeter is a two-star general serving as the chief of Finnish military intelligence.
Plenty of intelligence services know parts of the truth about our 45th president's potentially unsavory ties to Moscow. Starting tomorrow, Trump will try hard to shut down IC inquiries, but he cannot curtail the Senate investigation and doesn't have any power to silence worried allies and partners who consider him a threat to their countries.
John Schindler is a security expert and former National Security Agency analyst and counterintelligence officer. A specialist in espionage and terrorism, he's also been a Navy officer and a War College professor. He's published four books and is on Twitter at @20committee.