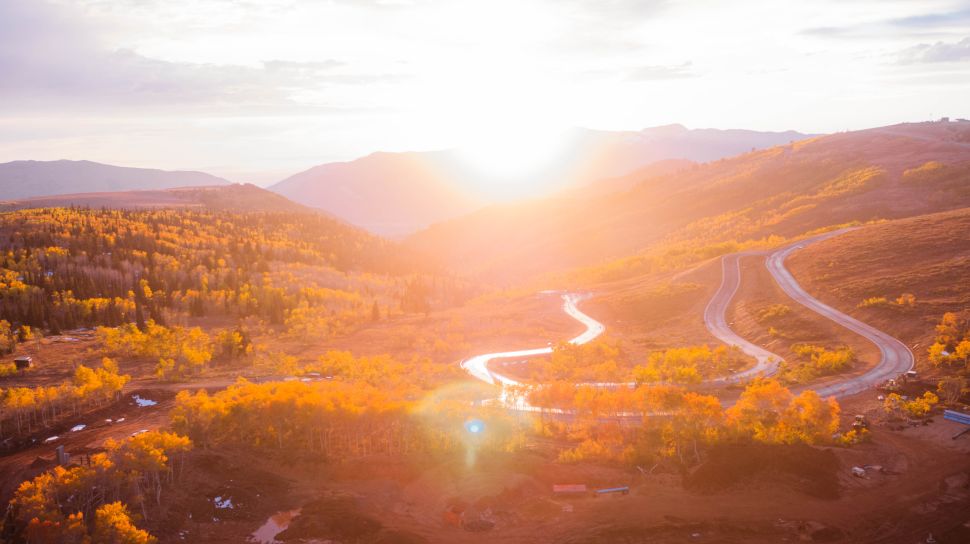 A weekend with Summit at their Powder Mountain location left me recharged, inspired and happy to have connected with some truly exceptional people. Ogden Valley provided a breathtaking canvas for expansive conversation, creative thinking, outdoor adventure and incredible farm-to-table food.
"It all started when I came here and met the founders one weekend," explained Summit Executive Chef, Haru Kishi. "They said I could make whatever I want, so long as it's gluten-free, mostly dairy-free, and includes a lot of vegetables."
This was a big change for Kishi, who hails from a French culinary background working for Michelin-starred restaurants—where the focus was not so much on nutritional nourishment. Kishi changed his entire diet and lifestyle as a result of being around so many health-oriented entrepreneurs, a number of whom are behind companies like Sweetgreen, Hanah One and barre3.
The food at Summit is always served family-style and consists of mostly organic ingredients sourced directly from local farms. Even the protein is bought locally, as Kishi works with nearby ranches. He buys three or four entire grass-fed cows that were raised without antibiotics, using every piece of the animal over the course of Summit events.
Chip McLain, a yoga instructor with Modo Yoga in LA, came to Utah to give four yoga classes throughout the weekend. He is a strong believer that the power of yoga lies in its ability to heal and unlock the therapeutic energies from within. Chip is a true method teacher whose dedication to his personal practice helped him heal physically, mentally and emotionally. His focus on breath work, alignment, strength, and grace creates a moving meditation, which quickly helped participants recover from the long day of skiing. He told me about his incredible healing experience through yoga:
How has your yoga practice helped battle Crohn's disease? In 2004 I was serving as an officer in the Navy, and I had gone from San Diego to Virginia to a training school. While I was there, I started to get very sick and had severe flu type symptoms and had blood in my stool. I was diagnosed with Ulcerative Colitis. It got progressively worse from that point. I had to take some time off and healed a little bit. Then I went back to work as a training officer and started having the problems again—a lot of blood, feeling sick, and I lost a lot of weight. I had over 20 bowel movements a day which were all blood. I lost 40 pounds of weight. One day I collapsed during our morning gathering and was rushed to the hospital. I almost bled to death without realizing it and spent a couple of weeks in the hospital at that point.
From that point on, over the next year and a half, I spent almost 250 days in the hospital with three major surgeries and two minor ones. I had my entire large intestine removed. I was a really sick guy. I was then diagnosed with Crohn's Disease. I got a little bit better but still suffered from inflammation. I was still taking all kinds of medications, including high doses of anti-inflammatory steroids, and I was getting infusions. Things weren't improving. It was interesting, because I was seeing a nutritionist who told me to not eat raw vegetables or anything green but to instead eat soft foods like white bread and other processed foods that are easy on the stomach. I was doing that and not getting any better. From 2007 to the beginning of 2013 that I was sedentary, sick, still in and out of the hospital. I had a degenerative condition in my spine and a herniated disc. They put me on a cane. I finally got fed up with being sick and hurt. All of it made me a very bitter, cynical person, which affected the relationships in my life.
Then I shifted my diet. I started to eat a healthy plant-based diet, since I was 50 pounds overweight and bloated from the steroids. I really wanted to get back to work and out of the house. I started a yoga program. It was the most difficult thing I had ever done. Eventually, I started feeling better. Then, I ended up going to a hot yoga class and instantly felt way better. It made me feel great during and after, so I kept going. I went every day for a month. After a couple months of a good diet and hot yoga, I started to feel awesome. My inflammation was gone when I met with the doctor next, so they took me off medications. I have stayed in remission, and it has been three years since.
What about hot yoga do you think makes a difference? The heat has a tremendous impact on your immune system. It causes it to reset. So, if you have an autoimmune disease, it has an incredible way in putting your body in the same condition as a fever, so it kicks your immune system into overdrive. Then, your immune system starts to act normally, because what happens with these autoimmune diseases is that your immune system is attacking your body, so it kinda just resets all of that. The Crohn's has gone away, my back pain has gone away, and the MRIs show that even the space between my vertebrae has increased, so I've even got a little bit taller. My spine has gotten longer since there is such an emphasis on lengthening the spine and strengthening the core. I had really bad posture, which I was able to correct. Now, I can walk, run and practice handstands! The heat also helps to detoxify the body.
How does yoga foster mental and emotion healing?  What really happens when you are sick like I was is you detach from your environment and people you care about, so you need to focus on staying connected on yourself and what matters. Yoga has meditative qualities, and it's something that you can do for yourself. Depression makes you feel like you are not in control, so to come in and do a practice like that for yourself is very beneficial. It clears your mind and makes you realize that everything that comes up in your mind is external and that you can make a decision to step out of your head and into your body. It is a practice of self-respect and self-love, which I was missing. It makes you a part of a community as well. 
It must be so fulfilling to be helping others. It is. I started practicing to heal myself and then teaching to share that with others. It's really amazing to see people who come in for their first class terrified. To see them make such improvements is amazing. I have one client who has a degenerative condition and yoga helps him walk by creating space between his joints, strengthening his muscles, creating a mindfulness of posture, and also releasing the bone on bone pressure.
My interviews with Chip and Haru were refreshing, in that they both boiled down to a simple—albeit not easy—solution. Combined with my interview with Dr. Robynne Chutkan, it is clear that rewilding our internal terrain and living a balanced life is essential to good health. With a combination of a plant-based, organic diet, avoiding the use of antibiotics, spending time outside of the city, and taking on yoga, we just may able to drop those extra pounds, feel better, and maybe even finally get off our medications. Oh, and don't forget to put psyllium husk in your smoothies!
Kristy Rao is a certified health and nutrition coach and native New Yorker. She works with clients nationwide to create holistic, personalized plans to achieve weight loss and natural beauty. Follow her on Twitter @KristyRao and on Instagram @KRHealth