Summit embodies entrepreneurship, holistic health, innovation, arts and altruism, and over the past six years, the organization's flagship event series has connected thousands of thought leaders, fostering a uniquely collaborative and supportive atmosphere. Summit gatherings are a sort of refuge for entrepreneurs to openly seek and give advice, and the organization has recently made a home on Powder Mountain, where it is building a development of more than 500 ski-accessible homesites connected to a village core of similar scale. This will include cultural amenities and miles of walking, biking, and Nordic trails.
At the forefront of the health community, Summit's many members are influencers in the wellness industry. One of them, Dr. Robynne Chutkan, an integrative gastroenterologist and author of Gutbliss, The Microbiome Solution and The Bloat Cure, joined Summit this past weekend as a guest lecturer at Powder Mountain.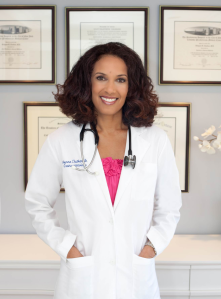 Dr. Chutkan graduated from medical school in 1991, where she learned about all the ways to eradicate microbes from the body through use of antibiotics and hand sanitizers but realized that it is exactly the opposite from what we should be doing. During her lecture, she implored the audience to use soap sparsely and "live dirty." As a doctor, she encourages people to back away from a medical point of view rather than embrace it. Dr. Chutkan explained the connection between the elusive microbiome—which is in every newspaper's health column—and health.
The Microbiome encompasses all organisms that live in and on the human body—most of which are located in the gut. Microbes are more unique identifiers than DNA as they reflect everything about the human they inhabit—where they were born, what they have eaten, viruses they have had, medications they have taken—even the people they have sat beside. Over time, microbes change, so the microbiome that we wake up with tomorrow will differ from the one we woke up with today. It's an optimistic view, because by allowing us to manipulate our microbiome, we can thereby improve our health. I asked Dr. Chutkan more on the topic:
What do microbes do? They digest food, they synthesize vitamins, they neutralize toxins, turn your genes on and off, they train our immune system to distinguish friend from foe and a host of other things.
What should we be eating to maximize growth of our good bacteria? The most important ingredient for growing a good gut garden is anything green and recently alive, but not so much green powders. This includes artichokes, asparagus, celery, kale, spinach, etc. I'm a big fan of psyllium husk, which is ground up plant fiber, and helps to move things from North to South.
From a microbial point of view, what is the most important time of development? Passage through the birth canal is the most important time in your life, because you get colonized with all your microbes. Babies who are born by a C-section miss out on that. We have found that they are colonized by hospital-acquired staff and other less desired microbes compared to those who are born vaginally. And then in modern medicine, we grab the babies and start sterilizing them by wiping them down with sanitizer and cleaning them off instead of letting the microbiome develop. So, what we know is that the babies who are born by a C-section versus vaginally have higher rates of asthma, allergies, autoimmune disease and are four times more likely to become obese. Nursing is also important, as breast milk contains HMOs (Human Milk Oligosaccharides), which are indigestible to babies, because they feed them bacteria that helps the baby repel staff and other infectious agents including the ones on the mother's nipple. And, we do see an increased rate of autoimmune disease in those who were not breast fed years later with longitudinal studies.
What do you see as the biggest threats to our microbiome? The overuse of antibiotics, 80 percent of which are used in the production of animals, and our over-processed, nutrient-poor diet. We're killing off our microbes with unnecessary antibiotics, and then starving the ones that remain by not feeding them the right stuff. Just five days of antibiotics can remove a third of your gut bacteria. A probiotic won't fix that. It's like draining a bathtub of all its water and then putting in a cup of water. There is no probiotic on the planet that can undo the damage that antibiotics can do. Many times it is completely unnecessary for us to go on an antibiotic. Those who are most difficult in my practice to treat are those who were on antibiotics as teenagers for their acne. Ten or twenty years ago, dermatologists did not know. However, I think it is literally malpractice in 2017 to use antibiotics to treat pimples, because now we know that we are creating autoimmune disease by doing that.
Do you believe in home birth without the use of any drugs such as an epidural? Yes, I do now. I was completely unaware of how much they medicalized the entire process until I had my own daughter. With all the monitors, drugs and IV, you would think I had terminal cancer or something. Many women are afraid of giving birth, because we have medicalized it so much. Although it is great that there is all of that there in case you have a problem, it is being applied in a very non-judicious way to everyone. The hospital is a commerce-driven place. It's a great if you are having a complicated pregnancy, but it's not necessarily the best place for everyone. We have medicalized birth to make it seem like an illness. I have a section in my book with my recommendations for a home birth. If you are a high-risk pregnancy, that is a different story. But if you are a healthy woman, a home birth with a doula can be amazing. Like so many other women, I thought it was progress that we have all of this stuff. However, I was really happy to hear that in England, for example, they are trying to go back to more home births, because they find that it is safer with better outcomes. We have all been indoctrinated into thinking that the hospital is the ideal place to have your baby, but it turns out that it might not be the case.
What about lifestyle choices—how do they impact our microbiome? People who have lived in a very sterile environment have their immune system go crazy when they get exposed to even minor infectious things. It's like that kid who has never got picked on getting attacked by bullies and not knowing how to handle it—which is why it's good to have siblings to pick on you. The essential part of training your immune system is by this constant exposure to germs. Microbial disruptors are everywhere: in the food we eat, the water we drink, the products we use on our bodies and in our homes, the medications we take. Even our thoughts can be a threat—stress wreaks havoc on the microbiome. We spend a lot of time scrubbing away healthy microbes on our skin with too much bathing and anti-bacterial products, and using hand sanitizers that contain the microbial disruptor triclosan. Franken-foods full of chemicals and artificial sweeteners that are harmful to gut bacteria can also have a big impact on the health of our microbes.
So do you think our microbiome is also being affected by the antibiotics in animal products? Absolutely. 85 percent of the antibiotics in the United States are used in the animal industry. Being on an organic diet is important. If you are making sure your kids aren't taking antibiotics but then you're giving them chicken tenders every day that are full of them, then it's counter-productive. This over-use of antibiotics is because animals are kept in such close quarters and inhumane conditions, so infection spreads a lot. Also, fattening animals with antibiotics is something that has been going on since the 1960s. It increases their size up to 15%. Then, we eat them and increase in size and wonder why!
What are the best sources of protein to eat? I am not vegan but do not believe that everyone has to eat animal protein. Most of the diseases we see are of protein excess such as heart disease and stroke. If you don't eat animal protein, you need to be sure you are having enough b12 but there are great plant sources such as nuts, bean, green leafy vegetables. In fact, calorie for calorie, if we look at 100 calories of romaine lettuce and 100 calories of sirloin steak, the romaine lettuce has more protein, but it's hard to eat that much of it. The problem is really that not all vegans and vegetarians are truly eating a plant-based diet. They are instead having processed foods like cereal and pop tarts.
Should we be taking individualized probiotics or do you recommend a specific one? I only recommend a probiotic if there's a clear indication of something that you're looking to undo. Instead of a probiotic though, you should look at what is causing the damage in the first place, whether that's an over-use of antibiotics, too much hand sanitizer, or a bad diet with not enough leafy greens. So again, regardless of the need for a probiotic, we need to circle back to the root cause. Probiotics can be like vitamins and be a construct that makes you feel like you're doing something healthy when you aren't actually doing anything. They are great if you have a vitamin deficiency, but the average person does not need it. Depending on what you are trying to do, there are different probiotics that you should be taking according to which strains you need. Also, there is almost always a dietary adjunct to that, because the bacteria themselves only live usually about 20 to 30 minutes in the gut. So if you are really looking to repopulate, recolonize, and see meaningful change in the gut, then you have to be thinking about what am I feeding this bacteria. You can't just take a probiotic and be done.
Do you consider depression a gut disorder? It can be. The feel good hormone, serotonin is located in the gut and is influenced by gut bacteria. I've spoken to a lot of psychiatrists who are using dietary therapy for psychiatric illness with great results, and not just for depression but other disorders such as schizophrenia. We have seen with our own patients that when their gut starts to heal, they often go off of antidepressants and anti-anxiety medication.
Kristy Rao is a certified health and nutrition coach and native New Yorker. She works with clients nationwide to create holistic, personalized plans to achieve weight loss and natural beauty. Follow her on Twitter @KristyRao and on Instagram @KRHealth