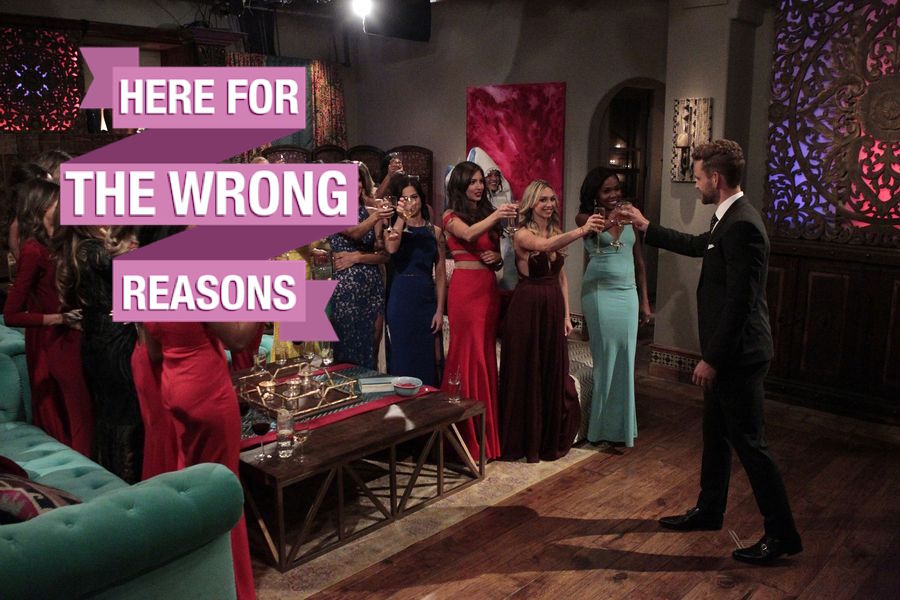 In the single greatest incident of white mediocrity being rewarded, Nick Viall is the Bachelor this year.
For those unfamiliar, Nick Viall is a 36-year-old man whose full-time job is sponsored Instagram posts and appearing on Bachelor and Bachelor-adjacent reality properties. He first appeared on our screens as a contestant on season 10 of The Bachelorette in the role of "Frontrunner With a Punchable Face." He came in second and then, in the After the Rose ceremony, he sputteringly confronted Andi Dorfman on live TV for having sex with him like the saddest of all soft boys who also happen to be embarrassing a girl on live TV.
But that wasn't the end of Nick Viall. There was no way he would go back to living the life of a meager Midwestern software salesman who wore bowties. Nick had tasted hipster scarves, and he wanted more. He shoved his way onto Kaitlyn Bristowe's season because he had slid into her DMs and thought that they could be something special. He came in second, again.
People say Nick was redeemed on Bachelor in Paradise (oh, you thought he was done after appearing on two shows?) and clearly ABC is hoping you agree. They spend the first twenty minutes trying to turn Nick Viall into a misunderstood superhero. We see him with his family and playing soccer with his little sister, who gives him adorable love advice, because how can we hate a little girl, huh? You can't! They even go so far as to bring out the last two Bachelors as character witnesses, promising the audience that if Nick will just be himself, we'll love him.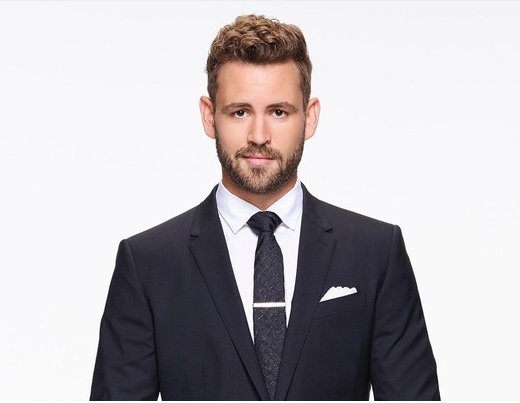 Well, no matter how I feel about him, there are a bunch of pretty girls who apparently are just thrilled that Nick is The Bachelor.
First we meet Rachel, the oldest contestant on the show, which means, obviously, she's 5 years younger than Nick (most of the girls competing for this mediocre asshole's heart are 10+ years younger than him). Rachel is an attorney and immediately she looks like she's way too good for Nick. There's classic Hot Girl, Danielle L, who owns a chain of nail salons, and then Vanessa from Quebec who speaks French and Italian and is so freaking perfect and pretty it makes me angry. I will put a $50 bet right now with anyone who will take it that the girl who speaks French will win.
Next there's Josephine (23) and Alexis (24) who are the token RaNdOm Gurrls! Josephine has a cat and talks to her cat and I am immediately behind Josephine. Alexis is SO quirky and she wants us to know it. She'll go to CVS in a sumo suit, she doesn't care! In my notes for Alexis I wrote, "loves dolphins, is insane."
We also meet Corinne from Miami, the 23 year old who loves bragging about how she runs her family's multi-million dollar business while also shouting for her nanny to bring her a snack of cucumbers. I hate Corinne immediately, which means she'll probably be on this show for like 10 weeks.
IN WHICH 30 WOMEN ALL ATTEMPT TO BE MEMORABLE
The limo entrances begin and they're as awkward as you ever might hope. Danielle L. exits first and Nick just stares at her (admittedly great) boobs. Apparently, this is something he is just allowed to do because they showed us earlier that Nick is awkward and bad at eye contact and just like us.
We get Astrid, who says her boobs are real in German, and Hailey, who, tells the worst joke I have ever heard on this green earth: "Do you know what a girl wearing underwear says? Neither do I." Ugggghhh, come on Hailey.
Josephine, the glorious cat-talker and the only one of the contestants with her god-given nose, brings a book. "Oh damn," I think. "She's really my favorite. That would so be my move, a favorite book from my childhood, maybe inscribed with something sweet." And then she opens the book and there's a secret compartment with an uncooked hotdog and she makes Nick Lady-and-the-Tramp the UNCOOKED hotdog and it's as glorious as I'm describing.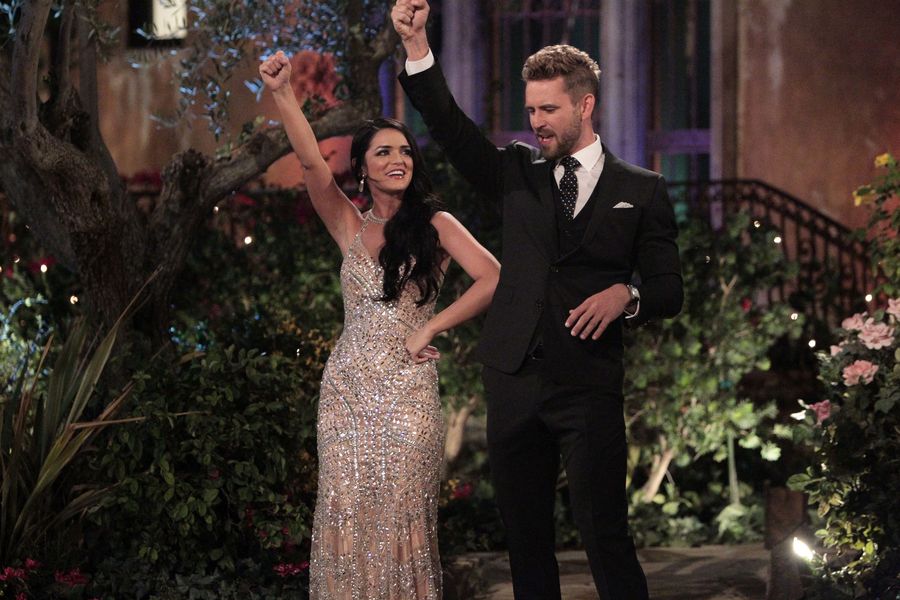 There's Raven, the girl from Arkansas with southern accent and high-pitched voice who teaches Nick how do a hog call. Nick says she has a "really cute voice" which makes me nervous that he's masturbated to Bubbles from The Powerpuff Girls.
Lacey arrives on a camel with a "hump" pun and the rest of the girls have to watch from the window while she slides from that phenomenal pun into Nick's arms. Susanna gives Nick a weird beard massage. One of the Jasmines brings Neil-freaking-Lane out of her limo to show Nick which sort of engagement rings she likes.
There's also Liz, the doula from Las Vegas who already met Nick and hooked up with him at a wedding. How does this show work? How is this legal casting? If I were the Bachelorette and they paraded out anyone I'd already slept with, I'd want my money back. Liz is apparently worried about Nick's debilitating facial blindness and isn't sure whether Nick will remember her from the wedding. "I think I met that girl," Nick says to Chris after Liz enters the building. "You think you know her?" Chris says with a concerned, straight face, doing some terrible, terrible acting. "99% sure," Nick says, feeling gaslit as fuck.
And finally we have Alexis, the insane girl obsessed with dolphins who shows up in a Left Shark costume and heels, and spends the rest of the night drunkenly insisting that she's a dolphin even though, obviously she is dressed as a shark.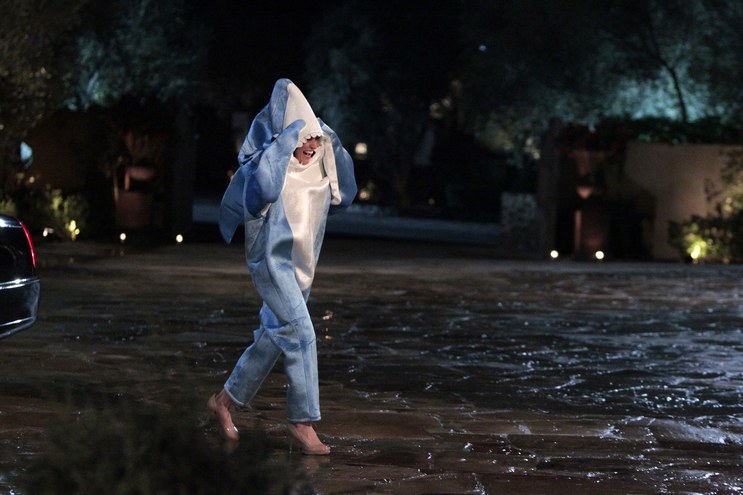 The cocktail party consists of girls mostly in red dresses asking if they can steal Nick for a sec. Nick is trying desperately hard to be a good guy, asking about their jobs and gamely going along with whatever weird schtick they've come up with. Case in point, Corrine offers Nick a bag of "love tokens" presumably with sexual favors, undoubtedly sewn by her nanny the night before. She's the first one to make out with Nick and I would defend her against the slut-shaming of the other girls here, but Corrine is also the worst and she body-shames the girl dressed as a shark-dolphin. Come on, Corrine, as if they would ever let a girl on this show who wasn't a size zero. Get your head out of your ass.
THIS WEEK'S FRONTRUNNER: RACHEL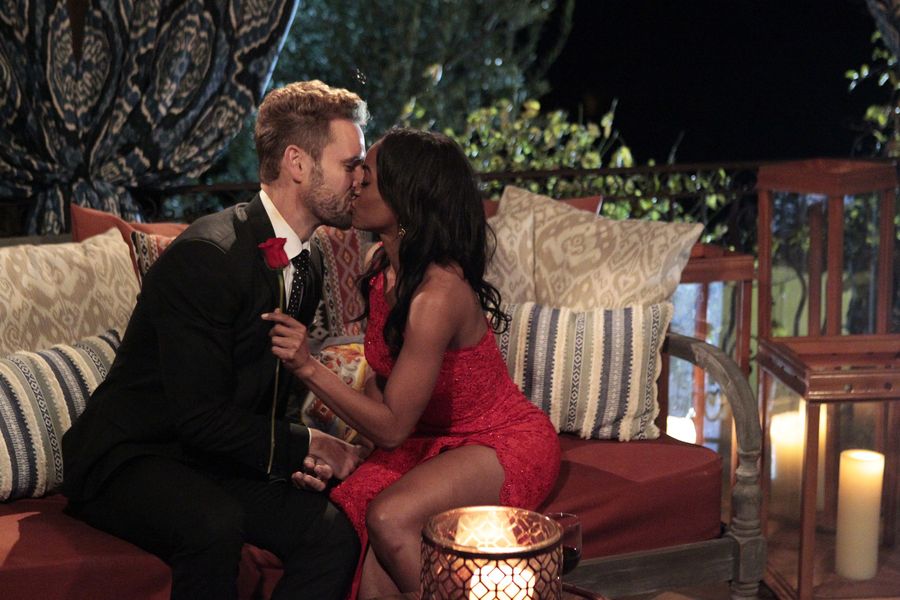 In full Good Guy mode, Nick makes the first good decision of his life and gives the first impression rose to age-appropriate, successful Rachel. She seems so happy and I am so happy for her. "You can do better than Nick Viall," I shout at the screen! She doesn't hear me. Her fate is sealed.
WHO DID NICK SEND HOME?
Alas, the time came for Nick to begin culling the women of color.
Angela
The model who looks a whole lot like Kaitlyn Bristowe. We hardly knew yee.
Jasmine B.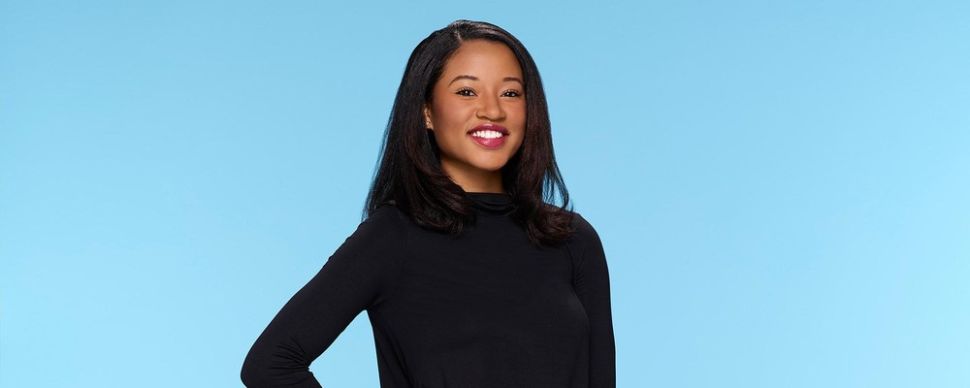 I guess you gotta send home the Jasmine that DIDN'T bring out Neil Lane
Briana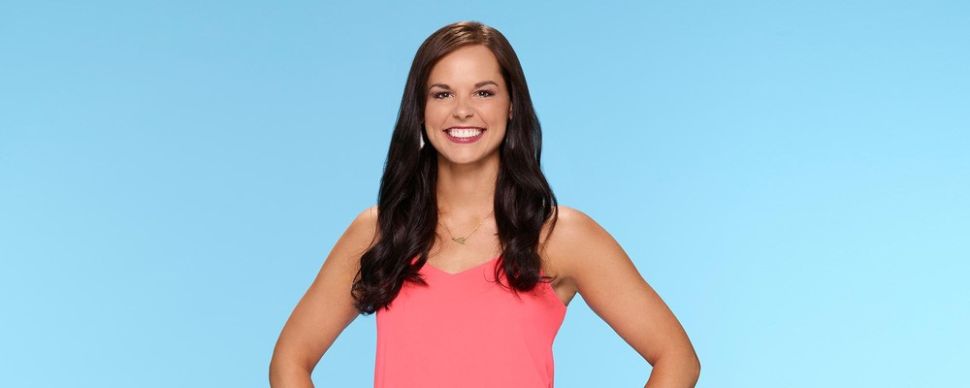 Lauren Hussey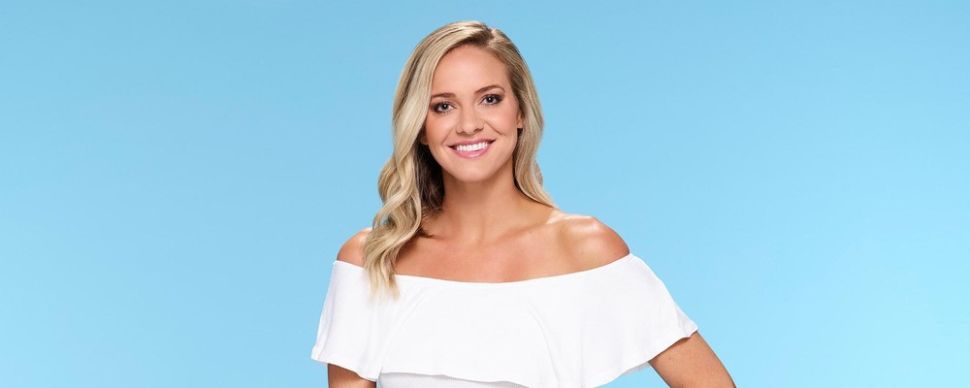 Hussey made a fun joke about her last name being Hussey and Nick's last name being "Vile" and I thought it was funny.
Olivia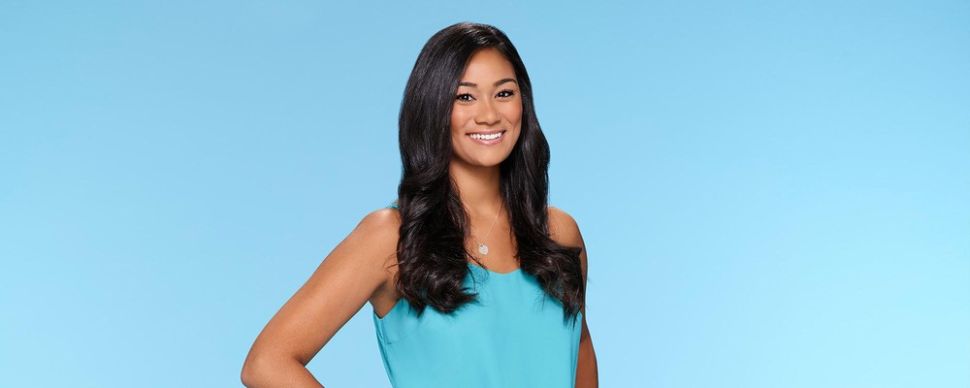 Ida Marie
Susannah