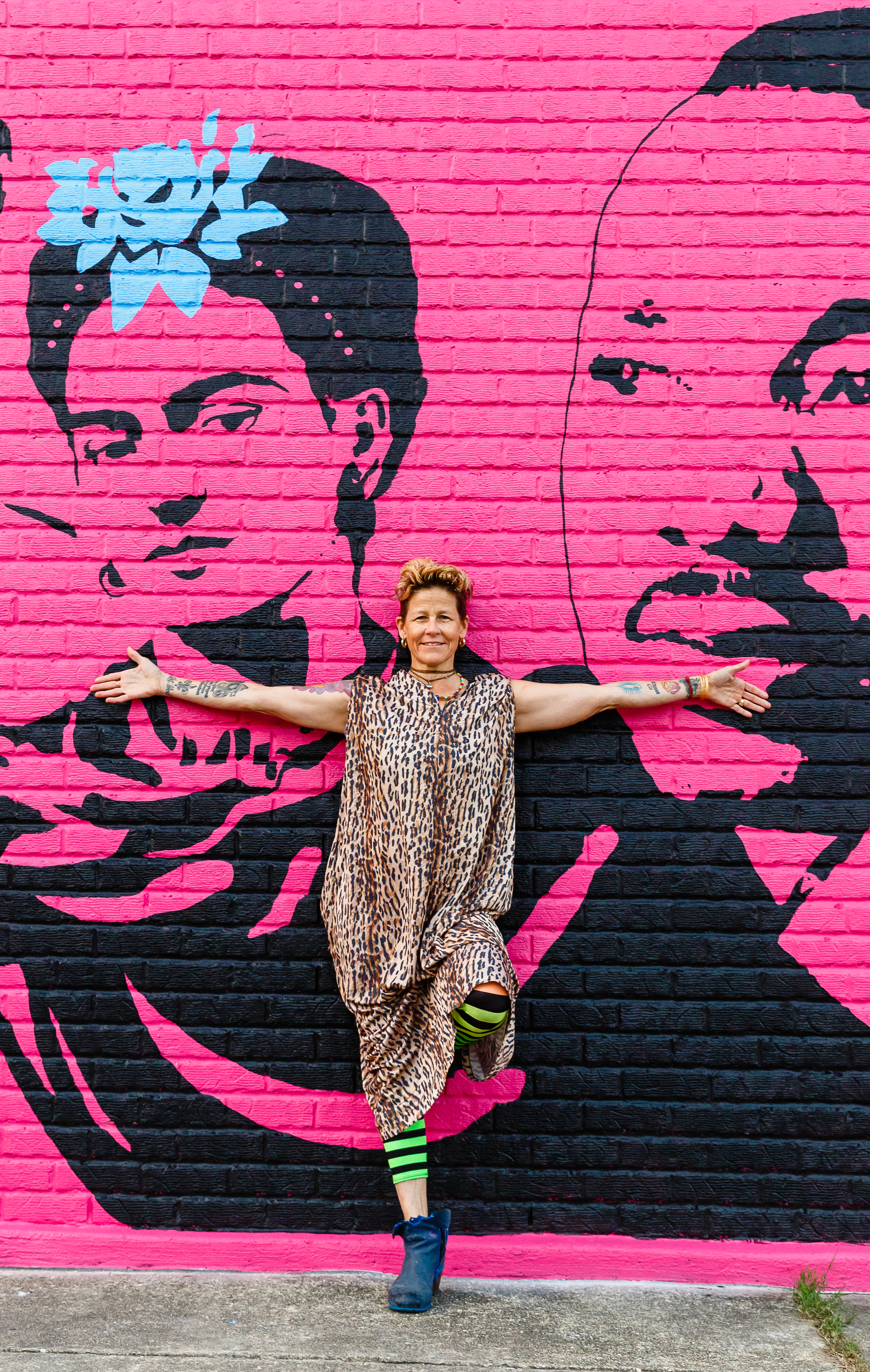 Laughing Lotus was voted the most eclectic yoga studio in all of New York city—and now it's making its way to New Orleans. With many mat-to-mat classes hosted in their Manhattan, Williamsburg and San Francisco studios, an expansion was unavoidable. While the location was surprising (because the city isn't exactly a fitness mecca) the partnership makes perfect sense for anyone who's ever listened to the harmonium at Laughing Lotus or participated in a second line in New Orleans.
The Church of Yoga, opening February 11, is billed as a place to party and pray, accompanied by gospel music on Sunday (and hangovers, assumedly). Their glitter bar, where students can coat their bodies before class, will make even more sense in New Orleans—especially for festival season.
Laughing Lotus founder Dana Trixie Flynn has been visiting New Orleans since 1992, ever since she started road tripping across America. On a recent visit, she was drawn to a former Baptist Church that was severely damaged by Hurricane Katrina; she decided to transform that space into the Church of Yoga.
The Observer spoke to Flynn to find out why she chose the Treme locale and what students can expect from her studio's pay it forward model.
What drew you to New Orleans? It was Easter weekend when I arrived in New Orleans, and I could feel my soul was from here. I have been coming to New Orleans for as long as I have been practicing yoga—over 25 years.
How did you choose the space? My soul was longing to spend more time here, as I love the warmth of the people and how there's always music in the air. I thought maybe I'd buy a little house here…then this church found me. I actually tried not to buy it, but it was truly a calling to connect more deeply to this great city and give back to the soulful family here.
What kind of work did the space need? Katrina ravaged the church, as did the termites. We had to build a whole new structure inside the brick structure, we took it right down to the studs. I had no idea it was going to be such a huge buildout.
Were you worried that New Orleans isn't exactly a city known as a fitness mecca? We're a community center (a nonprofit 501(c)3) first and foremost. The music will live side-by-side with the yoga and its transformative practices. It's a different kind of mecca.
What will this studio have that's specific to New Orleans? We've built a stage for  musicians and Little Freddie King is kicking off the opening just in time for Krewe du Vieux. When you come to class at the Church, it's free because someone else has paid for your class, and when you leave maybe you pay and make it possible for someone else to experience yoga. You don't pay for you, you pay for someone else.
Where are some of your favorite places to visit in New Orleans? I love the bayou, the Mississippi River, Frenchmen Street, the sculpture garden, the Candlelight Inn in Treme, Satsuma Café, Thursday night free jazz in Louis Armstrong Park….I love the street names, the mystery, desire and music. My body was born in San Francisco, but my soul is from here.