Everyone knows the Kitty Genovese story. On March 13, 1964, three dozen New Yorkers heard a 28-year-old woman, their neighbor, being raped and stabbed in the street below by a house burglar named Winston Moseley, and no one did anything. Some turned up the television so as not to hear her screams.
Two weeks after Kitty was murdered, Abe Rosenthal assigned a front-page story in The New York Times headlined "37 Who Saw Murder Didn't Call the Police." (Later editions referenced 38 witnesses.) That single story caused the entire nation to doubt itself. New York City installed the 911 system as a direct response, and the incident spawned the coining of a psychological phenomenon known as "the bystander effect"; to this day it's also called "Genovese syndrome."
The ugly episode, occurring less than four months after America's young president was assassinated, seemed to epitomize the coarsening of a generation. "I didn't want to get involved" was the mantra of those quoted.
The problem is that almost none of this is true.
The new documentary The Witness—which premiered at the New York Film Festival and actually earned a small theatrical release and is now available on Netflix—has Kitty's brother Bill Genovese at its heart.
A double amputee searching for the truth about his sister's murder and the neighbors who ignored it, Bill makes for a compelling main character. He narrates the film in such a perfect Queens baritone that it's almost impossible to believe, as the film's director revealed, that Genovese was a nervous voiceover guy, needing multiple takes.
As became clear in subsequent reporting 40 years later, there were far fewer than 38 witnesses, and several did call the police or take an even more active role.
As the Times itself wrote in 2016 following the death of Winston Moseley:
"The portrayal of 38 witnesses as fully aware and unresponsive was erroneous. The article grossly exaggerated the number of witnesses and what they had perceived. None saw the attack in its entirety. Only a few had glimpsed parts of it, or recognized the cries for help. Many thought they had heard lovers or drunks quarreling. There were two attacks, not three. And afterward, two people did call the police. A 70-year-old woman ventured out and cradled the dying victim in her arms until they arrived. Ms. Genovese died on the way to a hospital."
The director of The Witness, James Solomon, was interviewed by the actor Bob Balaban Tuesday night in the West Village home of television executive Michael Jackson (BBC) and movie producer Rachael Horovitz (Moneyball). It's one of those apartments packed with fascinating books (her father is the playwright Israel Horovitz), Herman Miller chairs, Noguchi shades, robot statues and matryoshka dolls, and where taking off your shoes is encouraged but not required. The host committee was like a who's who of 60s and 70s lefty New York royalty, including Griffin Dunne, Alan Alda and D.A. Pennebaker.
The film took 11 years to finish. Partly because of the health of its subject—Bill Genovese had to miss Tuesday night's talk at the last moment because of excruciating phantom pains in the legs that are no longer there. Meanwhile, heartbreakingly for a film about a brother dealing with his older sibling's untimely death, the director himself suffered the demise of his older brother, who got sick and died while this film was being shot.
Usually, a movie that takes 11 years to get made never gets finished and is better off for it. This rich and complex documentary actually benefited from the long delay because at its core, what the Kitty Genovese episode is about is how a fake news story comes into being.
"There are much more intelligent people in this room to wade into the question of fake news and flawed stories," Solomon said in his talk. "I do think it is horrific to think, and to think that Bill Genovese and Kitty Genovese's family, for more than 40 years, thought Kitty died alone. Many of us are complicit in their keeping to that story. And there's some folks, you know, Malcolm [Gladwell] has written about this story and Susan Brownmiller, and the people in this room have written about this story. It's a wonderful narrative."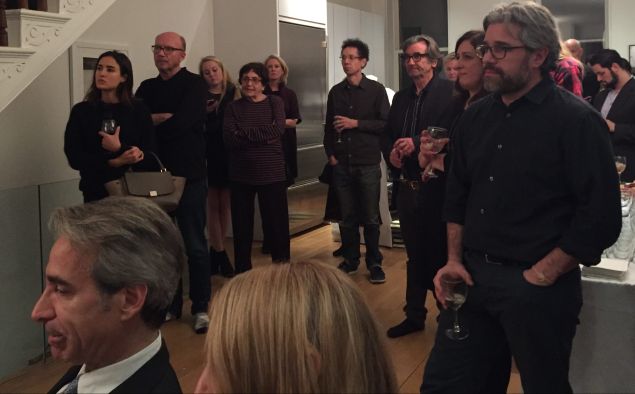 In the first several news stories reporting the story, Sophia Farrar, who was a young woman about Kitty's age when it happened, is noted as having run down to the stairwell when she heard her friend's screams and holding Kitty as she was dying. After Abe Rosenthal gets a tip from his lunch companion, New York City Police Commissioner Michael J. Murphy, that the Kitty Genovese murder is "one for the books," Rosenthal sends reporter Martin Gansberg to chase it down. It's only then that the "witnesses did nothing" meme emerged. Mysteriously, Farrar doesn't appear in Gansberg's long story. Rosenthal, apparently taking Commissioner Murphy's "one for the books" advice literally, wrote a book called Thirty-Eight Witnesses—virtually everything in it, including its title, turned out to be inaccurate. That didn't stop it from being cited by everyone, including Malcolm Gladwell, who deployed the story of 38 do-nothing witnesses as a major proof point in his own best-selling The Tipping Point. Despite the embarrassing gaffe—which has been used to pummel him by the mini-industry of Gladwell haters—he attended Tuesday night's fete and even put his name on the invitation.
Solomon concluded his talk by addressing how a story stays "true" even after it's been long understood to be false.
"One of the greatest compliments was the president of Yale, in his address to the incoming freshman class of 2020 this August, his speech was called 'Countering False Narratives,' and he used the film as the basis for his speech. I don't know him. I've never met him. He's a psychology professor. He's been teaching Kitty Genovese for decades, and it's been a staple of his class. He said that in times of fear and anxiety we tend to look for narratives that define and tell us who we are. We certainly are at this moment."
Solomon told the room that the original Times story was one of those that was, as he put it, "too good to check." More than 50 years later, New York City is a lot safer. But the news media—indeed, the whole country—is still grappling with the problem of stories that aren't quite as neatly packaged as we need them to be.