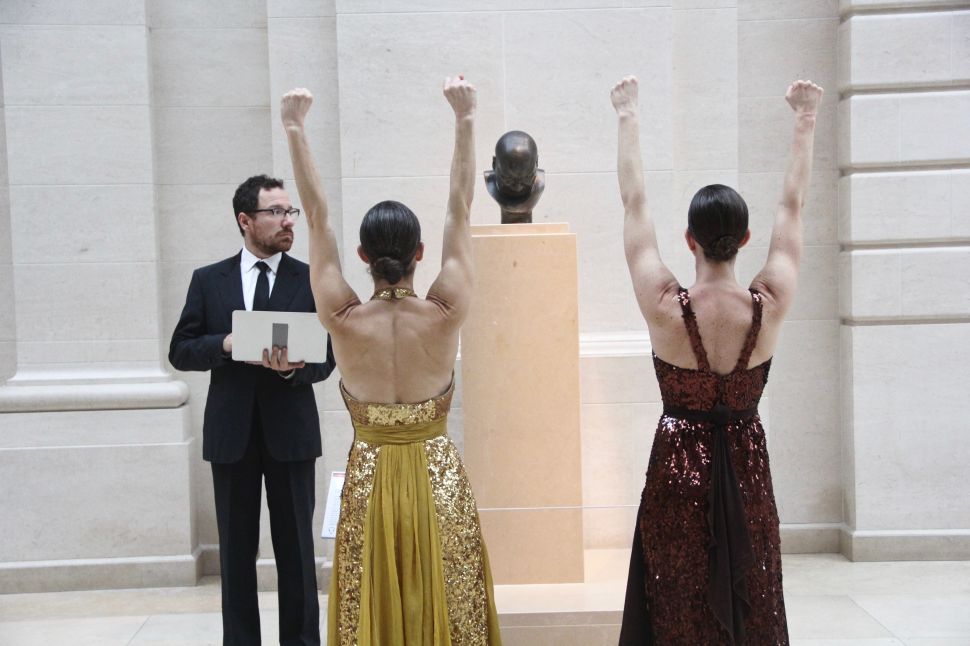 Like many New Yorkers, I did not want to watch the Inauguration on Friday. Fortunately, I had something to do: workout at the Metropolitan Museum of Art. "The Museum Workout," conceived and choreographed by Monica Bill Barnes & Company with route and narration by Maira Kalman, is not the sort of workout you can join in everyday, so if you're interested, get off your SoulCycle bike and head over immediately.
I was in a group of 15 women, and after a brief announcement of do's and don'ts—"Don't touch the artwork, and do stay behind the dancers," said Ms. Barnes and Anna Bass, who wore sequined dresses and sneakers—we took off through the Met's Main Hall, swinging our arms to the beat of the Bee Gee's "Staying Alive." My friend Rhonda and I were not the only women giggling!

Our first stop was the magnificent "Perseus with the Head of Medusa," by Antonio Canova. We ran in place in front of that gorgeous Greek hero, as I contemplated how Canova's young man is as fit as the dancers we were following. Ms. Barnes and Ms. Bass fiercely and elegantly led us through the Medieval Hall, into the Hall of Arms and Armor, and then upstairs to see a bust of Benjamin Franklin, a man who admonished us to be kind to all people, which is something I have been thinking about lately and certainly on that morning.
By the end of the third song, I was pleasantly surprised to note that my cheeks and forehead were damp, even though we had been told that we would sweat as we made our way through the two mile workout. The Museum bills the event as an "entirely original and audacious new work," and I agree. As a besotted member of the Met, I was thrilled to be inside its hallowed hallways before it was open to the public. I turned my head this way and that way as we breezed by statues and paintings, trying to both remember our course and guess where our leaders would take us next. I was correct a few times, but they did trick me once: we traveled down a staircase I hadn't noticed before, and I now wonder if I will remember where it was located.
As the clocked ticked on our Disco and Motown workout, some of the Met's employees began to show up for work, and a few of them stopped to watch us stride by; one fellow gave us a thumbs up and one woman laughed out loud. I smiled at both of them.
We ended the workout in the American wing in savasana, flat on our backs, which is a position I know many museum goers would love to try (Sistine Chapel ceiling, anyone?). Gazing up at Diana, the archer and moon goddess, was, at that moment, the best feeling in the world. And then the creative director, Robert Saenz de Viteri, announced, "Come have coffee with us." And that topped it.
"The Museum Workout" is a MetLiveArts Commission.  It is offered at the Metropolitan Museum of Art January 26th-29th, February 2nd-5th, and February 9th-12th. For tickets, go to http://metmuseum.org/events/programs/met-live-arts/museum-workout.
Ellen Bakalian lives with her two daughters in northern NJ. She is an adjunct professor at Montclair State University.