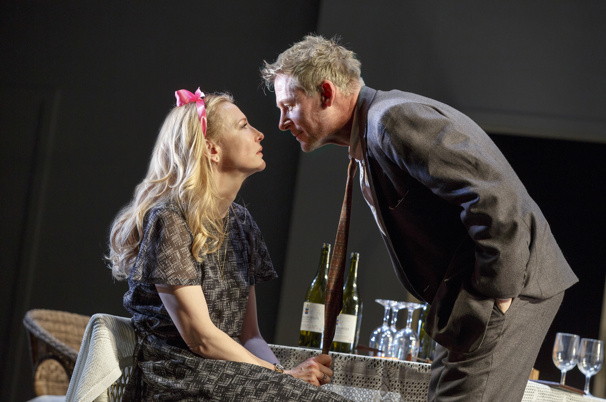 Fearful of being labeled "the boy who cried wolf," I had just about decided to refrain from calling Broadway shows "the worst thing I've ever seen." Then I went to the Ethel Barrymore Theatre and suffered through a relentless three-hour pile of noisy, pointless and pretentious junk called The Present. Imported from Australia for no sane reason other than it offers American audiences a rare chance to waste some time in the same room with the enchanting two-time Oscar winner Cate Blanchett. Two questions: Why would anything this awful get produced in the first place, and why would this graceful, elegant and accomplished actress, who could star in any vehicle of her choosing, appear in it? The answer to both is this: It was written by her husband, Andrew Upton. To both of them, I say, "Feh!"
Upton is an Aussie adapter of works by such famous playwrights as Ibsen, Genet, Gorky and Molière, which he revamps and dumps on the stage of the Sydney Theatre Company. With The Present, he takes on Anton Chekhov's first (rhymes with "worst") play, written while he was a student in medical school, and universally denounced as a work of interminable juvenilia and chaos that was never, for obvious reasons, finished, published or even titled (although it has often been called Platonov, after one of the mob of lost characters who roam, spit, yell, screech and yell at each other throughout). You could knit a sweater between speeches.
The original script, which was discovered in a Moscow bank vault 16 years after Chekhov's death in 1904, is five hours long. Upton has chopped, shredded and deleted so much of the jabberwocky that nothing makes sense about the text, and though the alterations have shortened the running time, he has improved nothing in the process.
Still set in a stereotypically Chekhovian manor house in the pre-Bolshevik Revolution Russian countryside, this creaky old sophomoric "experiment" has now been modernized to include rock 'n' roll, balloons, button-down collars and tennis shoes, adding mountains of fresh confusion to the famous Chekhov tedium. With a cascade of saffron-colored hair and skin-tight jeans, Blanchett plays Anna Petrovna, the bored widow of somebody called "The General" who married her when she was 19 and left her with a financial security that is, at last, running low as she celebrates her 40th birthday. Bored to near-catatonia, she has foolishly invited a gang of the 12 dullest people in Russia as her party guests.
It is impossible to sort out all of the complex relationships because the Australian cast (except for Blanchett, who has enjoyed vast experiences working with every American director from Woody Allen to Martin Scorsese and every important English-speaking co-star from Judi Dench to Robert Redford) speaks with so many variable accents that you can't understand a word they say, but occasionally you get a line like "Words without thoughts never to Heaven go."
Gallons of vodka are consumed. Rifles, shotguns and semi-automatics are fired with nerve-jolting regularity. The first and second acts before intermission drag on for almost two hours, during which an entire dinner is consumed and a few characters fell asleep, joining audience members who were already snoring. Then somebody blew up the summerhouse with explosives. "Great," I said to myself, "now we'll get some new furniture."
A number of people reacted to the explosions by heading for the exits. Alas, there was more. In Acts 3 and 4, coughing through an empty stage engulfed in smoke, the audience survivors were treated to exchanges like "I think Russia is at a crossroads." "It could go one way or the other." "We have let ourselves accept secondhand ideals."
Scene after scene demonstrates the youthful politics of Chekhov before he learned anything about such matters as character development, plot or narrative cohesion. The guests are supposed to be old friends, but they all hate each other. They include Anna's stepbrother Sergei, his mean-spirited best friend Nikolai, their tutor Mikhail Platonov, and assorted cynical parents, vicious doctors, miserable wives and disillusioned lovers, each one craving sexual satisfaction with someone other than the person they came with. They roam about, glaring and throwing themselves across tables and floors, directed by John Crowley like a train wreck waiting to happen.
The play is so bad it seem to be in an unknown language.
Richard Roxburgh's Mikhail Platonov, who acts as a caustic and self-loathing centerpiece, is a sloppy unmade bed of a sex object whose hair looks like it has been brushed by the kind of metal fork that scrapes the grease from a barbecue grill. He's an object of sexual obsession for all the women onstage for reasons that remain the play's biggest unexplained mystery. Which pretty much leaves Cate Blanchett to keep it on track.
The only reason I can think of why anyone would enter this bedlam, even for kicks, Blanchett is so imaginative and exciting to watch that you become riveted to everything she does—a bundle of chain-smoking, gun-waving nerves whose arms and feet are always moving, ready to pounce. When other characters blather gibberish, she looks the other way, and it's even fascinating to watch her ignore them—even when she's not part of the scene, she's part of the scene. Otherwise, The Present is a load of pork tartare that leaves the audience in serious danger. You go away with theatrical trichinosis.