During the past decade, Cate Blanchett from faraway Down Under has dazzlingly paraded some world-famed females before New York audiences—Hedda Gabler, one of The Maids, Blanche DuBois, Vanya's Elena Andreyev—but, for her belated Broadway bow January 8 at the Barrymore, she opted to play a lesser-known character.
Anna Petrovna is lesser known because she was in the first draft of the first play by Anton Chekhov, and when Maria Yermolova—the Maly Theater diva he wrote it for—rejected it, he never went back to it. But British dramatists have recently made a beeline for it, giving The Master a hand with his 300-page, five-hour opus, resulting in Michael Frayn's Wild Honey, Trevor Griffiths' Piano and David Hare's Platonov.
Now, it's the Aussies' turn. The Present is a 1990s update by Blanchett's husband, Andrew Upton, originally for their Sydney Theater Company and now for Broadway.
Even at Square One, Chekhov was setting his plays at a country estate up for grabs, peopling it with characters who grieve about roads not taken and opportunities lost along the way as a result. Here, in The Present, the occasion is the 40th birthday of Anna Petrovna, a widowed trophy-wife who summons some contentious friends and family for one last, lost, vodka-soaked weekend at the family's country home.
Among the presents Anna receives in The Present is a pistol, the favorite gun of her late husband, The General, and you know Chekhov's edict about never introducing a gun into a story unless you intend to use it. That apparently goes double for a shotgun, which is heard from before dynamite totally levels the summerhouse.
All this should make for a sobering Second Act but doesn't. Fueled by vodka, a randy schoolmaster (Richard Roxburgh, functioning as the rooster in a Russian henhouse) leads the amorous do-si-do until the couples pair off not at all the way they arrived.
John Crowley, the Irish director at the helm of this piece, opts for a less explosive translation of the title. "I think, on a more existential level—if I can use that word without sounding pretentious," he injects with a wink, "it refers to how everybody tries to untangle their problems despite the way time is moving through their lives.
"It's how they connect with the present moment, how this web of memories and emotions connect like a vast cat's cradle holding them together. The second anyone moves, it tugs at another one in a painful way. They seem not to be able to move on."
From the cast's perspective, The Present might also mean the Broadway debuts that all 13 Australian actors are making on Crowley's watch. This is his second time around with the play. "We did it in Sydney last August for a regular seven-week run. This time around, we had a week's re-rehearsal and a week's tech. Re-rehearsing this show with the exact same cast is a challenge because, of course, what worked originally could have gotten calcified from repetition over a seven-week run."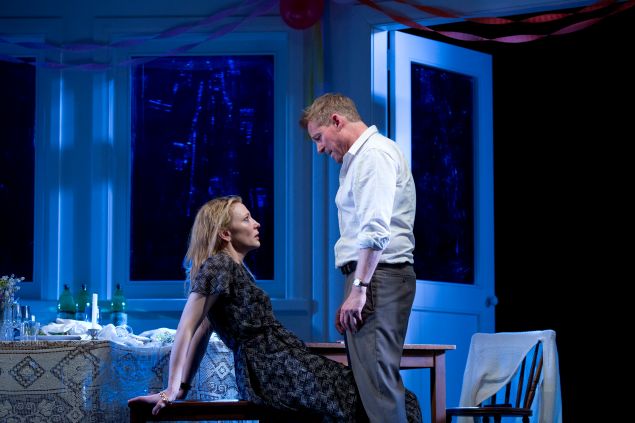 Compared to the kind of classics Blanchett usually travels in, her husband's rewrite of Chekhov is almost an untested new play and, thus, a surprising choice with which to charge Broadway. "I don't know if Cate chose to make her Broadway debut with it or if it was a happy coincidence of events," says Crowley. "We'd talked about doing something together for years, and when it came together, they invited producer Stuart Thompson to see it. He was keen to bring something from the Sydney Theater Company over and had tried to do it a few times, but the timing was never right."
The problem has always been carving out enough stage time from Blanchett's tightly packed film schedule, which now numbers 65 screen credits since 1993. Previous play forays here—at City Center and BAM—were for shorter runs than the limited 13 weeks luxuriously allotted for The Present, and even that had to be shoehorned in between her just wrapping the latest of the Ocean's Eleven franchise (Ocean's Eight) and doing voiceover work on Jungle Book and How to Train Your Dragon 3.
Liveness, which spell check still stubbornly refuses to accept as a word, is the main word that Crowley uses for what Blanchett brings to the stage and any co-star in her immediate vicinity. "The way we rehearsed it is to try and create the feeling among the ensemble of being alive to every moment," he explains. "Cate just flies with this."
When Crowley first started working with her in Sydney, he was surprised at her playfulness. "Some actors—especially actors who do film—have to focus on where they want to get the moment right. Cate wants to open that moment up and know what the parameters are. There will be times when something will go against the story, so you have a conversation and say, 'If you do that, then that's going to read as blah blah blah,' and she'll instantly rethink it or nix it. The emphasis and the degree of liveness are what she's after—whether it's rehearsing or performing on stage.
"Cate likes stress-testing moments in the play to see what they're made of and how they'll break. If she goes too far with it, she'll pull back on it. She's not somebody who likes to sit around, discussing things endlessly. She's happier working on the floor, figuring out with another actor what the moment is about. Some actors really do have a more academic approach. Not Cate. She's fantastically bright, but it's allied to an instinct for playful acrobatics. You just need to give her enough rope to play with in scenes rather than too tight a space. She'll rupture—with Richard Roxburgh, in particular, because he has very different energy as an actor. There's more of a stillness there, and he in lots of ways is the anchor to her higher-acrobatic instincts."
Blanchett and Roxburgh practically qualify as The Lunts of Australia, having acted together for 21 years, starting out as Ophelia and Hamlet. After years of stage-teaming, their kinetic sensuality hasn't diminished. They can still fling sparks.
"When they go out in those big emotional scenes every night," says Crowley, "there may be subtle variations on differences and emphases, but they wind up in the same place emotionally. That's because they are comfortable with each other. I've never seen one of them make a choice in a moment than the other one felt, 'Oh, God! That's hard for me!' They almost egg each other on, making each other better as actors."
Crowley grew up stage-savvy, 17 years younger than his set-designer brother, Bob, who amassed Tonys from The Coast of Utopia to An American in Paris (seven in all).
Kid Brother went to the university in their hometown of Cork, thinking that he would become an actor. "I didn't enjoy acting," he remembers, "but the second I took up directing—ironically, the first thing I directed at university was The Bear by Chekhov, a one-act play—I felt the opposite. It was the most comfortable thing I had ever done in my life up to that point. I went, 'Ahhh! I love to do this.' I'm sure it must have been absolutely terrible, but it didn't matter because there was enough there that I was comfortable with to encourage me to carry on and stick with it and learn."
He made his Broadway debut the hard way, sorting out the deliciously twisted plays of Martin McDonagh—The Pillowman in 2005 and The Behanding in Spokane in 2010. The first won Tony nominations for himself and two of his actors (Michael Stuhlbarg and Billy Crudup) plus the Olivier and the New York Drama Critics Award.
The second play got Christopher Walken in the Tony running, playing a handless latter-day Hook. "There were times when I was working with Cate that I would be reminded of Chris because neither of them is easy-easy to work with. They're not unpleasantly difficult, but they're perfectionists about the work, so they tend to be a little wary at first and a bit scared that they're going to push down the wrong road."
Yes, he confesses, he grooved to McDonagh's bizarro blend of comedy and violence. "Martin gives you a great night out. Scaring an audience in the cinema, of course, is easier, but to actually creep a theater audience out and make them jump is difficult.
"I think The Pillowman is one of the scariest of plays I've ever come across—and one of the toughest things I've ever directed because the mixture of elements between Grand Guignol and the emotionality of the scenes. Finding the touch between humor and horror took a bit of figuring out. You can never let it tip too far in one direction."
His other Broadway show was, financially, his biggest hit—A Steady Rain—and he had something to do with that, suggesting Daniel Craig team with Hugh Jackman.
Prior to beginning work on The Present, Crowley finished his fifth—and, to date, best—film: Brooklyn, a moving chronicle of an Irish immigrant lass on these shores in the 1950s. It Oscar-contended earlier this year for Best Picture, Best Actress (Saoirse Ronan) and Best Adapted Screenplay (Nick Hornby). Hornby scripted the films that won Crowley BAFTA Awards for Best Director—Brooklyn and Boy A.
The story that Crowley took up stage directing to get into movie directing isn't true. "Wikipedia said that—I didn't," he insists. Nor does he see himself more as one than the other. "The truth is, when I'm doing one, the other one feels alien to me. They are such radically different ways of viewing the world, even if ultimately you are telling stories with actors—and the way you talk to actors is very similar in both instances.
"With film, you're chasing after one moment—a look in a person's eye, a fast glance—just a moment of truth that you perceive, and, if the camera is in focus, you got it. Theater is very different. What we do every day when we do notes is examining what happened last night and saying, 'Why was that bit good? Why was that bit not so good? Maybe we should do it this way tonight.' It's part of a more open dialogue. You're trying to create a condition for liveness so that in six weeks' time the show will be as alive as it was last night, hopefully, and doesn't get run in its ways: 'I always lift this cup on that line.' That can happen in long runs. Liveness is the key."