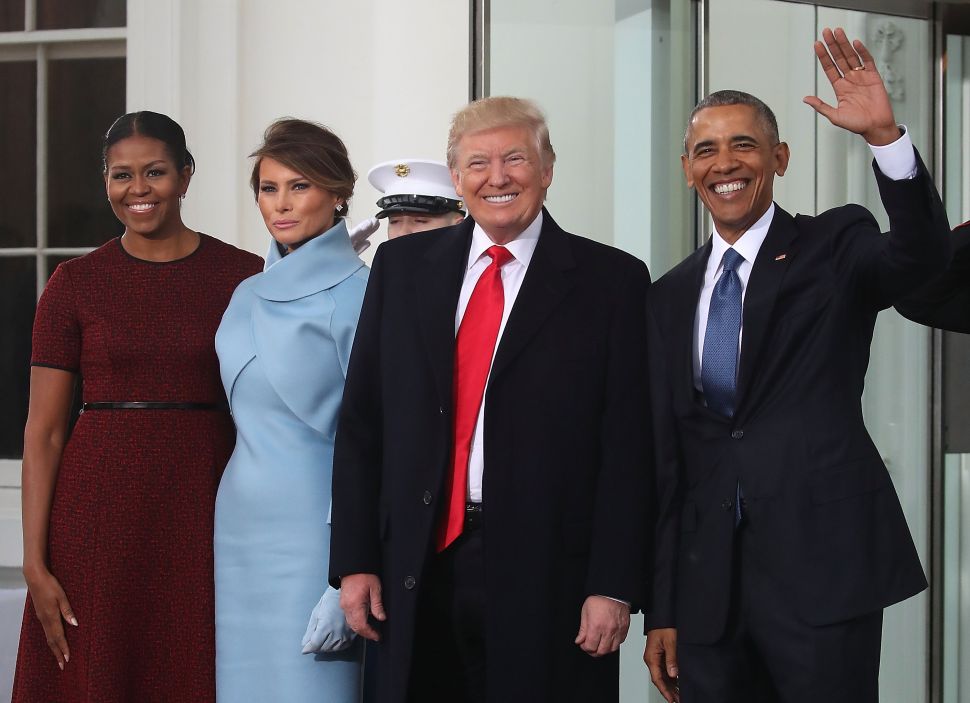 Ten years ago this April, my family was granted the honor of a lifetime.
Then-president George W. Bush was planning a press conference on the impact of his tax cuts on American families. My wife and I were planning to use our tax savings to buy our first home, and we were invited to the White House to be part of the event.
Growing up in Jewish suburban Chicago, the word "Republican" was less popular than the Green Bay packers or putting ketchup on a hot dog. Supporting the GOP was something you just didn't do. But none of that mattered. All my friends and family greeted my exciting news with the understanding that their own opinions of President Bush or the GOP were irrelevant. It was about the office, the honor, and the promise of America to my grandparents who had fled Europe before Hitler's ascendancy. They could never have imagined that their grandson would be invited to meet with the President of the United States.
The Office of the Presidency has a history—a significance so profound that it transcends its occupant during any snapshot in time.
So what on earth is happening? What about the unifying, celebratory tradition of passing the mantle?
"Welcome to the resistance!" proclaimed Rep. Jan Schakowsky Thursday night on the campus of Northwestern University. "People are ready for the fight. I think what most people are wanting now is marching orders."
Donald Trump hasn't even taken the oath of office and the torches and pitchforks are already out.
Schakowsky is one of over 60 elected officials boycotting the presidential inauguration. Athletes, artists and community and religious leaders willing to give the president-elect a chance are scorned on cable news programs and social media by leftist voices. The progressive movement's political agenda and party loyalty have perverted patriotism into disdain for America.
Certainly the pride I felt as a Jew being invited to the White House will in some measure be relived when Rabbi Marvin Hier of the Simon Wiesenthal Center gives a benediction at Friday's presidential inauguration ceremony, the first rabbi to do so in over 30 years. I know I will be overcome with emotion when Rabbi Hier steps up to the podium. But my joy won't be shared by everyone in my community.
A growing chorus is demanding Hier refuse the honor bestowed upon him, claiming Trump is intolerant and therefore "unworthy" of respect.
Some in the African-American community have gone as far as to refer to blacks meeting with Trump as "mediocre negroes." Morehouse College professor and self-described "leading intellectual" Marc Lamont Hill offered this classic tidbit of intolerance on a recent CNN panel discussion.
This is what tolerance and intellectual thought look like from the progressive perspective. The social justice crowd that calls Trump intolerant or bigoted is outraged at his outreach to minorities and the oppressed.
Bruce LeVell, Executive Director of Trump's National Diversity Coalition, said it best: "Damned if you do, damned if you don't."
It's one thing for political pundits and community activists to reject the newly elected president. There is money and publicity in prolonging a political battle and dividing a nation. But as shameful as that may be, it's even more appalling for our elected officials to reject the newly elected president—it delegitimizes our system of government.
There is no justification for a member of Congress to boycott the inauguration of a newly-elected president. Even if you despise their election tactics and rhetoric or believe that Russian hackers influenced the American electorate, your duty to your constituents and country is to promote healing and be a unifying voice.
"United we stand, divided we fall." It's a choice.
Paul Miller is president and executive director of the news and public policy group Haym Salomon Center. Follow him on twitter @pauliespoint.