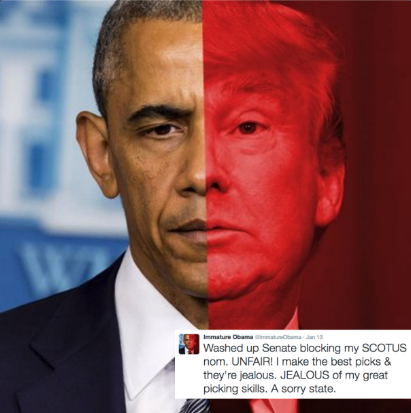 There's a pretty stark difference between the online presences of the current president and the president-elect, especially on Twitter. While tweets from Barack Obama via his personal account and the POTUS handle (although rarely written by him personally) are quite reserved and presidential, Donald Trump (who just announced he won't take over POTUS) runs things just a tad more off the cuff.
But what if Obama tweeted like Trump? You don't have to wonder, because the new parody account @ImmatureObama is doing a pretty decent job showing us. The account, which joined the platform last week, has been retweeting President Obama's real tweets and translating them into Trump-speak, complete with "crooked," "sad!" and all.
He brags.
Attacks the media.
Gets off-topic and spreads false information.
And there are plenty of insults, of course.
Obama might be out in a few days, but at least we know Twitter will never be boring.
(h/t DailyDot)