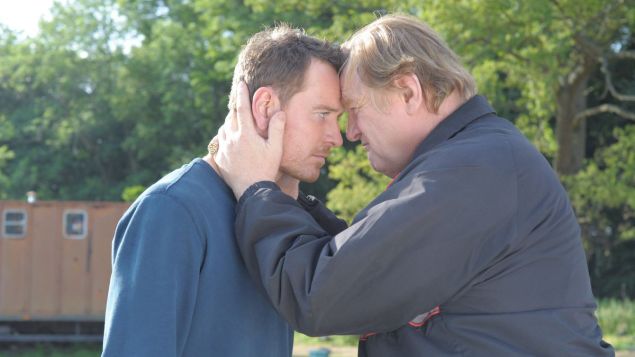 German-born but raised in Ireland, Michael Fassbender is a handsome and resourceful actor who has redefined versatility, in more than 50 films and TV series since he jump-started his career in 2008 as hunger-striking IRA leader Bobby Sands in Hunger. Without much regard for commercial success, his wide range has been put to good advantage playing, among other things, Rochester in Jane Eyre, a movie critic fighting the Nazis in Quentin Tarantino's Inglourious Basterds, a Southern plantation owner in 12 Years a Slave, a full-frontally nude sex addict in Shame and a lonely lighthouse keeper in the sweepingly romantic Light Between Oceans, as well as Macbeth, Carl Jung and Steve Jobs. It's easy to see an agile mind and a blazing talent at work in all of them. It is not so easy to figure out what has drawn him to a bomb called Trespass Against Us.
---

TRESPASS AGAINST US ★★
(2/4 stars)

Directed by: Adam Smith
Written by: Alastair Siddons
Starring: Michael Fassbender, Brendan Gleeson, and Lyndsey Marshal
Running time: 99 mins.

---
Plotless and illogical, this time-waster is about a scruffy gang of traveling Irish hoodlums roaming the countryside in Northern England and living out of a circle of family-style mobile trailers positioned like a wagon train in a John Ford western. They drift between robberies. Fassbender, as a thief named Chad who wants to go straight and make a better life for his wife and two kids, drifts between yelling matches with his father Colby (another role played with customary incoherence by Brendan Gleeson) who rules the clan with patriarchal bullying, exercising criminal control over Chad and his brain-damaged brother Gordon (Sean Harris), who drifts around naked, killing animals and setting fires. The movie, lamely directed by first-timer Adam Smith, drifts from campground to fistfight, without much purpose or impact. The accents, thick as cold porridge, just drift.
Unable to stand up to his hulking, hammering father, Chad's loyalty is never very convincing, least of all where his 6-year-old son Tyson is concerned. The movie opens with an SUV barreling across an open field at breakneck speed with the child behind the wheel, already showing signs of following in his grandfather's footsteps with his dedicated contempt of the law. Pursued by cops in cars and helicopters, the gang seems unconquerable. Unfortunately, the best intentions go unrealized and without giving anything away, I warn you the mood is fatalistic from start to finish. The dark world of Trespass Against Us, where itinerant crooks operate in broad daylight and then move on, is based on facts, but colorful as the criminals are, their eccentricities don't add up to a movie important enough to make Michael Fassbender's star turn seem anything more than slumming.