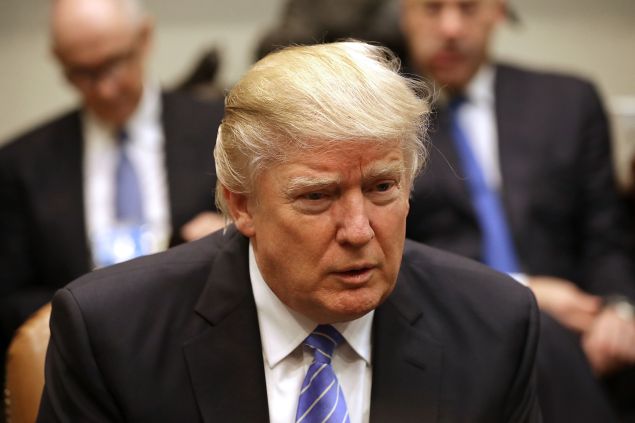 President Donald Trump's Department of Homeland Security announced it would comply with a bevy of federal judges' injunctions against portions of his executive order barring entry to people from seven Muslim-majority nations—but declared it would continue to press ahead with the rest of the White House fiat.
The agency's announcement came this afternoon after Brooklyn Judge Ann Donnelly issued a restraining order forbidding DHS's Border and Customs Enforcement arm from deporting any of the people held at John F. Kennedy Airport and other hubs nationwide who the Obama administration approved to enter the country. Two federal jurists in Massachusetts enjoined the administration from detaining or expelling any arrival from Syria, Sudan, Somalia, Libya, Yemen, Iran or Iraq who was either a legal permanent resident of the U.S. or who possessed a proper visa—while a federal judge in Virginia granted those detained at Washington Dulles International Airport access to legal counsel.
DHS's promise of compliance was buried at the bottom of an otherwise petulant public statement.
"The Department of Homeland Security will comply with judicial orders; faithfully enforce our immigration laws, and implement President Trump's executive orders to ensure that those entering the United States do not pose a threat to our country or the American people," the statement reads.
The judges orders are temporary pending hearings, and do not appear to apply to future travelers and asylum-seekers who have yet to obtain federal authorization to come to the United States. The administration's public release noted this, bitterly.
"No foreign national in a foreign land, without ties to the United States, has any unfettered right to demand entry into the United States or to demand immigration benefits in the United States," the agency's statement reads. "President Trump's executive orders remain in place—prohibited travel will remain prohibited, and the U.S. government retains its right to revoke visas at any time if required for national security or public safety."
DHS also asserted that the dozens held in detention represent a tiny fraction of all people entering the country, and were merely obligated to go "enhanced security screenings" before exiting the airports.
Gen. John Kelly, Trump's DHS Secretary, released three clarifying statements on the executive orders this evening. One stated that it would not obstruct the entry of any legal resident of the United States coming from the seven embargoed nations, so long as the government did not possess "significant derogatory information indicating a serious threat to public safety and welfare."
Another reaffirmed that the administration was "already taking steps to comply" with the judges' orders, and vowed government had not violated any person's civil rights.
"We are committed to ensuring that all individuals affected by the executive orders, including those affected by the court orders, are being provided all rights afforded under the law," the release said. " As Secretary Kelly previously stated, in applying the provisions of the president's executive order, the entry of lawful permanent residents is in the national interest."
Finally, DHS put out a "fact sheet" that asserted that the U.S. has "the world's most generous immigration system," which has been "repeatedly exploited by terrorists and other malicious actors who seek to do us harm." It did not cite any examples to back up that assertion, and most recent terror attacks—such as the Chelsea bombing and the Orlando night club shooting—have been carried out by the American-born adult descendants of immigrants, not by immigrants themselves.
The fact sheet also noted that the Obama administration had flagged the countries in question as potential sources of terrorists, and even temporarily stopped processing refugee applications form Iraqis in 2011, though both those moves were far narrower in scope and impact than Trump's order. The DHS release continued that the agency would conduct a 30-day review of potential vulnerabilities from of visitors and asylum-seekers in each nation, and give each foreign government 60 days to respond to any of its inquiries.
Once that review is complete, the agency promised it would resume refugee resettlement in the United States, though the country would not accept more than 50,000 people this year. In the meantime, Kelly would create a DNA database for tracking all travelers to the United States.
"The Department of Homeland Security will faithfully execute the immigration laws and the president's executive order, and we will treat all of those we encounter humanely and with professionalism," the fact sheet promised.
It also reiterated DHS's intention to work with the Department of Justice to publish bi-annual reports on "the number of foreign nationals charged with terrorism-related offense or gender-based violence against women."
Protests against Trump's dictates will continue well into this week.
Updated to include subsequent releases from Kelly.