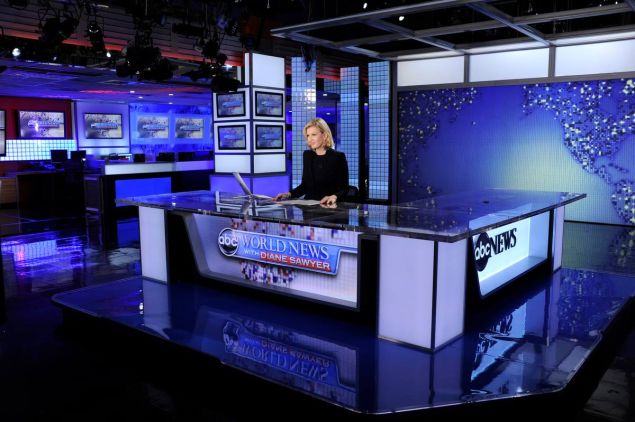 If you were watching ABC News last night, you may have seen something strange happen during a segment on Trump's Muslim ban. Some viewers report the feed was cut, and when it got rolling again, "a completely different story" was being told.
One Reddit user detailed the incident in a post titled, "Last night, ABC News was silenced":
I was watching the news with my sister's family and David was telling a story. He started it about Trump and the immigration problems going on right now and once the lady speaker started telling a story about a man who was a translator overseas for the US Gov., the picture went away and eventually her voice was slowly turned down to completely cut off. David showed back up and continued with a completely different story. He didn't tell what happened with that story and it seemed like 10 minutes later, they told the same story with a different script.
The thread garnered hundreds of replies, many from people saying they saw the peculiar cut as well. Many, however, were skeptical it was censorship and pondered alternate explanations. Although the post was eventually labeled "questionable information" and locked to disable commenting because it broke several of the forum's rules, it had already been upvoted thousands of times and made it to Reddit's front page. And as it goes on the internet, the information spread to other sites where it was presented as fact.
But what some feared to be censorship was no more than a technical glitch, according to a source at ABC News.
The source told the Observer that 10 minutes of the 23-minute show were focussed on immigration and that the glitch was fixed for later feeds, meaning anyone who watched later in a different time zone or online would've seen a typical broadcast.
While we were confirming the glitch with ABC News, the original Reddit post was removed and the thread was updated to say the following: "After reviewing the video provided by OP we have come to the conclusion that this was most likely a technical glitch. As such, the post has been removed. If other evidence is found, please feel free to message us."
As for an explanation for why it seemed the script had been altered after the glitch, one Redditor, who claims to have worked in TV news as an anchor, reporter and producer, gave the following insight, which was then corroborated by more broadcast news professionals:
This was David not handling a live feed cutting out well. This happens quite often. From the producers standpoint, there's not much to do but move onto the next story and try and get the live feed back up for later in the show. David should've said something like, 'Having some technical problems, we'll revisit that story later in the show.' It's likely both he and the producer panicked and just went right onto the next story. Uncommon for talent at that level to panic, but they're only human. Sometimes there's not enough time to go back to a story. Also quite common.
While Trump has done many controversial things in his 11 days as president, this new broadcast was safe from his executive orders.