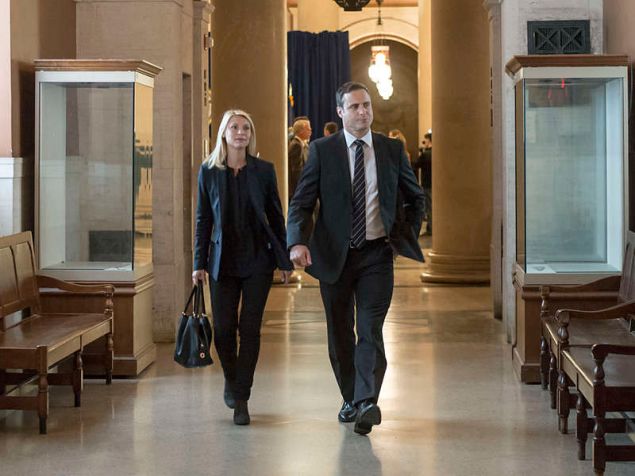 Welcome to our TV Fashion column, where TV Ate My Wardrobe's Emma Fraser discusses the trends in television apparel. This week: Looking at the best bags on TV, from Prada bags to a cyber-hacker's backpack. 
On Homeland Carrie Mathison's wardrobe is all function from her sensible flats to the loose fitting smart blouses, jackets and pants. And when you've got as much to worry about as Carrie does, it makes sense to have a rotation of outfits that don't draw attention and require little thought when getting ready in the morning. It is a repeat wardrobe out of the necessity to stay anonymous and she is one former spy who doesn't often need to throw on a disguise, but as we saw last season she will wear a wig worthy of The Americans if the situation calls for it.
One key item in her clothing arsenal is a no frills cross-body bag and it is roomy enough to fit everything Carrie might need; as both a CIA officer and now a private citizen who is still embroiled deep in the surveillance business. Whether it is important documents, a laptop or other tech to get her out of a jam this is the kind of bag you can just sling over your shoulder and set off. Less bulky than a backpack and perfect for slipping through busy crowds without accidentally bashing people with it (see me at any airport with my carry-on). And this is very much the Jack Bauer school of how to transport all your shit. Carrie probably has fewer grenades in hers.
So while Carrie's job role and employer have changed considerably since season 1 her wardrobe is as it ever was. There is no need to alter what she wears because this look is timeless and fashion is not something she uses as a shield. Her choice of bag makes sense because it is big enough to carry what she needs, doesn't draw attention and is functional. The only reason she might spend a lot of money on a bag is not for the statement, but for the durability. Plus she's got all that extra Airbnb money coming in so she can definitely treat herself to something more splurge-worthy like this one by The Row.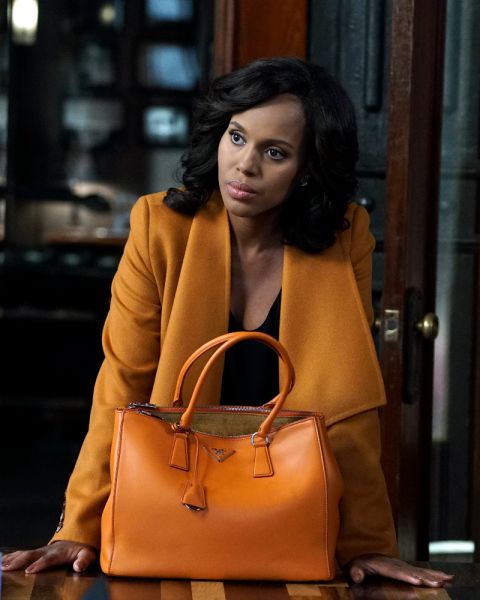 Returning to TV this week for season 6 of Scandal is Prada bag super fan Olivia Pope and you can depend on Olivia for having the best collection of wine cardigans on TV as well as the perfect Prada for any outfit. In some respects just like Carrie, Olivia thrives in her job by not being seen as she is the one behind the curtain fixing things. This means a lot of neutrals in her wardrobe with bold color only really sneaking in last season. Everything is very put together right down to the clothes she drinks her goblets of wine in and Olivia's designer threads are very much part of her armor; the bag is just as vital to this.
At the start of season 3, Olivia entered a top secret bunker dressed head to toe in white including a Burberry coat – which now reads as a comparison to a Pope of a younger kind – with a white Prada bag to match. Back then this was the Olivia Pope gladiator armor; before the doubt set in and color came into her life. Unlike Carrie Mathison, Olivia Pope's style choices have evolved and she uses fashion as a form of protection. The only thing that has remained constant is the choice of a luxury purse and Scandal costume designer Lyn Paolo explained why Prada to The L.A. Times while discussing the big season 5 changes last year "She likes Prada. That's my world…. And Mrs. Prada likes our show…. Designers now like to work with our show. Most of the clothes we use on the show at this point are from the collections."
As coats were to The Americans last season, the Prada purse will surely be used to cover up Kerry Washington's real life pregnancy just as it was in season 3 when Washington was pregnant with her first child. This method that goes way back and Grace Kelly used her purse to shield her bump from the paparazzi in 1956; her bag of choice was a Hermès and it was later renamed the 'Kelly.'
Luxury purses are a staple of Mindy Lahiri's closet on The Mindy Project and unlike Olivia Pope, her clothes have been colorful and bold since the first episode. In the past, I have discussed wardrobe budgets of characters and it makes sense that both Mindy and Olivia's tastes match the money they earn. Okay, maybe if you added up the cost of all their purses it would far exceed their average earnings, but it makes more sense than say the amount of designer shoes Carrie Bradshaw had in her closet.
Mindy doesn't repeat outfits and her bag collection is big enough to match her endless supply of designer garments; she has plenty of Chanel quilted chain purses in a rainbow of colors for one and she also has the perfect luxury tote for when she needs a more work specific bag. While we're on the subject of tote bags as I have never felt more like Mindy than when the subject of a free tote came up way back in season 1 when she was on a date with Seth Meyers. If there is a book/tote offer than I am your lady. Because I definitely don't have enough totes in my life or books on my 'To Read' pile.
Colorful palettes tend to appear most frequently on comedy shows with New Girl and The Unbreakable Kimmy Schmidt falling into this costume theory when it comes to what the lead character wears. Jessica Day and Kimmy Schmidt both dress like they might be auditioning for a kid's TV presenter job in the 1970s with a whole lot of color and pattern on display. Part of this comes in the form of their bags with Kimmy's yellow cross-body number being on my most wanted list last year and all of Jess' bags getting a similar reaction. This is until I remember how little you can fit in a bag this size and how much stuff I cart around with me, but for those times when I know that all I need is my phone, lipstick, gum, wallet and I can forgo an umbrella this is my bag of choice.
And this is why I love a TV character who uses a backpack because otherwise, I might end up looking like Elsbeth Tascioni from The Good Wife (and soon to be The Good Fight) with multiple bags carrying all her much-needed paperwork. This is the bag version of Columbo's disheveled trench; to disarm and throw off from how good Elsbeth is. In the same way Olivia Pope uses her Prada, Elliot on Mr. Robot has his go-to backpack as part of his all-black uniform. Plus it is big enough to carry a laptop and whatever else he might require. Going back a little bit, The West Wing's Josh Lyman wore a backpack to show his boyish charm and to set him apart from the more typical White House staffer look. He never two-strapped because this was the late '90s and it was always slung over his slightly rumpled (and very baggy because '90s) suit.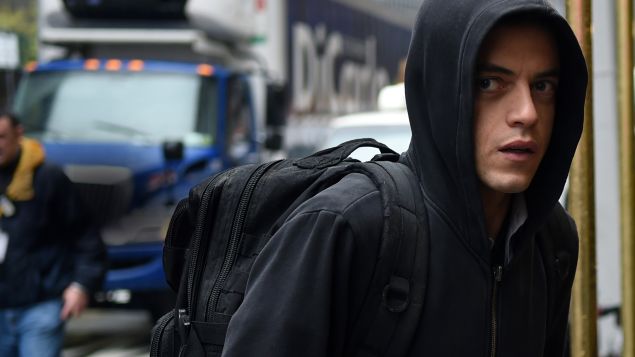 On Broad City Ilana also favors a backpack and a tropical floral patterned has been her go to. You can get similar from Herschel and Eastpak in a variety of styles/patterns and a bag like this is incredibly useful when you're carting your stuff all over the city and don't know when you might go home. As someone who tends to be over prepared for all weather situations and likes to carry a book with them at all times, this is pretty much my go to. Currently, I am halfway between tote and backpack with the Fjällräven Totepack and it is very much the perfect day bag.
As seen in the season 3 finale Abbi takes her luggage buying advice from Drew Barrymore and this doesn't quite work out in her favor after a serious of mishaps. But Abbi Jacobson who plays Abbi on Broad City has better luck when it comes to bags in real life and recently she released Carry This Book; an illustrated funny look at what certain famous figures (both fictional and real) carry in their bags.
My fascination with the bags TV characters carry also includes what might be contained within their bag and whether the size/style is a good representation of who these characters are. In the same way there should be coffee in takeout cups (but there often is nothing but air), I also wonder if the bags that are props actually contain much of anything. In real life, there is US Weekly's "What's in my Bag?" feature and as it is award season there is often the question posed on the red carpet regarding what an actress keeps in her tiny clutch. Sometimes the answer is barely anything and other times it might be more revealing as Giuliana Rancic found out when she asked Sarah Silverman at the Emmys.
There's bag inspiration to be found from former spies, doctors, fixers, teachers, hackers and lawyers across comedy and drama; you don't need to spill the actual contents to make a statement and while it might be considered rude IRL I would be down for having a peek in any of these character's purses.
Emma Fraser is the creator of TV Ate My Wardrobe and spends most of her time writing about TV, fashion and costuming; Abbi and Ilana's Broad City style, the wigs on The Americans and Mindy Lahiri's pajamas are just as vital as talking about '90s, '00s teen shows. Emma has a MA in film and television, and she probably holds Angela Chase responsible for this path. You can find her on Twitter @frazbelina.