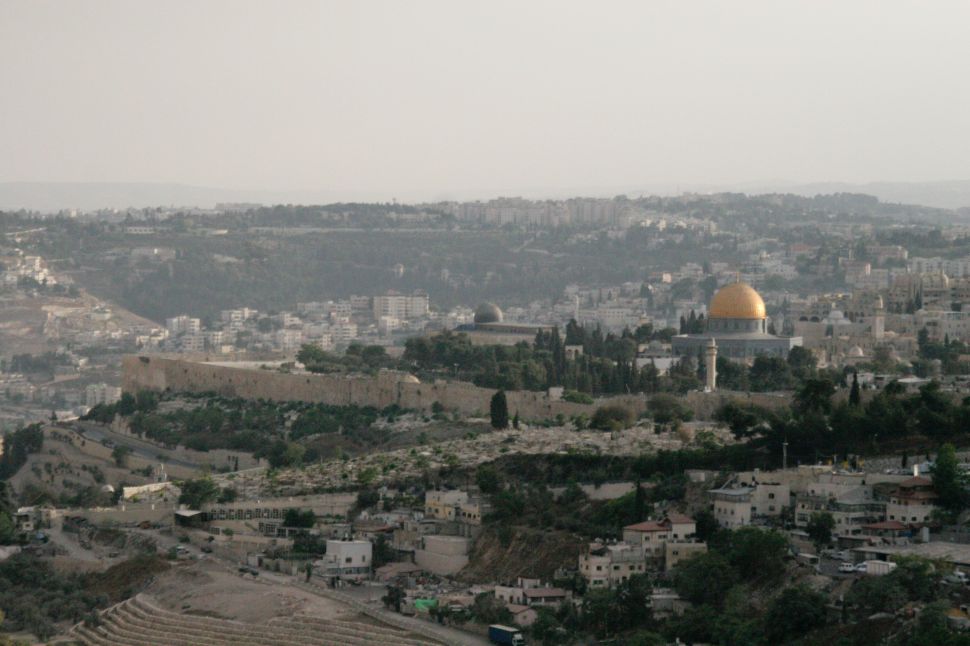 In 1887, a full 80 years before the six-day war, Sir John and Lady Caroline Gray Hill started sharing their time between Jerusalem and Liverpool where Sir John was an eminent lawyer and International Law expert. They bought land on Mount Scopus from Ottoman sellers with a magnificent view of the Old City of Jerusalem. The couple's renown as Holy Land experts grew when an ancient burial cave was later found on their property, housing the remains of Nicanor, a celebrity from 2,000 years ago for whom the "Nicanor Gate" of the Jewish Temple is known.
Speaking at a "Palestine Exhibition" in Liverpool in 1912, Gray Hill mentioned the pre-WWI population of Jerusalem: "10,000 Mahomedans, 8000 Christians and 50,000 Jews." As one of the Christians, he lamented the "bitter" treatment of Jews by Muslims and by some Christians, and asked his audience to support a better future for Jews in the city. Five years before the Balfour Declaration, he expressed his personal hope for the Jews that "the night of bondage and misery is far spent, and the day of freedom and happiness is at hand."
In 1914 Sir John and Lady Caroline sold their Jerusalem property to the World Zionist Organization, one of the large Jewish landowning organizations operating in the Ottoman-controlled region, and their land became the first site of The Hebrew University of Jerusalem. But today, under the bizarre logic of the recently passed UNSC 2334, the former Gray Hill property, and many similar land holdings, is deemed Palestinian solely because it was forcibly and illegally seized by Jordan in 1949. Israeli use of that land, legally purchased over a hundred years ago, is termed a "flagrant violation under international law." Law is a cornerstone of civilization because it honors facts and protects basic rights like land ownership, except at the United Nations and its sibling the International Court.
UN Security Council Resolution 2334 is not just a call for Israel to cease settlement activity as it is often described. It is a reflection of a hypocritical UN which condemns military theft of land but also awards militarily stolen lands to a third party. It is a reflection of an organization that has long abandoned the high ideals for which it was created.
In 1942, the Declaration by United Nations promised to support all people's "human rights and justice in their own lands." In its 1945 Charter the UN is charged with mediating conflicts while deferring to agreements between the parties. The Charter requires the UN to be sensitive to the political aspirations of non-state territories like the Palestinian Territories, but not territorial aspirations which impede on other territories or states. And a full chapter of the Charter is focused on how the Security Council is to deal with "threats to the peace, breaches of the peace, and acts of aggression" such as those committed daily by the Palestinian Authority. With UNSC 2334 the organization fails on all of these principles. Long before the resolution passed, the parties agreed to a series of steps towards establishing peace at Madrid, Oslo, Wye River and Sharm El Sheikh.  Nothing in those agreements suggests Israel would or should relinquish properties like the Hebrew University Mt. Scopus campus. By ignoring those agreements the Security Council discourages future accords which the council might subsequently nullify.
Under UN procedures reversing UNSC 2334 is almost impossible, and there is no process for invalidating it based on its failure to stick to the organization's core values and charter. The UN mission statement is a call for global justice and peace after World War II, but it can never succeed by contradicting its own founding principles and by continuing without any hope for course corrections.
Ken Blaker is a software developer and a member of The South Robertson Neighborhoods Council in Los Angeles.