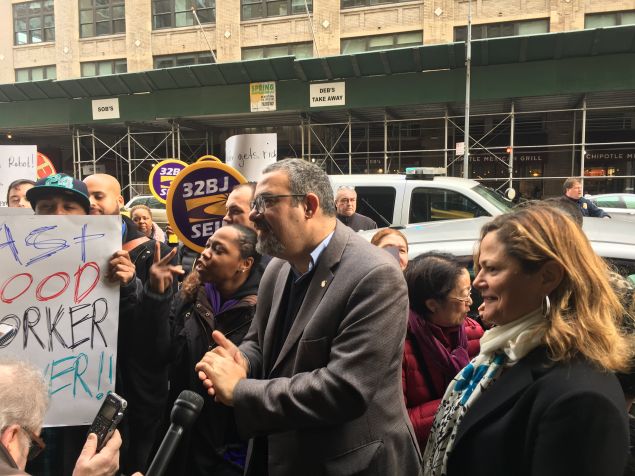 New York City fast food workers, union leaders and City Council members rallied in front of a federal Labor Department office this morning to demand President-elect Donald Trump drop his nominee to head the agency—minimum wage critic and Hardees/Carl's Jr. chain CEO Andrew Puzder.
The rally, which included City Council Speaker Melissa Mark-Viverito, 32BJ SEIU members, community groups and cooks and cashiers who are part of the "Fight for $15" movement, sought to protest the nomination ahead of Senate confirmation hearings originally scheduled for next week. But the actual deliberations could be pushed back to February, according to several reports.
"So let me ask you: do we want him in the Labor Department?" Héctor Figueroa, 32BJ SEIU's influential president, asked the crowd. "No!" they called back loudly.
The demonstrators recalled Puzder's franchisees had faced repeated charges of wage theft, overtime violations and other forms of mistreatment from the very agency he could soon lead. Puzder told Business Insider in March that he prefers machines to workers because they "never take a vacation, they never show up late, there's never a slip-and-fall, or an age, sex, or race discrimination case."
The protesters also blasted Puzder for his opposition to the minimum wage, pointing out that in 2013, researchers at the University of California at Berkeley found that CEOs like Puzder cost taxpayers $7.3 billion per year in public assistance by holding down pay for their employees.
"If we want wage theft out of the workplace, we cannot have Andrew Puzder in the Labor Department," Figueroa said. "If we want safety on the jobs out of the workplace we cannot have Puzder in the Labor Department. We don't want him in and we want him out. We don't want him in, we want him out."
In 60 percent of Department of Labor investigations since 2009, restaurants affiliated with Puzder's company were found to have breached wage and hour laws. And since Puzder became CEO in 2000, the Occupational Safety and Health Administration, which falls under the Labor Department, has found 98 safety violations at Carl's Jr. and Hardee's locations—36 of which could cause death or serious physical harm.
The rally is part of a nationwide wave of actions to denounce Trump's selection of Puzder. Workers were seen holding signs with slogans such as "I'm not a robot and yes, I will sue if sexually harassed," "Andy Puzder makes more in a day than I do in a year!" and "Drain the swamp, 64 million Americans stuck in Puzder's swamp."
"This is not what workers and labor need right now and so New York City Council members stand with us, 32BJ members stand with us and community members stand with us." Shantel Walker, a Papa John's employee and a member of the Fight for 15 movement, said.
Bronx resident Jorel Ware, 35, a McDonald's employee, told the Observer after the rally that the labor secretary should be someone who wants to support the 64 million people that "don't make a living wage in this country."
"We need somebody that's going to be our side and Puzder is clearly not on our side," Ware said.
Council Speaker Melissa Mark-Viverito, who previously worked as a strategic organizer for 1199 SEIU, said that she knows the power of organizing and called Trump a "liar," saying that the city is not going to normalize his agenda that targets vulnerable populations.
"This means that his nomination will have a chilling effect on labor, labor organizing and the fight for workers to get what is right and just," Mark-Viverito said. "So this is why we cannot stand this. It's not normal, none of these nominees and what they propose, this president. We're not gonna normalize the behavior."
She said that Puzder's past actions have made it "abundantly clear" that he values revenues over the right of his employees to fair pay and treatment. And when she said, "Shame on you, Mr. Puzder, [for] the anti-worker stances!" the crowd was inspired to yell, "Shame on you!" repeatedly.
"Shame on you for your anti-worker stances, for condoning sexual harassment of female fast food workers!" Mark-Viverito proclaimed. "We're not going to tolerate this injustice and an attack on working Americans is an attack on all of us."
Last month, the City Council put forward a package of legislation to improve scheduling and workplace procedures for fast food and retail workers. Queens Councilwoman Julissa Ferreras-Copeland, Manhattan Councilman Corey Johnson, Brooklyn Councilman Brad Lander and Staten Island Councilwoman Deborah Rose sponsored bills.
Ferreras-Copeland, chairwoman of the Council's Finance Committee sponsored a bill that would allow fast food workers to make voluntary contributions to not-for-profit organizations of their choice through payroll deductions. She said that Puzder has to be judged by his actions, remarking that Alabama Sen. Jeff Sessions, Trump's Attorney General-designate—who has been criticized for his anti-civil rights record—showed up to his hearing like a new person who "all of a sudden" no longer wants to break the rules.
BESbswyBESbswyBESbswyBESbswyBESbswyBESbswyBESbswyBESbswyBESbswyBESbswyBESbswyBESbswyBESbswyBESbswyBESbswyBESbswyBESbswyBESbswyBESbswyBESbswyBESbswyBESbswyBESbswyBESbswy
"You don't believe in what working families believe in and New York will continue to fight back because we're fighters and this is wrong and we will stand here," Ferreras-Copeland said. "And Mr. Trump, as you make your way back and forth in and out of the city, we want to remind you that you have to make responsible appointments and this is an irresponsible appointment and we will not accept it."