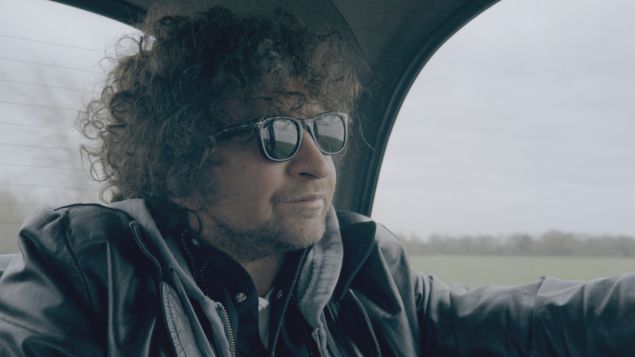 From the U.K.'s Sky Arts channel comes Urban Myths—a series of "true..ish" comedies exploring remarkable events that may or may not have happened.
You may have already been alerted to the slight furor over the casting of Joseph Fiennes as the late Michael Jackson in an already filmed episode. This particular installment would have seen the former King of Pop making a road trip post-9/11 across America with fellow legends Elizabeth Taylor and Marlon Brando (played by Stockard Channing and Brian Cox respectively). Sadly, we won't get to see this fascinating-sounding moment as Sky have pulled said episode after complaints from Jackson's family.
So we'll just have to make do with the equally intriguing moment in August 1993 when icon Bob Dylan took a trip to London's Crouch End to visit his friend and fellow musician Dave Stewart (part of U.K. synth-pop duo Eurythmics). Unfortunately, due to Bob's unique mind, the exact address of Stewart's residence (his studio in Crouch End) wasn't reached due to the number of similar sounding streets in the area, such as Crouch Hill, Crouch End Hill and Crouch Hill Road. A classic comedy mix-up.
Fortunately, for Bob (and us), the address the folk singer chose to visit did actually have a Dave living there—and so goes this urban myth.
For fact fans, there is corroborating evidence that Dylan had indeed visited Crouch Hill and that he and Stewart were acquaintances. That much is true, but whether or not a taxi dropped him off at a house with a plumber called Dave is up for hearty debate.
Or a 30-minute comedy at least.
English actor Eddie Marsan displays his deadpan comedic timing as the traveling troubadour, answering every question and query with a poetic line and an enigmatic tone. When questioned at passport control Bob reveals he is visiting his friend, simply named Dave. When asked how he knows Dave, the singer replies:
"He's a Eurythmic."
Upon arriving in Crouch End, dedicated fans of Dylan will raise a wry smile upon the image of him standing outside the restaurant Banner's, where he once tried to get just a drink but, due to licensing laws, would have had to order food too. Dylan is immortalized to this day in the venue's artwork featuring him asking, "Don't you know who I am?" It's a niche gag which we would imagine will be appreciated by a few dozen at best.
Likewise, a gag which sees Dylan thumbing through Dave's record collection has him stop upon finding Donovan's Greatest Hits. "Judas," he whispers with a glint in his eye. Again, this plays on a thorough knowledge of Dylan history. This is for the hardcore.
But there's also a lightness throughout with Marsan's terrific performance and the mundanity of Dave's household. Oblivious to his identity, Dave's wife Ange (played by the charming Katherine Parkinson) treats Bob like any other guest, fussing over him and making tea. Dave (Paul Ritter), however, is well aware of his visitor and even owns some Dylan records.
The image of Bob sitting watching British quiz show Blockbusters, answering questions on Cheers and displaying an impressive awareness of actress Rhea Perlman is unique. While not belly-laugh inducing it's an amusing scene. Much like the whole piece; different and pleasing.
If 'Bob Dylan: Knocking' on Dave's Door' is indicative of the tone and quality for Urban Myths then this series could well turn out to be the most interesting television show for 2017. This myth is a hit.
Urban Myths 1×01 aired on Sky Arts on Jan 19, 2017