The only love story that matters when you're getting married is the one in which your wedding plays a starring role. But if you're trying to nail down your wedding style, you might find inspiration in other passionate affairs that have come before you. Of course, it all starts with the gown. We've paired seven of history's most captivating romances with the season's most notable looks. See if one is the dress of your dreams. 
Lancelot and Guinevere (top image)
The Middle Age's most notorious romance demands the ultimate medieval gown. With its bodice-hugging silhouette, ruffled bell sleeves, and regal train, this Odylyne the Ceremony dress exudes Camelot-worthy drama. Yet, there's nothing Renaissance Faire about it. The netted lace gown, covered with hand-beaded sequins and pearls and lined with silk charmeuse, is sensual and sophisticated. The epitome of red-carpet, it's just the ticket for the boho queen marrying her hipster in shining armor.
Rhett and Scarleett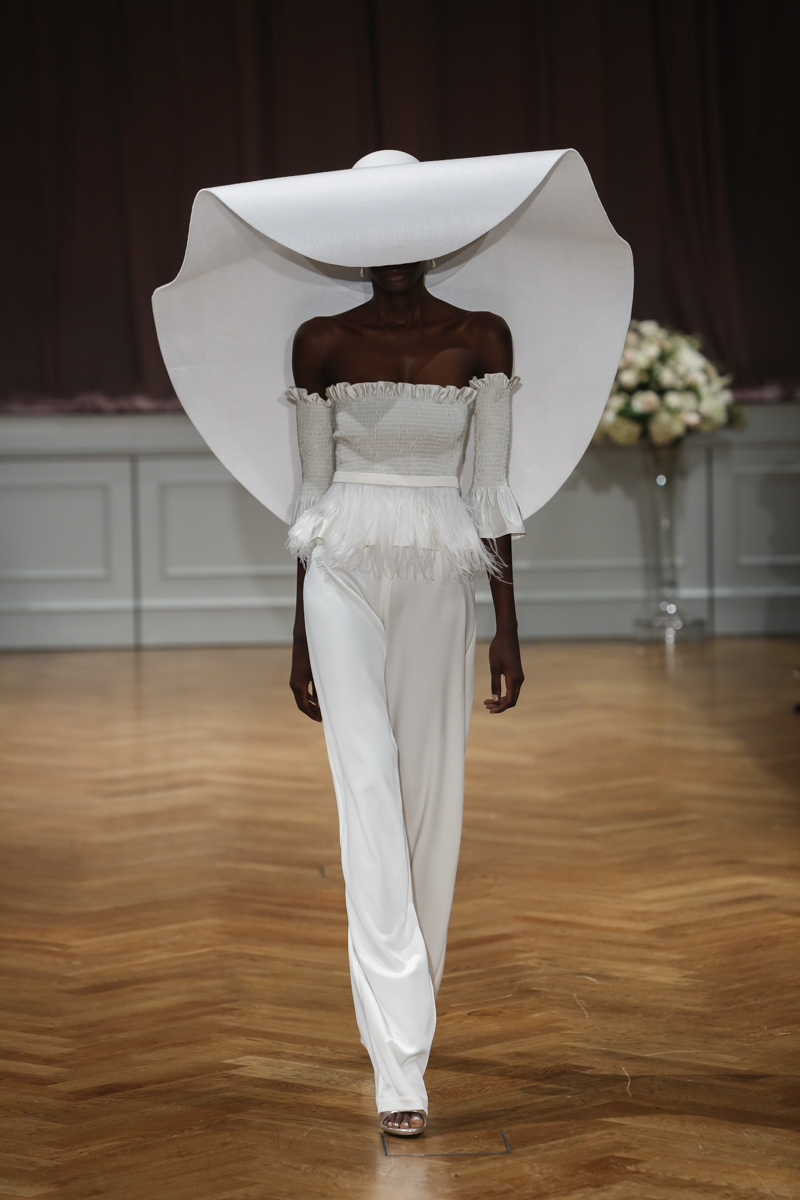 A bride in a hoop skirt risks looking like a refugee from MGM's costume department, but if you're a fan of Scarlett O'Hara, there's a lot of southern sass in this Alon Livné White ensemble. We love the demure ruffles along the smocked off-the-shoulder neckline and sleeves, as well as the flirtatious feathered trim. And this wowsa of a picture hat sets a new standard for millinery chutzpah. But we're most taken with the fluid pants, imminently wearable for the independent bride's stride down the aisle—just like a modern Scarlett.
Barbie and Ken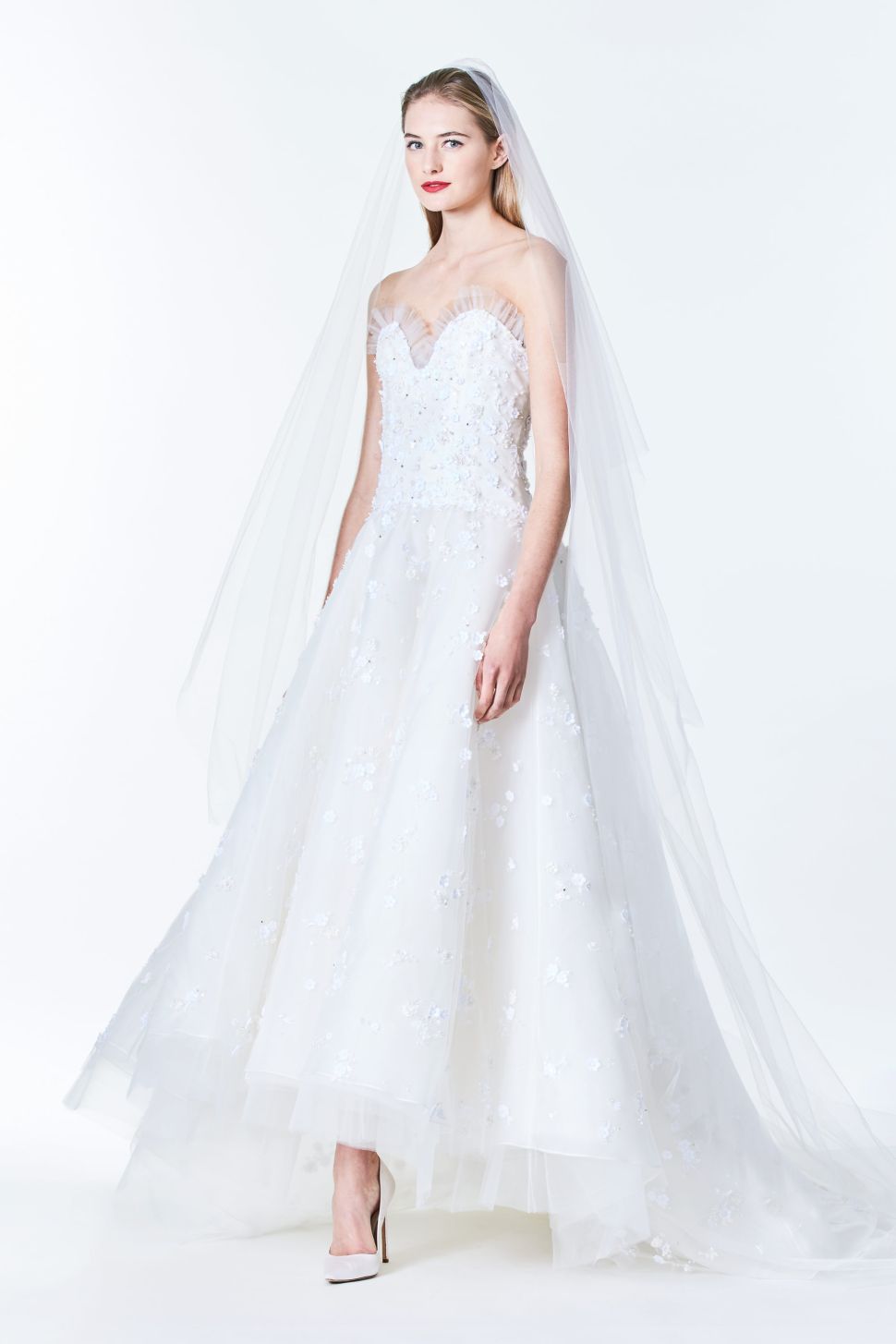 When Barbie and Ken finally take their relationship of 50+ years to the altar, we picture the bride in this timeless charmer from Carolina Herrera. Embellished with embroidered florets, the sweetheart neckline tops a look that's equal parts debutante and ballerina, and the hi-low skirt with its exposed tulle hemline is made for dancing. And if you don't meet Barbie's unlikely measurements—36-inch bust and 18-inch waist—the frock's figure-skimming bodice and full skirt are absolutely flattering.
Kim and Kanye
Who says today's love stories can't hold their own with the classics? When a reality star and a rapper relentlessly post PDAs on social media, the passion can seem downright combustible. While some were less than enthused about the gown Kim wore to her 2014 Italian nuptials, this Isabel Armstrong stunner channels her sexuality while striking a truly elegant note. Simple fit-and-flare lines embrace every curve, and the nude lining, thigh-high slit, and allover golden Chantilly lace qualify as pure Kardashian.
Katniss and Peeta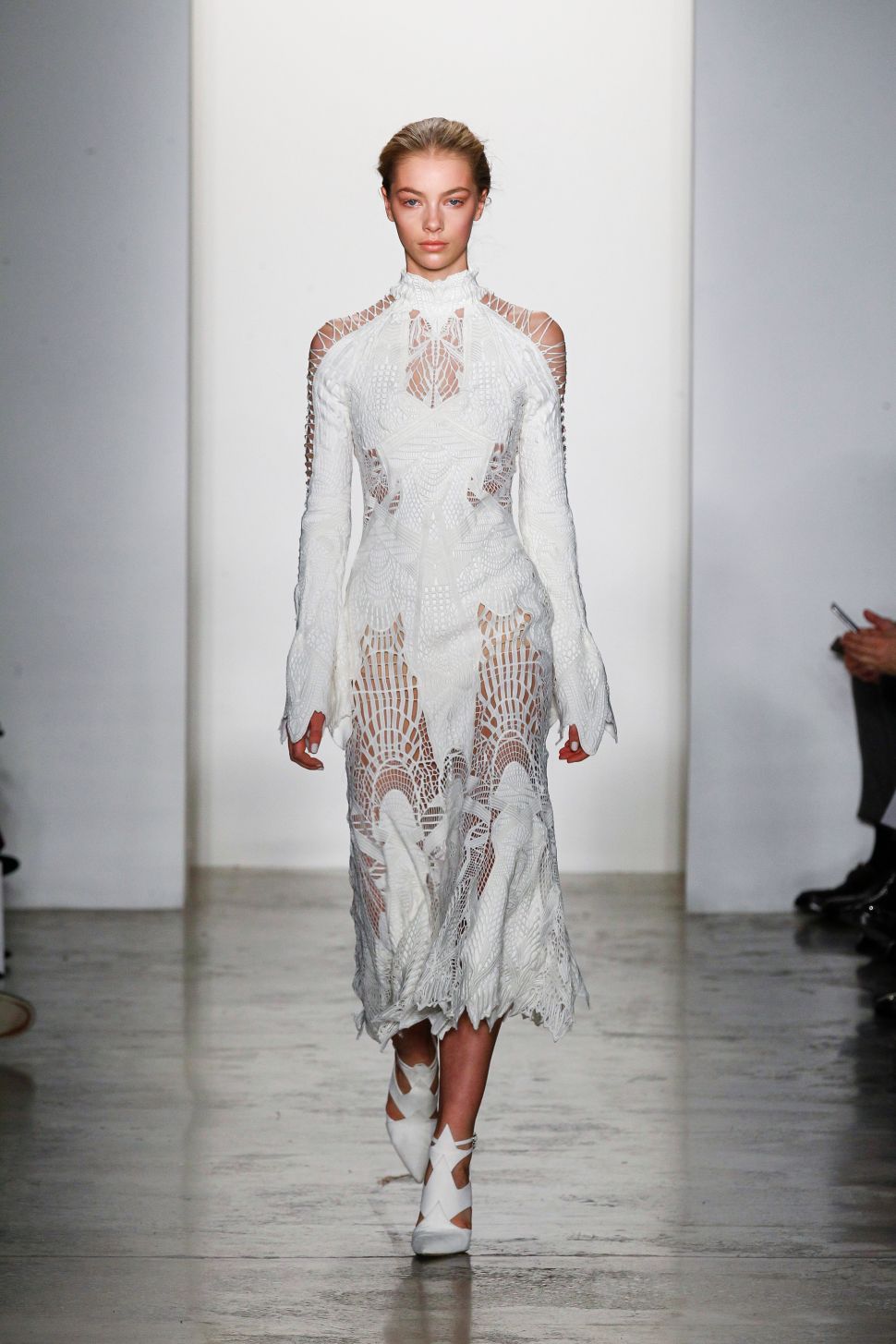 There's no need for a sexy survivalist to be traditional on her wedding day. Dystopian romance finds its perfect expression in this Jonathan Simkhai dress that mixes exquisite crochet work and futuristic texture. A blend of Capitol-worthy excess and the kind of easy silhouette a "Hunger Games" heroine would approve of, the shoulder-baring bodice and open panels contrast with the high neckline, knuckle-grazing sleeves, and below-the-knee hemline.
Antony and Cleopatra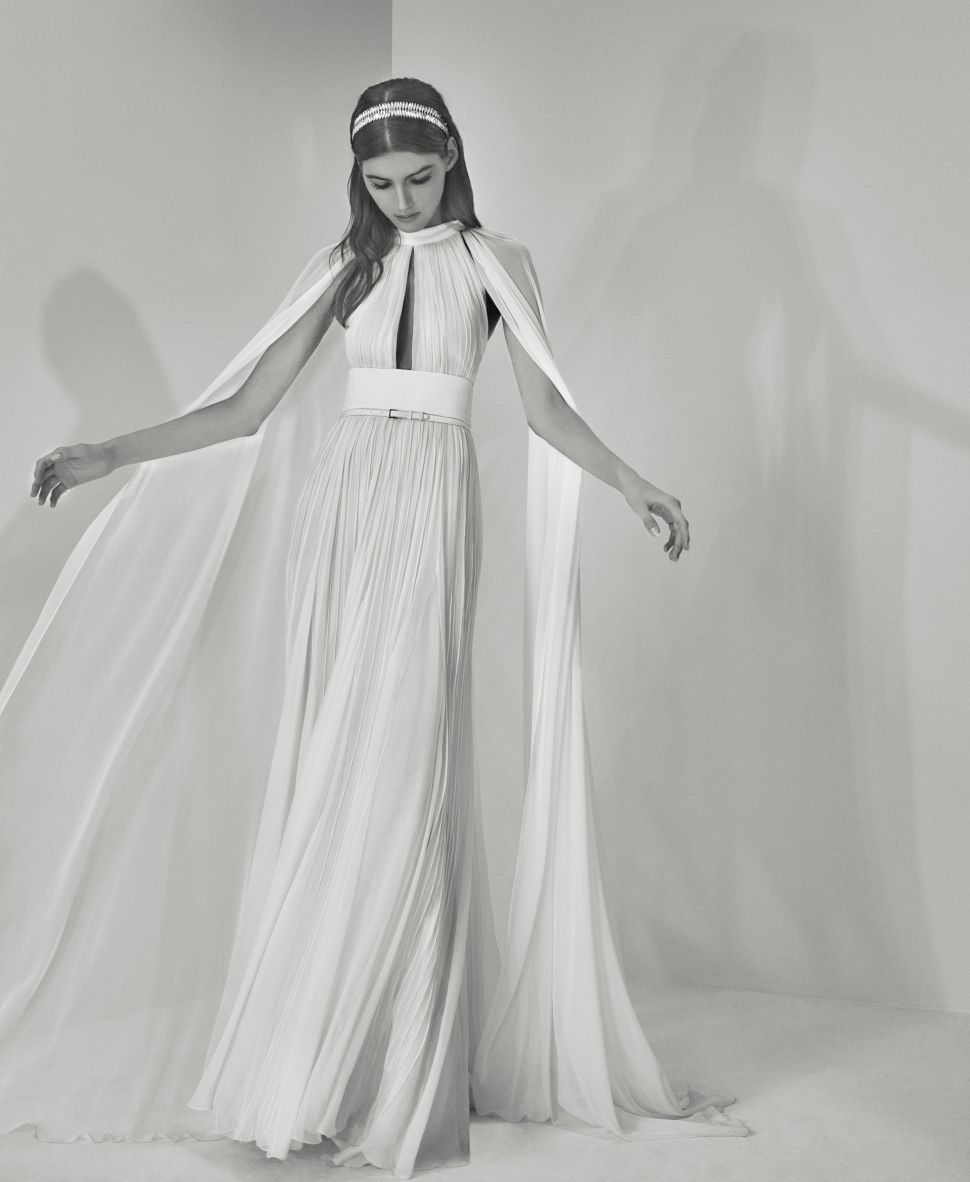 Shakespeare writes that Cleopatra's "infinite variety" was the lure that captured Rome's most powerful general. Her regimen of milk-and-honey baths and a propensity for elaborate makeup can't have hurt. When in Rome, Cleopatra wore what the Romans wore, and the style is perfectly captured in this Elie Saab silk chiffon draped gown. The intricately beaded, belted tunic topped with a removable chiffon cape would have been at home on the grounds of the forum. Add a jeweled sandal and bring an empire to its knees.
Hepburn and Tracy
Actress Katherine Hepburn forged her own fashion style, championing trousers and blazers at a time when most women wore full-skirted frocks in tiny floral prints. She loved collared mens' shirts, pockets, loafers—and if she and longtime companion Spencer Tracy had ever married, she'd have loved this Naeem Khan A-line gown. The shirtdress styling and exaggerated collar speak to Hepburn's androgynous flair, while the feminine details—poet sleeves and silk thread embroidery—give it a generous dose of Hollywood romance.
Rachel Leonard was the fashion director of Brides Magazine for 18 years and is currently the Editorial Director for The Bridal Council. Rachel can be followed on Instagram @_rachelleonard. 
A marketing executive currently living in Arizona, Sally Kilbridge spent 20+ years as an editor at Brides Magazine. She indulges her love of travel and romance on her website, a definitive guide to destination weddings.