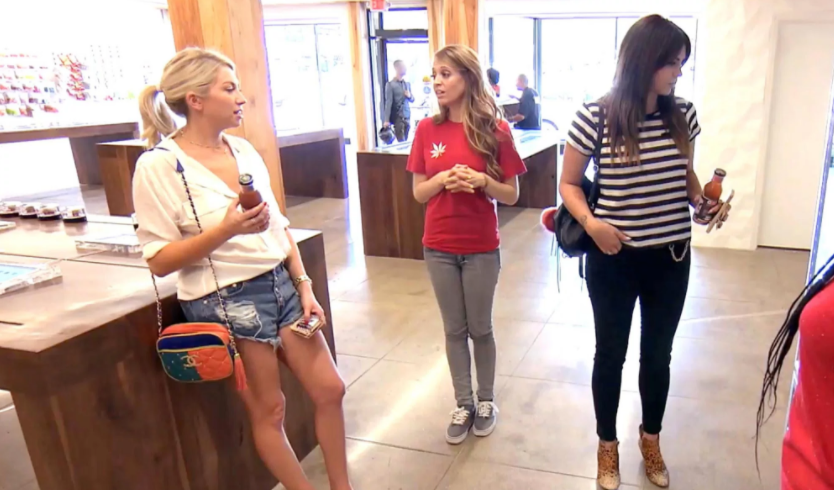 With Bravo's Summer House proving to be exactly as advertised, we now turn our attention to the most important series on television: Summer House predecessor Vanderpump Rules. For those not in the know, Vanderpump Rules is a spinoff of Real Housewives of Beverly Hills. As the name suggests, it centers on employees of SUR, an LA restaurant owned by RHOBH cast member Lisa Vanderpump. Like most things Lisa Vanderpump, it is perfect. Rosé-soaked, over-the-top, and perfect.
With fewer and fewer scenes dedicated to the cast actually working a restaurant shift, it was a surprise to see the episode open with Tom Sandoval and Ariana being summoned to give a bartending lesson. The conversation quickly turns to James Kennedy (still fired; still a complete ass) and how Sandoval has hired a hypnotherapist to come "fix" him. Apparently, Sandoval relies on hypnotherapy. To do what? We're not sure. But this is LA, so let's lean in.
Next, we see James at lunch with his mother, and this is where things get extremely James "White Kanye" Kennedy. Through a long, weird metaphor about "pie," he reveals to his mom Jacqueline that Lisa gave him the boot. He mentions his new gig, and there's a bit of foreshadowing here, as no SUR live performance has ever come free of drama. They move on to chatting about girls, and that's when Jacqueline serves up a truly spooky insight into where James got his brain. After lavishing praise on Raquel (the beauty queen girlfriend), Jacqueline attacks James' ex, Kristen. Kristen, she claims, will be barren. It will be her karma. Her karma for how terrible her relationship with James was shall be her inability to have children, Jacqueline predicts. Yes, Kristen and James were rocky, at best. But WTF. "I bet she'll be barren." Who thinks like that? And says it so casually? Only the person responsible for James, we suppose.
Over at Jax and Brittany's, things finally begin to heat up. With Brittany's conservative Kentucky mother in town for a week, things are already tense—and they're not about to get better. Sherri has already expressed her discomfort with Jax and Brittany living together, the fact that they don't belong to a church, and Jax's, uh, tentative plans to marry Brittany. So, why not bring Jax's sexuality into the mix? Well, because it's 2017 and sexual preferences shouldn't matter. But, they do to Brittany's mom, so here we are.
Though Jax seems settled and committed to Brittany, longtime viewers know that his sexual history is prolific—a fact we were reminded of at last week's birthday roast. And while Sherri was treated to information like her daughter's boyfriend was jailed for stealing sunglasses, and has a history of cheating on his girlfriends with his friends' girlfriends, the part that stuck out to her as the most "offensive" were jokes about Jax's homosexuality. "Homosexual" is Sherri's descriptor of choice, and the mere mention of Jax having kissed his older gay roommate in Florida was enough to make her want to bring Brittany back to Kentucky.
Of course, we can never be too sure of what went down with Jax and John back in the Florida days—we can have our suspicions, as Bravo's own Andy Cohen certainly does—but Jax's non-answers certainly didn't clarify anything. And as Brittany and Sherri calmly, if rudely, inquired as to "how far" Jax has gone with another man, Jax grew flustered, defensive, and mean. If you're trying to convince your loving girlfriend's religious mother that you aren't interested in men, sputtering about your ungrateful girlfriend and storming out of the apartment probably won't help your case. Again, not that you should have to plead it—but in the event you do, do it differently.
Later, the hypnotherapist arrives at James' apartment, to help cure his alcohol dependence, or attitude, or authority issues, or ability to push people away, or something. Literally, nothing can make him likable, so it doesn't matter. Except! As it turns out, Kristen used to make James attend crystal therapy sessions. Many people believe in the healing nature of crystals, and that's lovely. But most out-of-work bartenders in dysfunctional relationships with busboys don't hire a crystal healer to make house calls. We literally see a never-before-seen flashback to a session from the previous year. Thank you, Bravo producers. James' fake humility is exhausting, so we move right along.
Katie has finally agreed to get a prenup before her wedding to Tom Schwartz, so the two pay a visit to a Beverly Hills lawyer. The nature of televised appointments has always interested me, because, how can privileged information be recorded and broadcast on cable? What sort of therapist, for instance, allows her sessions to be taped? What sort of lawyer says cool, new clients, your reality show should definitely be in the room for this? But anyway.
As it turns out, Katie—with $200 in checking and $4700 in savings—is the richer half of the relationship. Are those numbers real? She's been on a reality show for five years, runs a business, and doesn't own her apartment or car. Could the wedding have taken all of her money, or are these numbers fake? And if so, why so specific? Also, why did Schwartz want the prenup so badly? His insecurity about the wedding manifesting in a new way, we suppose. "What are your plans for retirement?" asks the lawyer of the server and model. "My plan for retirement is to die," says Katie, and it's the funniest she's been in years.
At SUR, the devious Ellie—a server and former paramour of James—plots to attend his upcoming live performance with Scheana. They recruit GG, who also slept with James, to come with them and confront Raquel about her boyfriend's dishonesty. Let's check in with what everyone else is doing across town! Jax tells Brittany he went to church camp as a youth, going into a borderline trance as he recites a rhyme intended to shame him into using table manners.
And over at a painting/wine-drinking class, Stassi has crashed the Toms' double-date. As Schwartz sweetly tries to patch the contentious relationship between Stassi and Ariana—because Stassi and Schwartz belong together and that's the hill I'm prepared to die on—Ariana the Cold rears her blonde mane again. A few seasons ago, Stassi coming to someone earnestly and emotionally and being shut out would sound like a fever dream. LA isn't big enough for more than one queen of ice, apparently.
Finally, triumphantly, the episode arrives at its glorious crescendo: James' first live performance as a rapper. This is what Vanderpump Rules does best. His support system is there, minus Lala, who has seemingly disappeared altogether, and plus a lot of people who are obviously there just to make trouble. Remember Scheana's performances of yore? Or Sandoval's band performing at that weird festival? (Were we ever so young?) So! Scheana, Kristen, Jax, and Kristen's boyfriend are all obviously there for theater. And they get it. Ellie and SUR host GG, both of whom have slept with (and been mistreated by) James Kennedy during his relationship with Raquel, are ready to roll. Presumably drunk, GG begins shrieking over the music to an unaffected Raquel.
"Isn't it a quality of Miss California to be feminism?" GG yells though it's honestly not clear what she or Ellie want from this couple. Is it for James to admit that he hooked up with them and that he's not faithful to his girlfriend? Is it for his Raquel's sake? Are they genuinely obsessed with him? Do they want an apology? Whatever it is, GG wins this exchange by shoving a paper bag full of James' clothes into his arms and thanking him for letting her borrow them after she stayed over. Amazing. And since James has clearly been drinking again, he unleashes his signature vitriol on GG, while Ellie is nowhere to be found. Jesus.
Suddenly, Jax throws a drink at James. (He claims James came at him first, but that's not on camera.) James throws a drink back, and it's an all-out brawl. Brandishing an unlit cigarette, indoors, while being physically restrained, James shouts "You're all f***ing losers!" toward everyone at the club. He's escorted out—remember, he just got a job there—but not before sharing some more choice words about this group to Tom Sandoval. This drunken spectacle was peak Vanderpump. And while it's not clear what James' future as White Kanye will hold, we can tell that Sandoval is just about ready to fight Jax for instigating—regardless of the truth.
Will Stassi and Ariana ever make nice? Will Katie and Tom take a hard look at their relationship? Did James really kick Jax in the shin? Next week's episode can't come soon enough.