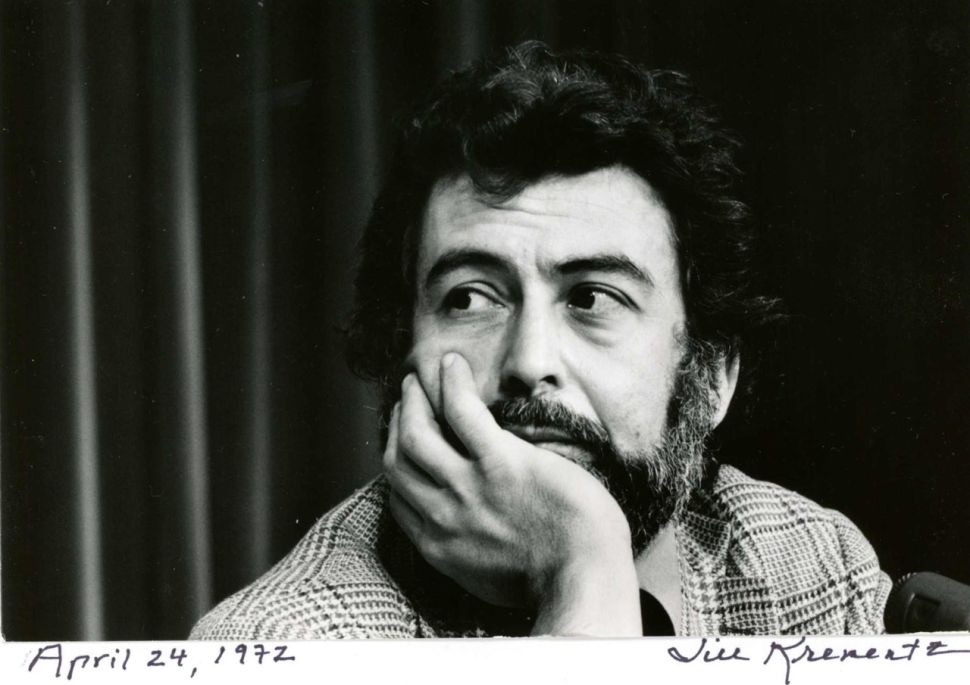 Evan Gahr: Nat, thanks for talking to me for like one hour for my Daily Pennsylvanian column on how it's not just all those close-minded conservatives who oppose abortion. And giving me advice for good journalism—like focus on providing specific details. I really admire you. I admired Ivan Boesky but he was recently arrested for Insider trading. But I really hope I don't read in the papers soon that you've been caught doing something corrupt. That would be really disillusioning for me.
Nat Hentoff: Yeah, well, maybe I will. Because "that would be a good maturing experience for you."
***
The reference to  Boesky's travails should quickly indicate to most reasonably informed folks 40 or older that the exchange dates to the late 1980s. But surely, to much younger readers, even if they don't click the link, the exchange sounds quite archaic—particularly if one pays any attention to journalists on cable news shows these days.
Nat Hentoff's acerbic and indifferent response to such abject flattery—offered not by a suck-up artist, but simply a starstruck college student, amazed that, after reading since junior high school the acclaimed jazz critic and journalist's work, he was actually on the phone with Nat Hentoff and interviewing him just like a colleague!!!—is a sweet reminder of the largely bygone days.
Once upon a time, reporters actually did reporting. And were not so addled by sentimentalities, either political or about themselves.
The passing this weekend of Hentoff, a Village Voice fixture since its inception, is a good reminder of how the entire profession has devolved into a leftist swamp populated by a herd of independent minds, all with  inflated or even delusional views of their own importance, awesomeness and insights.
Hentoff, who liked to quote an adage that he would never retire because he had nothing to retire to, worked until then and never really changed. The self-described Jewish atheist's last conversation with this reporter in the Fall of 2015 (see bottom of column) sounds remarkably similar to the one in the Spring of 1987. He was the relic of all relics. Not just a reporter who still did reporting. But a columnist who still did reporting.
Hentoff checked everything. He followed the classic journalism adage—talk about archaic—even if your mother loves you, check it out.
The Boston native but longtime West Village resident didn't reside in the Washington-New York media fishbowl. He didn't care if "everybody" had already written about something. Nor did he hesitate to follow-up on published reports simply because they were not written by one of his friends.
There was no "everybody" for Nat Hentoff.
Just him.
I personally know this from the column Hentoff wrote about me at the dawn of the George W. Bush Administration, about how I got Borked by the Right for calling Moral Majority and Heritage Foundation co-founder Paul Weyrich "a demented anti-Semite" for saying the Jews killed Christ.
He called every known central player. Even though Stanley Crouch, his fellow acclaimed jazz critic and longtime Village Voice colleague, had just published two New York Daily News columns on the whole fracas.
Callers to his listed home number (rarity for New York public figures) heard a message, which might actually have been on an answering machine tape not digital voice mail, saying simply "This is Nat Hentoff" please leave a message. That's it. No institutional affiliation.
Hentoff always called back.
The only determining factor in terms of his response was whether he was "on deadline." Another quaint term these days.  Since the deadline is always now, but you're usually not pounding anything out, just cutting and pasting and re-writing and linking.
These days, most journalists think exhaustive reporting means going to the fifth page of somebody they Googled. And, of course, no matter how many pages you view, actually picking up a phone to make sure what you read is accurate in terms of facts and context—instead of assuming because "everybody" already made the same point you can also—is downright peculiar.
At his request, I sent him my published story with a copy of his memoir, Boston Boy, requesting he autograph it.  The book arrived in Philadelphia, signed "with admiration" in less than one week.
How many journalists of similar stature today does anybody think would spend an hour or so letting a college kid interview him for a student newspaper? In 2014, when some dude, using an assumed name for an elaborate ruse, emailed WaPo columnist Dana Milbank, asking him to autograph his book for a friend, the petite Yale grad didn't respond.
Washington Post media reporter Paul Farhi refused to autograph a print-out of one of his typically pedestrian stories, accusing the seeker of trying to steal his identity. Because so many people really want it?
By way of positive contrast (and it's a pleasure to recount something uplifting while wading through all the fishbowl filth) Bob Woodward—who actually has good reason to worry requests might be an attempt to steal his identity, particularly when the correspondent clearly took the trouble to express mail it to his Georgetown home after determining he is rarely at the office—autographed his book.
The last time I spoke with Hentoff was around September 2015, requesting an interview with him for my new Washington Gadfly column for the Daily Caller (which co-owner Neil Patel unilaterally and abruptly terminated on December 7, a date that shall now live in infamy; anybody actually interested in the reason should email the former Dick Cheney hand).
Hentoff, 90, was feeble voiced.
But he remained intellectually robust, a stickler for precision and utterly unimpressed with himself as ever. After some nudging and prodding, he agreed to let me ask three questions. But just three, he insisted. Got that? Only three.
He published his last column for JewishWorldReview.com last September. The piece was written in collaboration with his son Nicholas. Clearly not ghostwritten, he probably dictated it. His son was helping him read because of vision problems, according to a reliable source.
As for Hentoff, as far as can be determined, in the ensuing  three decades since our initial conversation he didn't "do something corrupt." Nobody even accused him of the kind of the kind of venality, deceit, lies, distortion and collusion—up to the point of providing sources veto power for articles—that became rather commonplace once the Internet started to pervert journalism, and was particularly pronounced during the presidential campaign, at places like The New York Times, Washington Post and POLITICO that I once revered.
That kind of putrescence did, indeed, prove a very "maturing" and instructive experience for me.
Sad to say, Hentoff was quite prescient—but hardly in the way he imagined.