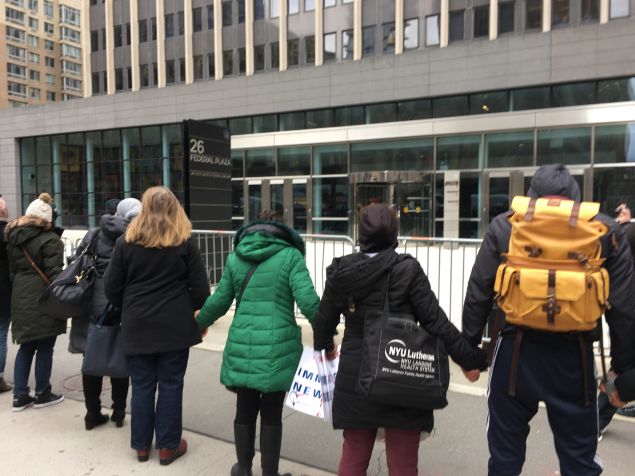 Demonstrators formed a "wall of New York" around the Jacob K. Javits Federal Building—where the U.S. Department of Homeland Security has its New York City office—this afternoon to declare Muslims and refugees "are welcome here" after President Donald Trump signed an executive order banning Middle Eastern and East African refugees from entering the country.
This afternoon, Trump inked two new executive orders: one ordering a military buildup and the other severely limiting the entry of individuals from Iraq, Syria, Iran, Sudan, Libya, Somalia and Yemen and giving preference to Christian refugees. This comes two days after he signed fiats targeting so-called "sanctuary cities" that grant haven to undocumented immigrants, and preparing
The "Interfaith Action & Jummah Prayer for Immigrant Communities" event, organized by the New York Immigration Coalition, Majis Al Shura: The Islamic Leadership Council of Greater NY and the Inter-Faith Clergy of New York City, kicked off with a Jummah—a congregational prayer that Muslims hold every Friday—in Foley Square. Imam Khalid Latif, executive director and chaplain for the Islamic Center at New York University, addressed a diverse crowd spread out on the ceremonial mats.
"If they build walls then our bridges have to be taller and stronger and our coming together of today cannot be something that is just ceremonial or superficial but recognizing that this city carrying forth as a sanctuary city will necessitate each and every one of us standing tall and proud and strong as ever," Latif said before the prayer commenced. "For every tomorrow that we are blessed to be motivated by principles of righteousness or we can find ourselves in a place where we cower and we hide back."
And he reiterated that the key to combatting Trump is for people to be organized in their dissent.
"When hatred ensues, if we meet it with nothing less than love that we possess, it will win. Mark my words, there is truth in it: organized evil will always drive over disorganized righteousness—that is fact whether we will accept it or not."
The event concluded with the attendees forming a circular human chain and walking over to 26 Federal Plaza with their arms linked.
"That will provide us some great visuals, some great tweets to President Donald Trump and anyone that opposes the unity of our communities, right?" Carlene Pinto, campaign manager for the NYIC, said to the crowd.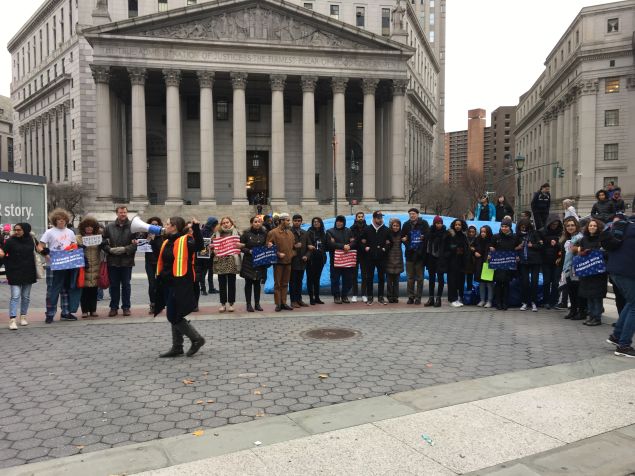 They installed their "wall" in front of the building, and chanted "No hate, no fear, Muslims are welcome here!"—then changed the subject of the slogan for immigrants, LGBT individuals and other marginalized groups. At one point, participants were raising their hands in the air toward the building as they chanted.
Steve Choi, the New York Immigration Coalition's executive director, said that they wanted to send a message to the Trump administration, which is now in control of the U.S. Department of Homeland Security's Immigration and Customs Enforcement division
"We wanted to make that statement to say that we are not afraid and that we will resist and that we will stand up for Muslims, for refugees and for immigrant New Yorkers no matter what comes down from the Trump administration," Choi said.
Just two nights ago, the New York chapter of the Council on American-Islamic Relations held a massive emergency rally in Washington Square Park in response to the news that Trump was planning to partially implement the ban on Muslim immigration he promised on the campaign trail.
Brooklyn City Councilman Carlos Menchaca, chairman of the Committee on Immigration, also joined attendees in putting together a human chain in front of the Federal Building.
"He [Trump] works for us and so our message today is that there's no hate, there's no fear, we're all welcome here: Muslims, immigrants and Mexicans and that's what we're all about in our message today," Menchaca told the Observer. "So we're gonna keep coming out anytime we need to make sure he hears us but to keep us united. This is a wall of New York, diverse as you can get and that's why I'm here: to join in solidarity."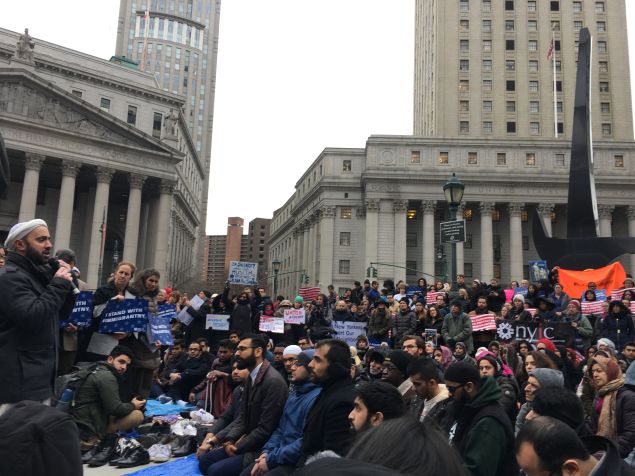 Mark Hetfield, president and CEO of HIAS, a global Jewish nonprofit that assists refugees, noted it was International Holocause Remembrance Day—and expressed amazement at the president's "chutzpah." He accused Trump of raising concerns about terrorism and national security as an excuse.
"The real reason is Islamophobia, the ugly cousin of anti-Semitism, the ugly cousin of racism, the ugly cousin of every form of hatred," Hetfield said. "Right now two things that are refugees. One is they're not bringing terror, they're feeling terror. Two, we know that refugees that come to America are vetted, are subject to more security screening than any other immigrants and any other visitors and any other American is."