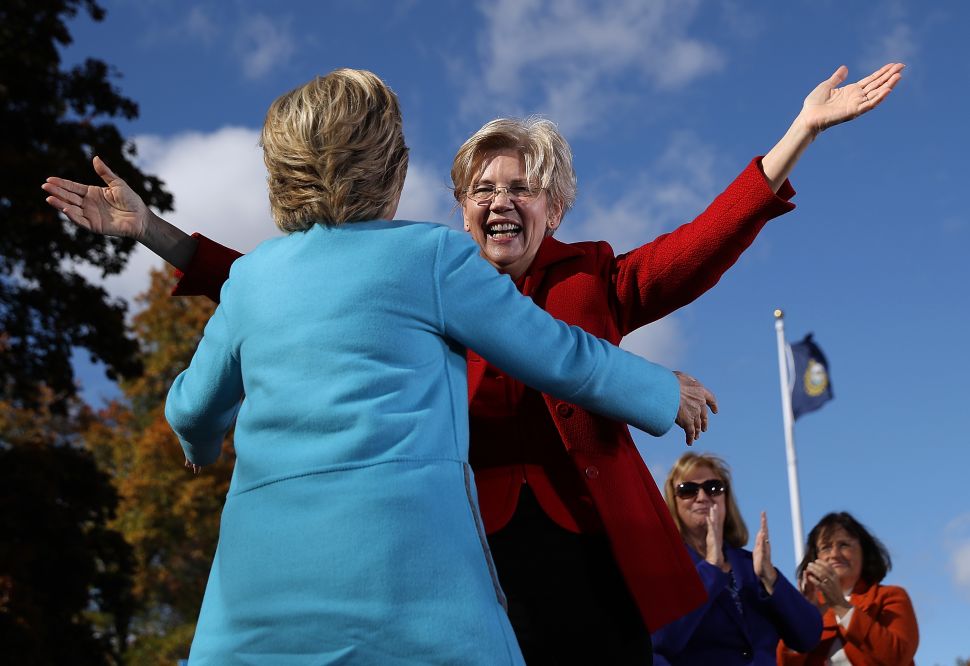 Massachusetts Sen. Elizabeth Warren emerged as a progressive icon when she first defeated Republican Scott Brown in 2012. Her tough rhetoric and work to help establish the Consumer Finance Protection Bureau earned Warren a reputation for standing up to Wall Street in a political atmosphere where most other politicians stifle such sentiments for their own—or their donors'—benefit.
Then the 2016 Democratic primaries happened.
Warren's name was one of several floated as potential contenders for the Democratic presidential nomination. Emails released by WikiLeaks revealed the Clinton campaign was worried Warren would enter the race, and noted that Clinton met with Warren before the primaries began.
Despite Bernie Sanders' emergence as a viable contender against Clinton, Warren refrained from endorsing the Vermont Senator. The move would have served an important boost to Sanders, who had the odds stacked against him by the Democratic establishment. Though Sanders won over 46 percent of the vote, he received a small fraction of the Democratic Party's super delegates and only one major newspaper endorsement, from the Seattle Times.
Warren's decision to sit on the political fence until a clear primary winner emerged irked many Sanders supporters because the primary race embodied the struggle between the grassroots and corporate-influenced sections of the Democratic Party. It doesn't bode well for Warren that she refused to take a side until the choice was made for her.
Warren's silence was repeated several months later, when she once again ignored calls to speak on behalf of true progressives. She has claimed to be Cherokee, and her previous employers have touted this alleged ancestry for public relations points. However, Warren failed to stand with Native Americans when they needed her voice the most. She didn't speak up against the Dakota Access Pipeline, and her silence sided with the oppressors. After the Army Corps of Engineers decided to temporarily halt the project until an environmental impact study could be conducted, Warren finally issued a formal statement. But the statement turned out to be more self-serving than anything else. She managed to praise both protesters who suffered injuries at the hands of an aggressive police force and the workers constructing the pipeline who were unaffected, safe behind a barrier of militarized cops and private security forces.
On January 6, Warren announced her intent to run for reelection in 2018, where she will likely face an easy win in Democratic-leaning Massachusetts. "I will fight today, tomorrow, next week, this year, next year and as long as I'm standing to build a future – not just for some of our kids, but for all of our kids," she wrote in a letter to supporters, failing to acknowledge that the decision to fight will be based on whether there are political benefits in doing so.
Warren likely refrained from announcing her reelection when previously asked, because she was expecting a position in Hillary Clinton's administration. But now Democrats and progressives can expect to see Warren in the senate for years to come, as speculation that she'll run for president in 2020 will also surely increase over the next couple of years. Meanwhile, progressives will continue to wonder what important future fights Warren will abandon in favor of the political safety of silence.