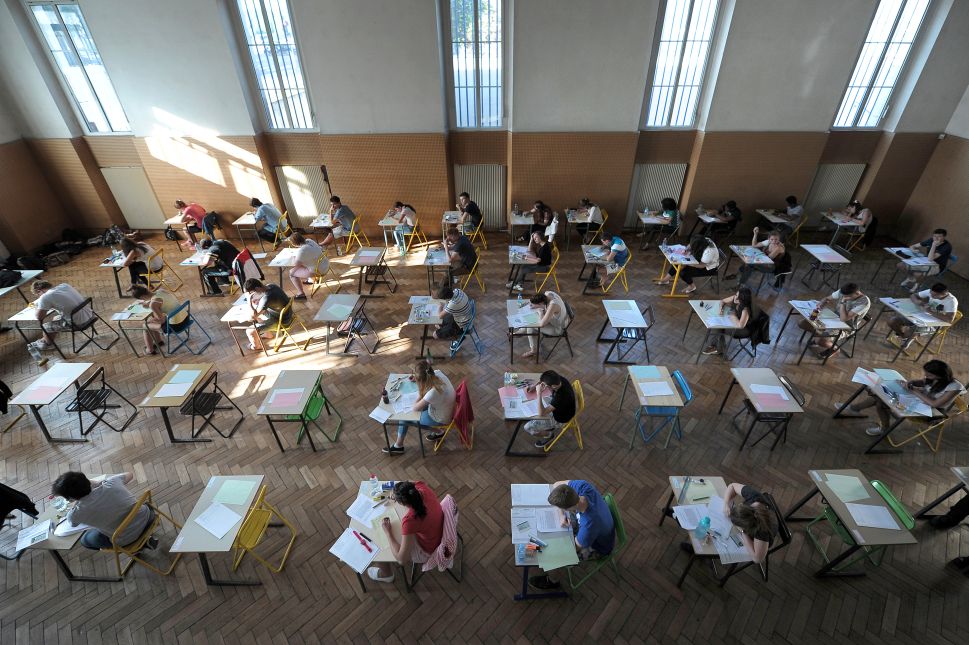 Sean Parker, the founder of Napster, became a billionaire at age 33. Mark Zuckerberg, the founder of Facebook, became a billionaire at 28. If Frank Pobutkiewicz has his way, the next billionaire will be minted by the time they're done with high school.
Pobutkiewicz has announced the Whiteboard Incubator, a program that aims to help high school students launch a business and guide it to profitability. It's an uncommon incubator designed for an atypical group, and it plays by different rules: Pobutkiewicz doesn't ask for tuition or an equity stake in the businesses he backs. Instead, he has one simple ask: "Let me help you make $20,000 in profit before you leave for college."
True to the entrepreneurial process, the Whiteboard Incubator is all-encompassing and intense. The in-person portion, a five-week stint at the Cambridge Innovation Center in Cambridge, Massachusetts will include business education where students learn from young entrepreneurs and professionals from Microsoft, HubSpot and Google. They'll work to develop a professional culture and build accountability among their team.
And, oh yeah, they'll work on the business, too.
Pobutkiewicz knows that his format will work because he's done this before. His Global Startup Challenge program, now in its fourth year, offers students the academic components of the Whiteboard Incubator. Students come to Cambridge from around the world for a one-week crash course on creating a business plan.
There have been several instances where a group of students will leave the Global Startup Challenge with something they decide to pursue. In one instance, Pobutkiewicz helped a student reach $40,000-50,000 in sales within 120 days.
While he might be overwhelmed by the task of teaching and coaching high school students, Pobutkiewicz says what he's uncovered is, in truth, a market inefficiency: "High school students are the most undervalued segment of our population. What high school students are capable of doing is so much higher than what we expect from them as a society."
"When you talk to people in education, you'll consistently hear them talk about their students as 'kids.' The difference between a kid and a student is monumental, and that's a gap that I recognize."
Pobutkiewicz approaches the learning environment by treating his students like equals, insisting they call him by his first name. "I was only four years out of high school when I started my first education company and I remember what it was like to be in high school and not have your opinions be valued. Stuff like having to ask to use the restroom are little things that get under your skin when you're a fully-functioning person who just happens to be 16 or 17 years old."
The decision to take on this societal norm is something that comes naturally to Pobutkiewicz, who has been working with high school students since graduating from Boston University. Shortly after graduation, he built an educational program for those interested in Model UN, sending teams to competitions around the world. While building his first company, Potbutkiewicz worked out of the Cambridge Innovation Center co-working space, where he was surrounded by founders, entrepreneurs, makers and CEOs every day. It was then that the lightbulb went off: "The teaching technique I use in Model UN works in other areas and has a natural tie to entrepreneurship."
He founded the Global Startup Challenge, a week-long student entrepreneurship bootcamp, and quickly identified a trend: students would learn everything they needed to start a company, leave with a great idea for a business, and usually fail to pursue it. The reason was simple: "There just aren't a lot of resources for high school students who want to launch and scale a business."
Yet another lightbulb moment for Pobutkiewicz—one that would speak to his internal motivations. As Frank explains, "I love building longterm relationships and believe that is the best way to maximize potential." Working beyond the confines of a one-week program would allow for such a relationship to blossom.
"Breaking the high school mindset and helping a student get to their eureka moment where they realize 'wow, I really can do this' is a great source of inspiration for me."
The Whiteboard Incubator's summer program runs from June 25th to July 28th in Cambridge, Massachusetts. The program will accept three to five business concepts and it is now accepting requests for an application. All students with a concept or company are welcome to apply regardless of stage or if there is a full team. The application deadline is in March.
Andrew J. Chapin is a technology entrepreneur in San Francisco and a Boston Red Sox fan. Follow him on Twitter: @andrewjchapin.