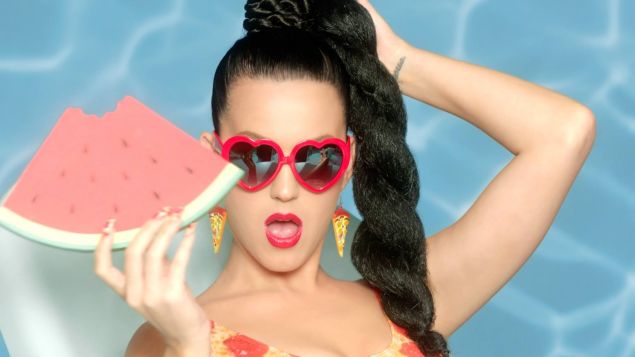 Laugh all you like. Katy Perry is responsible for some of the most colorful, memorable musical moments of the last nine years.
No, she will likely never reap a credibility boost like Ryan Adams covering an entire album (as he did with Taylor Swift's 1989); Perry is too broad, too kooky, too loveable. But for all the doe-eyed press shots and wacky costumery, she is a grown-ass woman, a real boss lady. Extroverted, flashy, idealistic: The Santa-Barbara-born singer is everything contemporary indie rock is not. For that, we must thank her.
Unlike her ex-friend T. Swift, Perry never enjoyed the ironic embrace of hipsters.
Remember that bombastic video for "Bad Blood"? In it, undercover mean girl Swift assembled her celebrity squad to ice Perry out for the alleged offense of stealing backup dancers. But if living well is the best revenge, Katy Perry won the long game by painting with the boldest colors on the biggest canvases. From playing halftime at the Super Bowl to penning the 2016 Olympic theme, Perry somehow makes careerism and commercialism look charming, innocent even.
Unimaginable as it seems, Katy Perry was once an unknown commodity. Raised in a restrictive Pentecostal home, she completed her GED at age 15. No wonder she performs those self-help sing-a-longs with such absolute conviction. Like fellow religious escapees Kings Of Leon, the stage became her sanctuary. Between record deals, she played The Hotel Café, Hollywood venue of choice for legions of aspiring singer/songwriters. She took her lumps with the other upstarts, but poise and pipes soon separated Perry from the pack.
There were still traces of Alanis-worship on One of the Boys, her proper debut. But Morrissette wasn't Perry's sole influence on display. The title track was a mash-up of Pulp-style stutters, airy No Doubt vocal hooks, and synths that buzzed like a lost Fountains of Wayne cut. "I Kissed a Girl" introduced itself with a glam-rock drum motif and radio began to catch on.
[youtube https://www.youtube.com/watch?v=tAp9BKosZXs&w=560&h=315]
One of the Boys' power pop predilection might surprise those familiar only with her later airbrushed hits. In a misguided bid for authenticity (especially considering her imminent chart supremacy), Perry spent the summer of 2008 on Warped Tour supporting the album. Still, it's fun to picture the singer road-dogging alongside GBH and Rise Against.
The Day-Glo blast of Teenage Dream and its accompanying tour may have killed any chance at establishing Katy as a grassroots artist, but the album stands up as a front to back hook-filled delight. Unconcerned with subtlety, nearly every number was an arena-pop lighter anthem. And even a deep cut like "Peacock" was a hell of a lot more memorable than anything Foals or Sleigh Bells put out that year.
"Make out in your Mustang to Radiohead," Perry sang on "The One That Got Away." In light of her sheltered upbringing she probably meant "Creep" rather than "Idioteque." Still, "The One That Got Away" hinted at what a more introspective, nuanced Katy Perry record might sound like, evidence she had a Jagged Little Pill inside just waiting to get out.
Along the way, Perry married a verbose British comedian who broke her heart. The twit. We knew he'd let her down. She took that pain and focused it into Prism, a kaleidoscopic release that cemented Perry's commercial dominance and her status as cool-kid-kryptonite.
[youtube https://www.youtube.com/watch?v=Ahha3Cqe_fk&w=560&h=315]
That was 2013, the year Arcade Fire released an ocular-titled collection of their own, the underwhelming Reflektor. Unlike that album's contrived street campaign, Prism arrived sans frills. There was no nudity or cotton candy clouds: just a banger of a pop album.
"Ghost" milked the breakup with Brand for a searing send off, without ever stooping to typical slighted-ex tropes. And as an angry dance floor invites go, the New Order modality and sheer galvanic thrust of "Part of Me" thoroughly one-upped LCD Soundsystem. For serious. On "This is How We Do," a song that stomped like a dance-pop version of AC/DC, the singer saluted the kids "buying bottle service with your rent money." Finally, we got a sense of the real Perry: playful, smart, and unexpectedly droll.
In a universe where the Flaming Lips choose to collaborate with Miley Cyrus, it seems about time for some forward-thinking act to pair up with Perry. (Your move, Tame Impala.)
Because she can sing. Like, really sing.
Though often chastised for shrillness—especially on the less refined, bleating melodies of "Teenage Dream" and "California Gurls"—Katy is a monster vocalist when unleashed. Check out those outros on "Dark Horse" and "Roar" where she ad libs and riffs like vintage Daryl Hall.
[youtube https://www.youtube.com/watch?v=0KSOMA3QBU0&w=560&h=315]
The 2016 Olympic anthem "Rise" may share a title with tracks by Bad Brains and Pantera, but its sound and vision are miles away from their metallic fury.
Perry's "Rise" is a Eurovision-worthy power ballad. When she chants "Oh, Ye of So Little Faith" in triplets over those gorgeous synth swells, we hear Perry simultaneously owning and rejecting her pious past. Those personal trials may be the reason the singer strives to elevate us.
If they're lucky, an artist may write that one song which perfectly encapsulates their worldview. Stunningly overt, aggressive in its optimism, "Firework," is Perry's "Like a Rolling Stone" or "Bittersweet Symphony."
Banal as they are, the universal platitudes of "Firework" apply to nearly any struggle, internal or external. Try to bring Katy down. It won't work. Shout along with "Firework" and share the source of her power. Let your colors burst. You're gonna leave 'em all in awe. Halsey, Sia, Rihanna, and Ariana Grande may dominate the Billboard Hot 100 this week, but don't ever count Katy out.
Five years from now, when current releases by LVL UP and Deerhunter get buried beneath future Spotify fodder, the arpeggiated adrenaline rush of "Hot N Cold" will remain as undeniable as it was the year Obama took office.
The dark horse didn't ask for approval then, and she doesn't need essays defending her now. Katy Perry can take care of herself; she's been doing it for years.