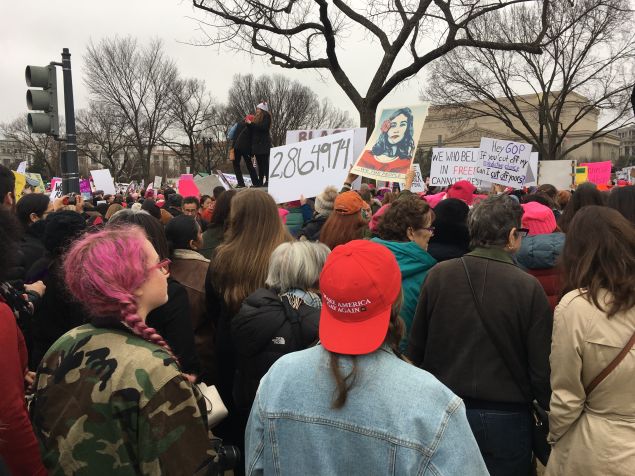 WASHINGTON, D.C—Roughly half a million people of all ages, backgrounds and genders crammed into the nation's capital a day after President Donald Trump took the oath of office—a demonstration that called itself the "Women's March," but protested the GOP agenda on healthcare, immigration and the rights of racial and sexual minorities.
Participants packed the center of the city so densely that little actual marching occurred. Instead, the crowd heard speeches from an array politicians, activists and entertainers.
All spoke against Trump's proposals to deport millions of undocumented immigrants, create a registry of Muslim citizens and appoint Supreme Court justices who would overturn decisions legalizing gay marriage and abortion.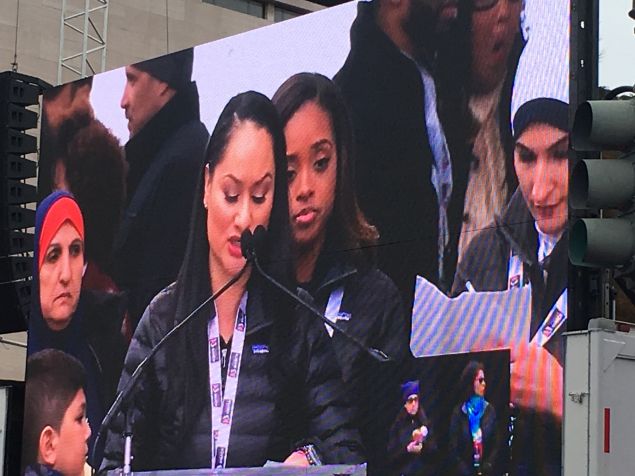 Among them were national co-chairwomen: Arab-American activist Linda Sarsour, former Rev. Al Sharpton lieutenant Tamika Mallory and Carmen Perez, executive director of singer/advocate Harry Belafonte's Gathering for Justice Group.  Sarsour, executive director of the Arab-American Association of New York and founder and CEO of MPower Change, proclaimed that she was "unapologetically" Muslim-American, Palestinian-American and a Brooklynite.
"You are my hope for my community," she told the crowd. "I will respect the presidency but I will not respect this president of the United States of America. I will not accept an administration that won an election on the backs of Muslims and black people and undocumented people and Mexicans and people with disabilities."
The event kicked off with speeches on Independence Avenue between 3rd and 4th Streets, then attendees, elected officials, celebrities and activities marched to the Washington Monument and the Ellipse. Demonstrators carried "GIRLS JUST WANT TO HAVE FUN-DAMENTAL RIGHTS," "Women Scientists Against Trump," "I am no longer accepting the things I cannot change, I am changing the things I can't accept" and "LOVE MAKES AMERICA GREAT AGAIN." And they yelled and shouted, "Thank you Obama!," "My body, my choice!" and "When they go low, we go high!"—the last an echo of former First Lady Michelle Obama and former Secretary of State Hillary Clinton
Washington, D.C. Mayor Muriel Bowser said that she came to the march to show support on behalf of women and elected officials. She also  spoke about the need for Washington, D.C. to become the 51st state so it could receive more power and funds, and asserted that everyone should stand up for women's rights.
"We women are more harshly, more frequently and profoundly criticized when we speak up for women and neighborhoods and families and public education," Bowser said. "We need every woman and every man to speak up for us, too."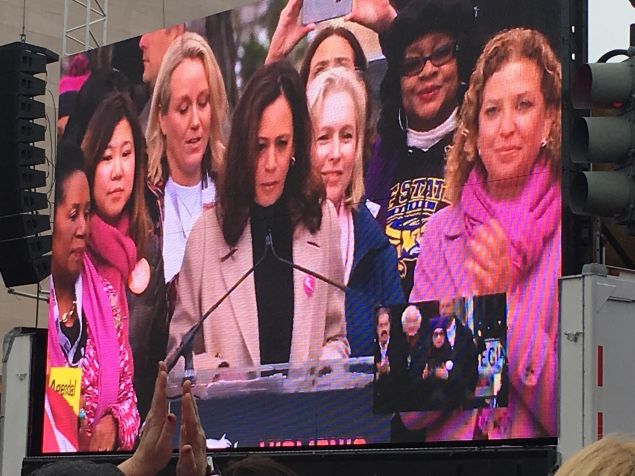 Sen. Kirsten Gillibrand credited Hillary Clinton with putting "65 million cracks in the hardest and highest glass ceiling"—that is, one for every vote she received.
"We want to be counted, we want to be heard and we are going to fight for what we believe in," Gillibrand said. "Just as women stand down their own future at the impossible, we are not turning back."
Congresswoman Maxine Waters and Sen. Kamala Harris of California, Florida Congresswoman Debbie Wasserman-Schultz—who resigned as chairwoman of the Democratic National Committee last year amid the first WikiLeaks email scandal—and Congresswomen Grace Meng, Yvette Clarke and Nydia Velazquez of New York were also in attendance.
Among the number of celebrities who spoke or sang included Michael Moore, Ashley Judd, America Ferrera, Scarlett Johansson, Alicia Keys, Janelle Monae and Jidenna. Millions of people took part in parallel rallies in cities across the nation.