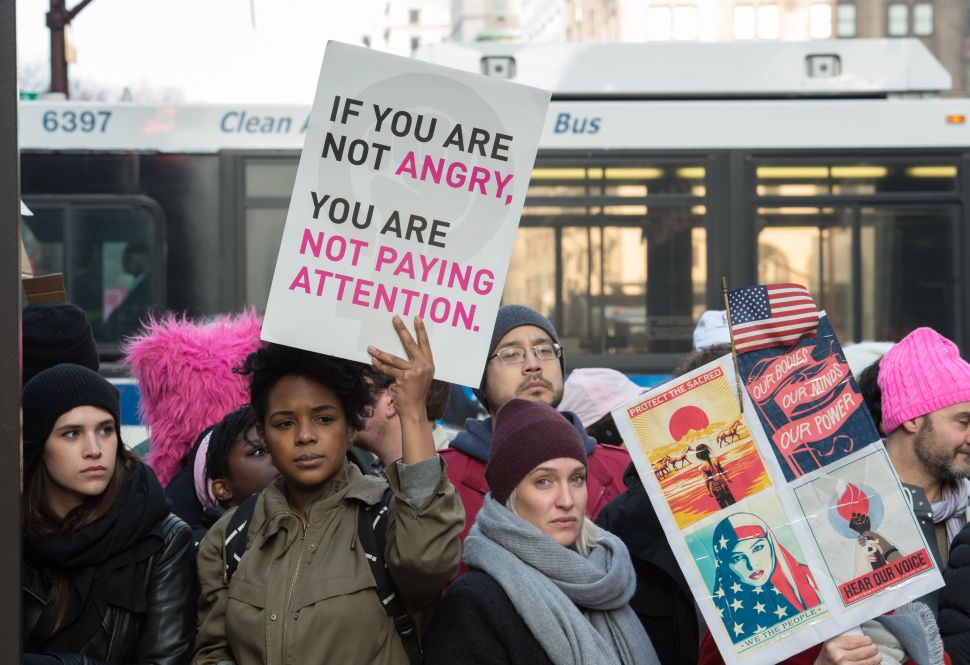 Last Saturday, women's marches happened around the world, by some estimates drawing 400,000 marchers here in New York City.
These events, undeniably a symbol of many women's concerns regarding the Trump Administration, were unprecedented in scope.
Not all New York City women marched, however.
Among those who did not, many of the city's female thought leaders—including politically conservative and independent New York City women—cited numerous reasons for avoiding the brouhaha.
And while an observer hearing aging pop star Madonna shout, "I have thought an awful lot about blowing up the White House," to a cheering crowd of hundreds of thousands in Washington DC might be forgiven for assuming most of those who attended the marches did so because they hate President Trump, New York women—including some who did march—tended to express more nuanced views.
Many women interviewed at random last week around the city—some who participated in the march, and some who didn't—as well as thought leaders and activists, spoke of the individualistic ways, apart from marching, they plan to exert their energies in the days ahead.
Some suggested more concrete actions than marching to advance strength and well-being for women and girls.
Melissa Jane Kronfeld, 34, president of Party for a Purpose, a New York-based nonprofit that raises funds for organizations with an emphasis on women and girls, including survivors of domestic violence, terrorism and commercial sexual exploitation, didn't march.
Kronfeld, who is running for city council in Manhattan's district 4 (Midtown East), said she has "spent years marching, and marches never moved the needle on issues I cared about." Instead, she used the day to prepare for an event the following day that "highlighted strong women across political perspectives who were focused on empowering female leadership" in the city. Kronfeld pointed out that at present, of 51 city council members in New York City, only 13 are women, four of whom "will be term limited out this year."
"I'd like to see the women from the march get to city hall and file their paperwork to run for office," she said.
Other New York City women said they passed on the march out of belief that such events increase the country's political polarization.
"These marches … tend to promote one [political] view and if you don't conform you are pressured," said Karen Lehrman-Bloch, author of The Lipstick Proviso: Women, Sex and Power in the Real World, a book that she says argues for a broad definition of feminism.
Lehrman-Bloch explained that after her book came out and before the election, she experienced "vicious" attacks from people "across the political spectrum" for "not joining their side."
Lehrman-Bloch thinks the country needs more "civil discourse," rather than "self-reinforcing echo chambers"—including on Facebook.
"I wasn't a Trump supporter but I am hopeful," she added. "I think he's said some horrendous things but I don't personally believe he will try to take away women's rights."
Some New York City women disagreed with the march's lack of specificity.
"No, I certainly did not [march]," said one elderly woman interviewed at random in a Murray Hill diner, who declined to share her name. "My question [to the marchers] is, 'What do you want this President to do? What specifically must he address? What has his administration done and how will it hurt women? What must be done or undone?' No more of this generalizing."
Other women had reservations about some of the march's organizers and speakers.
Racquel Reinstein, 36, a lawyer who lives in Forest Hills, Queens, said she was disturbed that "pro-life feminists were specifically excluded from co-sponsorship, while Communist and Islamist co-sponsors" were accepted. "Granting a larger platform to Communists and Islamists is not a way to promote human rights or certainly women's rights."
Going forward, Reinstein plans to engage with people across the political spectrum, including "those who don't agree with my interpretation of the Women's March."
Perhaps being a strong woman means making room for another person's point of view, including across the political spectrum, agreed some New York women who marched.
"Respect for women transcends politics," said Heidi Adelman, 58, an editor from Brooklyn Heights, who joined the march. "If Condoleezza Rice had come, I believe she would have been treated like the elder stateswoman she is. The only thing we were saying [at the march] was, 'We will not tolerate disrespect toward women.'"
Perhaps strength does not always take the form of leading a movement or marching in unison with a group, signs aloft, and it isn't always loud.
Sometimes it is having the strength of character to stand up for one's beliefs, even—and especially—if it means standing alone.
While other women marched, Eve Steiglitz, a human resources director who lives on the Upper West Side, attended the Trump Inauguration. She believes "if this President does what he says he will do, the pro-growth economic policies will help women."
Steiglitz said she enjoyed seeing protestors in pink hats mingle with inauguration attendees in ball gowns at the end of Inauguration Day and is pleased that "everyone had their say."
She added, "There is no reason to be apologetic about loving your country, and being part of the peaceful transition of power, and part of history."
Heather Robinson is a frequent contributor to The New York Post who blogs at http://www.heatherrobinson.net and Tweets at @HE_Robinson.