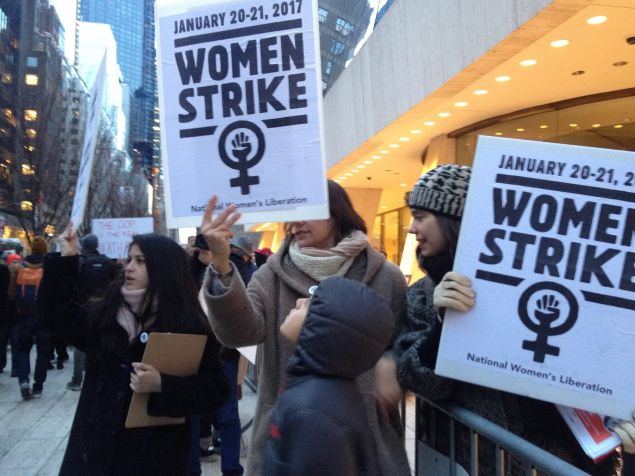 As women prepare to protest in sister marches in Washington, D.C., New York City and across the country on Saturday, more than 6,000 nationwide have signed up to boycott everything from fake smiles to paid jobs to laundry for two days starting tomorrow—the day of President-elect Donald Trump's inauguration.
National Women's Liberation, the feminist group behind the strike, is scheduled to hold its general meeting at Brooklyn Commons today from 7:30 p.m. to 9:30 p.m. to design signs, discuss the reasons for striking, get people ready to go on the bus to the Women's March on Washington on January 21 and talk about next steps following the strike. Among the strike's demands include an end to racist and sexist assaults, a new national healthcare system, a $15 minimum wage, paid family leave for at least six months, free childcare and open and destigmatized access to family planning services.
"We felt that part of it was that women were not being recognized for the work that we do," Jenny Brown, an organizer with the National Women's Liberation, told the Observer in a phone interview. "We were basically being discounted so if we stopped doing that work for a couple of days, some would notice."
As of Thursday morning, 6,166 women from around the country pledged to strike—88 percent of the way to 7,000 pledges. The women are striking from both paid and unpaid work, including paid jobs, emotional labor, childcare, diapers, housework, cooking, sweeping, laundry, dishes, errands, groceries, fake smiles, flirting, makeup and shaving.
NWL called for a women's strike for the inauguration because Trump history of demeaning women who challenged or criticized him, cavalierly discussing his practice of sexual assault, and describing others as little more than a "sexual plaything." The group also expressed upset at men who did not vote, who voted for Trump or who are downplaying the potential threats that could come with a Trump presidency.
The group also decried what it perceived as a lack of attention in the election season (except by Vermont Sen. Bernie Sanders) to universalist social benefit programs like paid family leave, childcare and national healthcare. And because the Democrats did not adopt these plans, according to the NWL, the Republican-majority Congress will now eliminate public schools, Medicare and Social Security.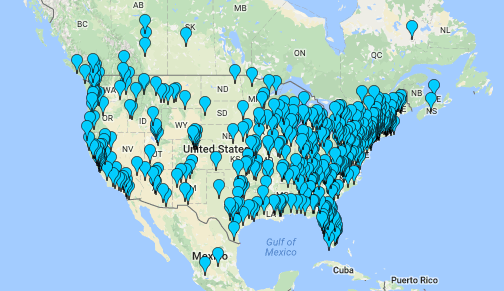 Brown said that the women participating in the strike hail from all over the country, including New York, Florida, California, Oregon, Texas and even some women overseas in the Caribbean, Latin America and Europe pledged to strike. The activist called international participation "very appropriate," given the Women's Strike drew inspiration from similar events in Europe and Latin America.
"We got our ideas also from two month before the election, there were women's strikes in Poland around reproductive rights in France, in Iceland around equal pay and in Argentina around violence against women," she said.
The strike seeks to go a step further than the planned women's marches, but without stepping on their toes: they have a strike delegation attending the Women's March on Washington—of which the group is an official sponsor—the Women's March on New York City, also on January 21, as well as in Gainesville, Tallahassee and Tennessee. Hundreds are expected to participate each in the NYC and the DC marches.
"We're fully supporting it and we've been phone banking the women who have been pledging, making sure they have a way to go to the demonstration, making sure that they have a way to get there," Brown added.
NWL stems from a collaboration between organizers from Redstockings of the Women's Liberation Movement (NY)—a radical feminist think tank and one of the original groups of the 1960s Women's Liberation Movement in New York City' and Gainesville (FL)—and Women's Liberation (the first women's liberation group in the South) beginning in 1968. Brown said that an emphasis on women's unpaid work in the household "has not been an element since 1970" and hoped to jumpstart the tradition again.
Paulina Davis, vice chairwoman of the New York Chapter, said that as a member of the group's Women of Color Caucus, she can say positively that women of color have been part of the beginning stages of and the entire process of planning of the strike. She noted that there are issues specific to women of color, noting that she comes from a working class family and that she has family members enrolled healthcare now because of Affordable Care Act—which Republicans are working to repeal—"so those things affect me in a very direct way."
"A lot of women were feeling very much let down by their white peers—male and female—as it relates to the election either because they didn't show up on Election Day to vote or because they didn't really understand how people of color are feeling," Davis said.
And when the Observer asked her if any elected officials or politicians who were invited to participate in the strike, she said that while it is a political strike, the group is a grassroots organization. She did, however, say that if any politicians have seen the strike and want to share it or support it, "we welcome that, obviously."
"There have been strong movements of people putting the pressure on politicians, making them listen and sort of leveraging their power to get changes made," Davis continued. "So we do think that is fundamental to building a grassroots movement—is ensuring that we have a strong movement of people."