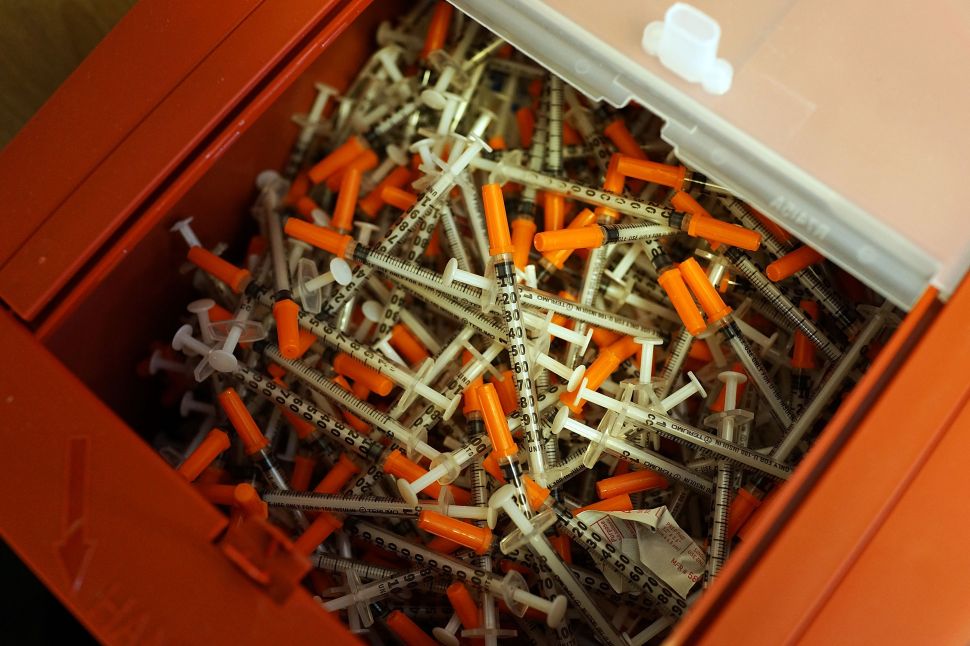 Cherry Hill—Right now, somewhere in our Garden State, a 14-year-old is popping his very first first Oxycontin. And at this very instant, a teenage girl is trading sex for her next bag of heroin. And sadly, dozens of addicts – at the exact moment you're reading this – will share dirty needles to inject their fix.
It's our heroin reality as a new dawn breaks on 2017. You can bet on it.
That's the sort of heroin-themed nitty-gritty that invokes judgment and revulsion among policy-makers who, like most of us, aren't quite ready to look under the hood (so to speak) at the dark, icky side of our state's voracious appetite for opiates like Oxycontin and heroin.
Needles? Ewww, gross! Suburban teens selling their flesh for a fix? (GASP!) All that pearl-clutching going on? I get it.
Let's be real: how do you think they finance their addiction? And how many costly blood-borne diseases will spread while we dance around these details?
With those delicate sensibilities in mind, let's put our feelings aside and examine national-, state-, and local trends.
"New Jersey's overdose nightmare hits a new peak," blared a recent headline, a reaction to "skyrocketing" heroin overdose death rates in New Jersey.
"New data from the New Jersey Medical Examiner's Office shows there were 1,587 drug overdose deaths in 2015, up 21 percent from the year before," wrote Stephen Stirling, NJ's preeminent journalistic voice in this issue. "Heroin deaths also rose significantly, to 918, the highest level since accurate records have been kept in the Garden State."
Guess what? We're posited to break, nay shatter, all these records in 2017.
GovernorNonGrata
New Jersey governor Chris Christie wants to make opiate addiction a legacy issue and I'm confident he'll succeed. But for all the wrong reasons. Think about it: for all Christie's talk about addiction being a disease, it's actually more difficult to find rehab bed that it was when Chris Christie took office in 2010.
"NJ's addiction crisis has grown far worse on Christie's watch," read a recent NJ.com report. "He has not increased spending in the face of a surging addiction problem…NJ is investing less in treatment now than the day Christie took office. Roughly 3 in 4 people in New Jersey who needed treatment for drug addiction in 2013 did not receive it."
So Chris Christie can attend candlelight vigils for corpses all he wants. Meanwhile, New Jersey residents are literally "dying for help:"
"Barbara (a heroin addict) is lucky. She has one of a few thousand licensed short- or long-term inpatient substance abuse treatment beds in New Jersey.  Put another way, she won the addicts' lottery — scoring a chance to get clean in a state-licensed residential facility. In New Jersey, it's a dream that's never been further out of reach."
Likewise Gov. Christie's slavish devotion to Narcan, the treatment to reverse an opiate overdose, is hardly a sign of progress. Rather it's a benchmark of how far into this abyss we've already fallen. Because here's another inconvenient truth bomb: by the time Narcan enters the picture, it's already much too late as noted by Brian Everett in a recent Courier Post op-ed:
"Our society should not even be here, We should not be celebrating that we've systemically let an addiction epidemic get so out of hand that we now require emergency responders, and teachers, to be equipped with an overdose antidote."
When it comes to heroin, an ounce of prevention is worth many tons of cure. Instead of the crass self-congratulations that come with our current (Narcan-as-BandAid) approach, how about we actually focus on expanding treatment-on-demand options for New Jersey addicts and their families.
Narcam is NOT a sign of our progress, it's proof of our failure. And for all his happy talk about compassion for addicts, Chris Christie track record suggests empty rhetoric is all he's got.
DoctorFeelgood
We remain blind to the possibility that the root cause of this crisis is, in most cases, our physicians.
Frankly when we conjure up the image of a heroin dealer, we often envision a thuggish homeboy somewhere in Camden's ghetto. Meanwhile the real villain wears a crisp, white physician's tunic while dispensing prescriptions from his chic office in the leafy suburbs. The failure of to NJ policy makers like Assemblyman Herb Conaway to acknowledge this connection is criminal. Not coincidentally, Conway is on the receiving end of BigPharma's lavish generosity. Go figure.
Having doctors – the gatekeepers  – share the burden of curbing addiction before it takes root isn't too much to ask of someone whose job is to do no harm. So for Conaway to do BigPharma's bidding and not stand with addicts (and their families) is a tough pill to swallow. I understand deference shown because someone's a medical doctor. But what happens when doctors are the problem?
Spoiler alert: Doctors are the problem!
This story doesn't end here, obviously. And there are some hopeful signs on the horizon. And you can read all about when "WTF Heroin?! Part 2″ drops. Tomorrow. Same time, same channel.
—
Jay Lassiter is a long-time New Jersey political gadfly. Before arriving in the Garden State, Jay spent 28 days in drug rehab back in 2003 (for meth) and saw first hand how traumatic getting off heroin can be. Compared to heroin, meth detox is like trip to the spa. More people should know that.