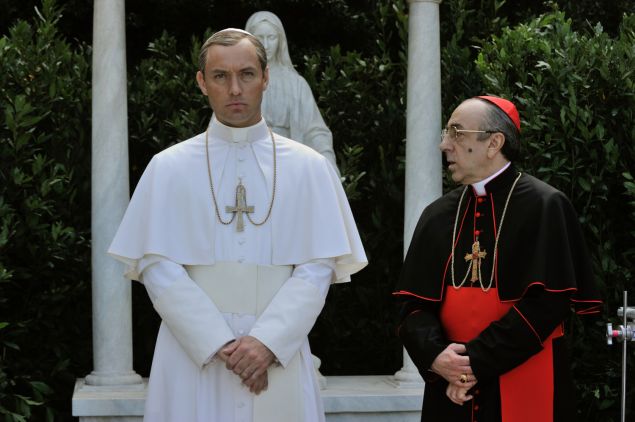 Praise be in the highest! This Sunday, the Lord's Day, The Young Pope finally debuts on HBO in all its youthful, papal glory, combining all the best tenets of John 3:16 with the sacred teachings of Austin 3:16 to create a wonderful, Jude Law-filled stew of blasphemy and drama. I'm excited. You're excited. Hell, I expect Twitter to Sodom and Gomorrah itself into non-existence with pure excitement, and the show hasn't even premiered yet.
With that said: Is anyone having a hard time discerning what The Young Pope is about, besides a Pope who is young? It's likely! Luckily, I've seen exactly two (2) episodes and, without spoilers, am here to answer your most brimstone burning questions. Such as…
What is The Young Pope? 
The Young Pope is HBO's next big event series, hot off the heels of Westworld, which you may remember melted the collected minds of the internet to the point where, no matter how much of his garbage I pick through nightly, I'm still not convinced Jeffrey Wright isn't a robot IRL. So, yeah, big shoes to fill by The Young Pope. It comes from Italian filmmaker Paolo Sorrentino (Il Divo, Youth), who wrote and directed every episode.
[It's worth noting that The Young Pope already debuted overseas, first in Italy on October 21, then the UK and Ireland on October 26. I'm relatively sure, and I think the data backs me up, that it was such a smash critical success it immediately reversed Brexit]
But WHO is The Young Pope? 
The Young Pope is Pius XIII, real name Lenny Belardo, played extremely effectively by stone-faced Jude Law. Lenny is notable for the fact he's the first American Pope, has an addiction to Cherry Coke Zero, and happens to only be 47 years old.
That's not even that young. 
It's really not, it only seems that way because A) Jude Law's chronic case of handsome-face and B) our most recent Popes have more closely resembled Emperor Palpatine from Star Wars and Carl Fredricksen from Pixar's Up. As I've documented before, there have been much younger Popes throughout history, and they've all turned out to be rapists, murderers, demon-worshippers, and this one guy who straight up sold the papacy because he got bored.
So, could be worse? 
Could be worse.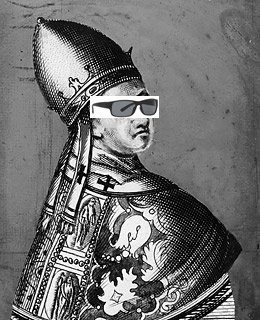 So what's wrong with Pius XIII? 
The Vatican hates Pius, because he's a healthy mixture of the sassiest boss imaginable and a legitimately insane madman. I don't want to give too much away, but a lot of The Young Pope plays out like a beautifully-filmed episode of The Real Housewives of Vatican City, and Pius XIII is queen-bitch. Like, he chastises a Cardinal over the arrangement of brunch on more than one occasion. Note: It's incredible.
But at the same time, the show also resembles House of Prayer Cards, in that the Pope is dealing in some truly shady subterfuge to rule the Catholic Church with an iron fist. Forcing priests to break their confessional vow of secrecy, holding shady late-night rendezvous atop St. Peter's Basilica, confounding people with his charming American accent. The whole deal. And, again, Lenny is roughly four times younger than his entire staff and can do, like, 15 pushups easy so Vatican City is just running itself in circles trying to figure this guy out.
Don't Popes have to be elected? 
First off, buddy, build yourself a damn Ark because Pius XIII = Donald Trump pieces are going to flood the internet.
But yeah, Popes do need to be elected, and The Young Pope, at least for now, doesn't seem too concerned with exploring how Lenny Belardo became Pope Pius XIII. And that…is kind of the best part of the show? It has a weird undertone of magical realism to it, an almost dreamlike quality where you just accept that the Pope is handsome AF, radical to the point of tyranny and yes, at one point he gets dressed to the tune of LMFAO's "Sexy and I Know It." Second note: It's incredible.
Diane Keaton is in this?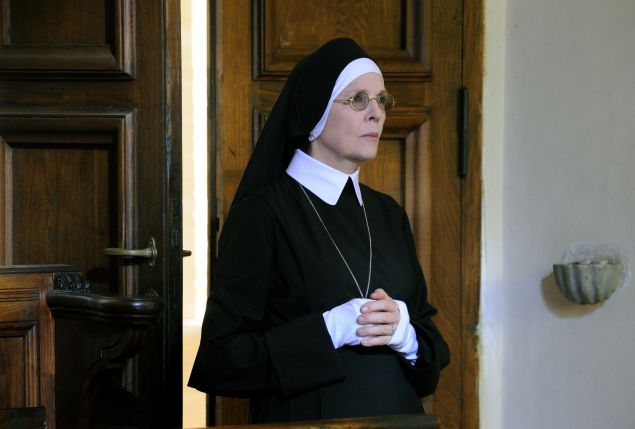 Oh yeah, she is, and she sticks out almost as much as the massive (apparently fake) mole on actor Silvio Orlando's face. She plays Sister Mary, an American nun who once raised an orphaned Lenny Belardo, so depending on where you sit on nature vs. nurture this is pretty much all her fault. Lenny brings Sister Mary to the Vatican and appoints her his second in command, a decision that causes more than one pair of Rosary Beads to be clutched in shock.
And James Cromwell? 
Cromwell might low-key be the finest performance in this thing, honestly. He plays Cardinal Michael Spencer, Lenny's former mentor who he pretty much priest-frogged in the standings to become Pope. Michael Spencer…does not take this well, to say the least.
Final Verdict: Should I watch The Young Pope? 
Straight up, The Young Pope is one of the strangest shows I've ever seen. It is, at once, beautiful, hilarious, engaging, boring, infuriating and enlightening. Jude Law is magnetic, the actual filmmaking is occasionally breathtaking, and Lenny Belardo might just sass his way into TV history next to Donald Draper and Tony Soprano. The Young Pope is destined become such a thing, a perfect snapshot of this exact moment in 2017 when we're basically terrified of our leadership and we rally around something, anything on social media to, well, not laugh at but collectively feel strongly about, together. You might hate The Young Pope, or love The Young Pope, but I can promise either way you will feel strongly for The Young Pope.
So, should you watch The Young Pope? In a sense, you need to. It has been ordained.