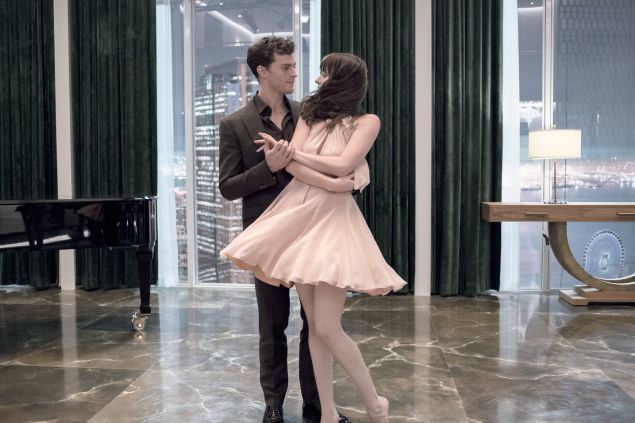 This Valentine's Day, movie theaters are likely to be packed with many couples sitting through 50 Shades Darker (also known as soft-core porn). Their eyes will be glued to the painfully awkward interactions between Jamie Dornan and Dakota Johnson.
Those who have already gone to see the film may have noticed a change in one aspect of the movie—no, we're not referring to the facial hair Dornan is now sporting off screen—we're talking about Christian Grey's Seattle penthouse.
Production designer Nelson Coates took over set design for this film (he wasn't involved with the previous installment), and he told Elle Décor he "really wanted you to feel this movie…You'll see a lot of Venetian plasters, different marbles, raw silk and hard angles that make you feel some of the danger of Christian's background. You don't have a lot of flat surfaces." To see precisely what he meant by this, you can go to the aptly titled christiangreysapartment.com for the full 360-degree virtual video experience. It's also ideal for the people who would prefer not to set foot in the theater and just want to see a cool apartment.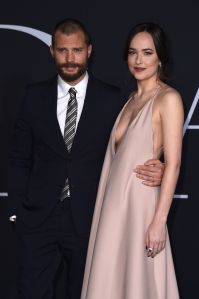 The marble-bedecked penthouse also contains lots of sparkly chandeliers, sleek floor-to-ceiling windows and a fireplace that is actually turned on. You might have noticed that in the first film, the fireplace was never used; this lack of illumination is supposed to symbolize the relationship between Ana and Christian. Via the 360-degree virtual video, you can roam about the living room and Christian Grey's study, as well as a glass-encased wine cellar that is every vino connoisseur's dream. In a video game-esque move, once you've managed to go through the entirety of the luxe apartment, you get the key to the red room, as some kind of prize.
Ana is sort of incorporated into the sleek space this time, and she gets more than just a drawer in Christian's space—she gets a dressing room filled with many designer gowns, bags, shoes and so on.
But if anyone was wondering which room is favored by Christian Grey himself (well, the actor who plays him, anyway) it's a more common space in the apartment: the library.
"If I had huge sums of money I would want that room in my house," Jamie Dornan told People. "It's just like a proper room that you'd want to have a nice glass of single malt. It's a pretty cool room."
Personally, we'd go for Ana's closet, but we suppose the library is nice, too.