Valentine's Day is definitely one of the most dreaded days of the year for singles. Of course, many people in relationships also dread Valentine's Day, but that's another story. For those who are flying solo, the barrage of literature, greeting cards, flowers and even food offers a a 24 hour reminder that you don't have a significant romantic relationship. However, things are changing this year. That's right. This Valentine's Day is for the singles.
According to a new survey of 1,037 Americans by RetailMeNot, single people are increasingly taking control of the day. After all, isn't this day about all aspects of love? In the survey, 30 percent said they will spend the day with friends if they're single on Valentine's Day. Another 28 percent want to get in some quality time with their families, and 11 percent will have a party to celebrate love. And they're all willing to shell out some cash to do it. According to Valentine's Day stats from Bing, a single man will spend $71 during the holiday and a single woman will spend $40.
However, 19 percent said they would actively try to find a date on Valentine's Day—clearly just so they could start their story with 'Well, we met on Valentine's Day'—and six percent said they would reconnect with an ex (always a good idea), but the majority have less of a Fatal Attraction attitude when it comes to the big day. For the single set, there are plenty of activities that don't include seeing Fifty Shades Darker and could end up being much more fun than a date.
This is New York's newest ice cream parlor where you can make your own ice cream. Using the finest ingredients from the best vendors in NYC, you can create one of their recipes or make your own flavor. Yes, many children like this place, but it's appropriate for grownups, too. Making your own delicious flavor of ice cream is much more impressive than saying you did that Lady and the Tramp thing with noodles on your date. Cool Mess supplies the ingredients, and the tools; the rest is up to you!
WORD bookstore Galentine's Day Party with Romance Authors
Ever wonder how authors write those steamy sex scenes? Well you can find out, on Tuesday at 7 PM at WORD in Brooklyn, with authors Sarah MacLean, Maya Rodale and more. Plus, there will be games and an open bar until 9 p.m.
Dylan's Candy Bar is (obviously) one of my favorite places in New York City and now they have a 3D Gummy Printer that allows you to create your candy and watch it print before your very eyes! Customize one of their 20 designs, write your own special message, or upload a fun image for a one-of-a-kind design. That's a little more interesting than those chalky hearts that say, "I'm Smitten." You can even choose your own colors, flavors, shapes, and add finishing touches. So, yes, Valentine's Day is all about love, but it's also really about the candy.
Paint and Sip Class
This has been a staple activity on pretty much every reality show out there, because what's more fun than painting? Drinking and painting. Painting out your feelings is way more therapeutic than hitting a piñata. There are a bevy of classes to choose from and you get to walk away with your very own painting and a strong buzz. They usually go for around $45. Try Paint Along New York, Paint Nite NYC, and Painting Lounge.
Drinking is also a really fun part of Valentine's Day. Taking it one step further, Yvonne Lame' and the Ladies of Lips provides dinner, drinks and nightly drag shows! Lips features over the top drag queens that will make your Valentine's Day absolutely fantastic.
Find a Furry Friend
Friends and family are great but there is nothing like a furry friend to cuddle with at night. Observer writer Margaret Abrams wrote about Gilt's new partnership with North Shore Animal League America. They will be hosting a free event at The Gilt Shop at Saks Fifth Avenue OFF 5th. Today and tomorrow, starting at noon, people will be able to adopt dogs onsite. As she wrote, "If you don't have anyone to spend Valentine's Day with, there's always the option of adopting a pet and forcing them to spend time with you." Truth.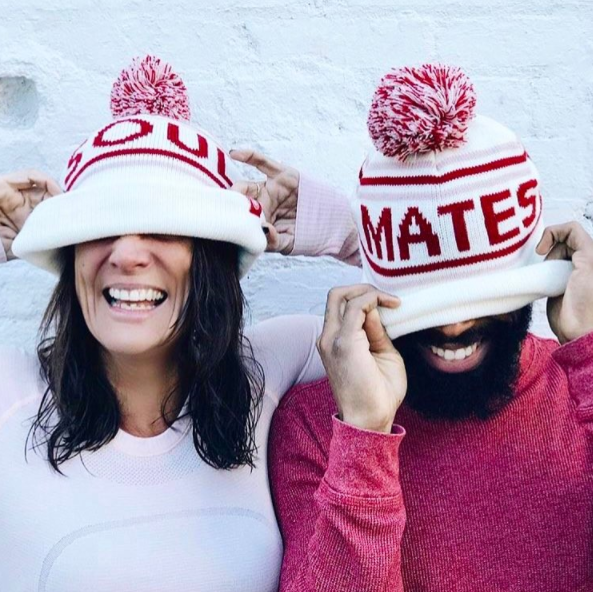 Sweat It Out
Unless you are super comfortable in a relationship, working out with your loved one may not be the best activity. But we all know that working out with friends is the best. You can also dress for the occasion, with pieces from SoulCycle's new Valentine's Day apparel collection. If you happen to be in Washington, D.C., stop by one of SoulCycle's studios, as they are partnering with DC Matchmaking to bring in 25 eligible bachelors of "all shapes, sizes, and sexual orientations" for a Single Ladies ride tonight and then hosting a No Shower Happy Hour. Or sweat it out to the most beloved and broken up couples of all time (RIP Britney and Justin) at Swerve. SoulCycle New York though is offering many fun themed rides perfect for you and your platonic soulmate or squad throughout the week. They have their Soulmate Ride on Saturday 2/18 at 2:00 PM or the Taylor Swift Vs. Her Exes ride on Tuesday 2/14 at 5:30 PM in the West Village
Binge-Watch and Chill
Going full on hygge on your couch this Valentine's Day is definitely a viable option. Make it a little extra special by checking out one of FandangoNOW's Top 10 Movies to Watch on Valentine's Day. They also took the time to find the best wine pairings for films like Love Actually, Dirty Dancing, The Notebook and The Princess Bride (that last one goes very nicely with a Merlot.) Or just go dark and watch all of The OA. 
Have a Breakfast at Tiffany's Moment
Unlike Holly Golightly, buy something for more than $10. Tiffany's, which has been struggling a bit the last few years, is now aiming its sights on the female buyer, not the man buying jewelry for women (hence making Lady Gaga their new poster gal). According to a new piece on Racked, "Today the industry's buzziest terms are "self-purchasing woman," a woman who buys jewelry for herself, and "just-because purchase," a causal buy in which the jewelry doesn't mark a special occasion. For years the industry considered women "secondary influencers," but they are now the target customer. Women are also desirable purchasers because they're making more money than ever before, which has resulted in a greater discretionary income. Oh, and they're staying single longer. So why not go and buy yourself a nice piece of jewelry on V-Day? Throw on some sunglasses, put your hair in a bouffant, grab a croissant and coffee and take a chic as hell Instagram to celebrate.