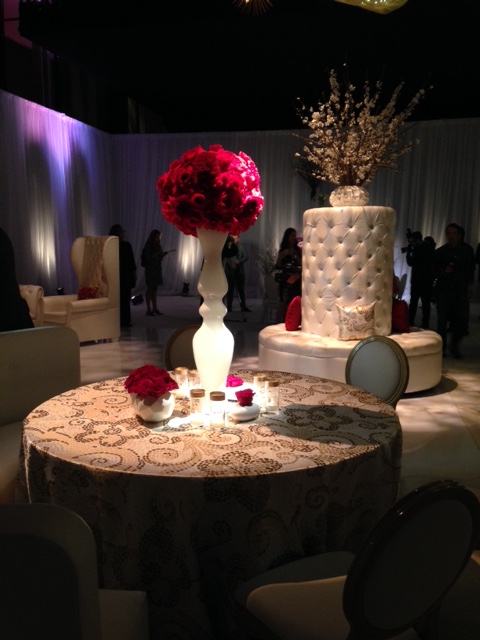 Just after the Academy Awards are handed out, 1500 people, including Oscar winners and nominees, show presenters and other telecast participants, will head to the huge after-party known as the Governors Ball.
Here's a quick look inside the closed-door event.
"The theme of this year's Governors Ball is 'magical transformation,'" says Jeffrey Kurland, an acclaimed costume designer and chair of the event. "As they enter the Ball, guests will transition from a dazzling sea of red to a tricolor motif of eye-popping gold and red on an infinite blanket of white. The unique design of the space has been meticulously created to celebrate Oscar gold."
Kurland is in charge of organizing the décor and menu, along with planning the evening's entertainment. He also designed the attire to be worn by the evening's 950 servers and support staff. This is Kurland's eighth year serving as Governors Ball chair.
He's joined in planning the event by Cheryl Cecchetto, who is in her 28th consecutive year producing the event with her company, Sequoia Productions.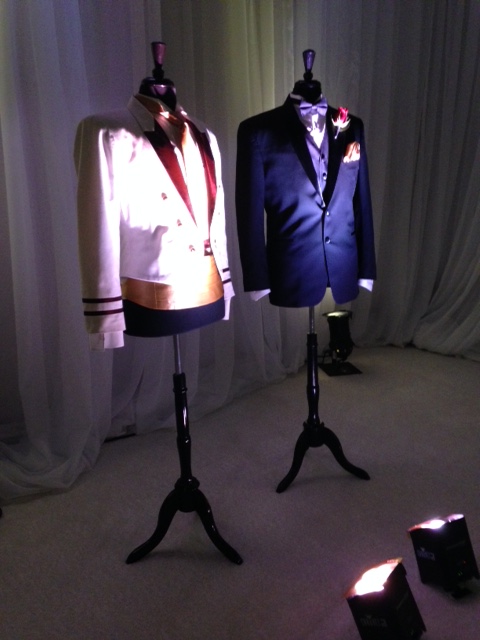 For the 23rd consecutive year, legendary chef Wolfgang Puck will produce a menu of items that includes both Hollywood glamour dishes and culinary whimsy (there are 'Lobster Corndogs' on the menu!) He's created more than 50 imaginative dishes, from one-bite hors d'oeuvres to small-plate entrees for the evening.
New menu items include Moroccan spiced Wagyu short ribs topped with a Parmesan funnel cake and taro root tacos with shrimp. In addition to these delectables, there will be a selection of Puck's signature dishes, including pizza, smoked salmon Oscars, chicken pot pie with shaved black truffles, and baked macaroni and cheese.
Multiple dessert stations with numerous sweet treats will also hold the ultimate after-dinner item — the much sought after 24-karat-gold chocolate Oscars.
For entertainment, Tony-winning Actress Cynthia Erivo will take the stage. Erivo took home the Broadway statuette for her role as Celie in The Color Purple.
Other entertainment will feature multi-platinum recording artist JoJo, five-time Emmy nominated music director Ricky Minor and the husband and wife deejays DJ M.O.S and DJ Kiss.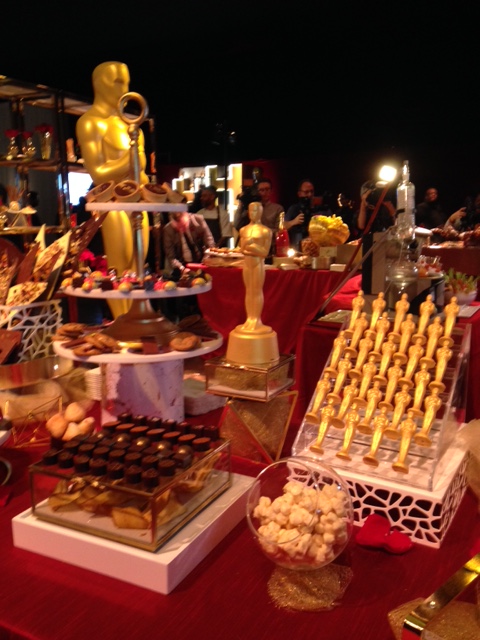 To get their drink on, guests will have plenty of beverages to choose from.
Francis Ford Coppola Winery is providing two limited edition wines from the Director's Cut collection. The two "Cinema Premiere 89th Edition" wines include a robust 2013 red wine blend as well as an exceptional 2015 Russian River Valley Chardonnay.
"What seems logical to me is that if anyone's going to provide wine to the Academy, it ought to be the Coppola family," says Francis Ford Coppola. "We were one of the earliest of the film people to get into the wine business; we have the most established, broad-based wine business of any film celebrity and, as a family, I imagine we have won as many nominations and wins as any."
The bubbly will be provided by Piper-Heidsieck, the revered French Champagne house. The Piper-Heidsieck Cuvée Brut magnum bottle can't be missed as it's enrobed in red and features a design of gold film that encircles the bottle.
If it's heartier liquor, like whiskey, that the guests are looking for, The Hilhaven Lodge will be pouring their signature blend. This award-winning beverage was created in partnership with renowned director and producer Brett Ratner. Other liquor for the evening includes Ciroc Ultra-Premium Vodka, Tanqueray Premium Imported Gin, Johnnie Walker Scotch Whisky and Zacapa Rum, all from the Diaego Luxury Brands Collection.
Mark Held, of Mark's Garden, will specially arrange the foliage for the Ball. He's created the floral arrangements for this event for the last 28 years.
There will be an assortment of burgundy amaryllis, red parrot tulips, white hyacinth, tiger anemone, white mint callas, hearts roses, carnations and white hydrangea.
"We bring in flowers from all over, including South America, Holland, and Italy," explains Held. "People may not think about it right out, but the floral component of the décor is very important. Flowers really make the room come alive. If they weren't there the area would look very stark and not so much like a living entity."
The food at the event is served buffet style because, as Cecchetto explains, "We used to have a sit-down dinner but we found that nobody wanted to stay in one place. So we started doing it buffet style and it's been a huge success."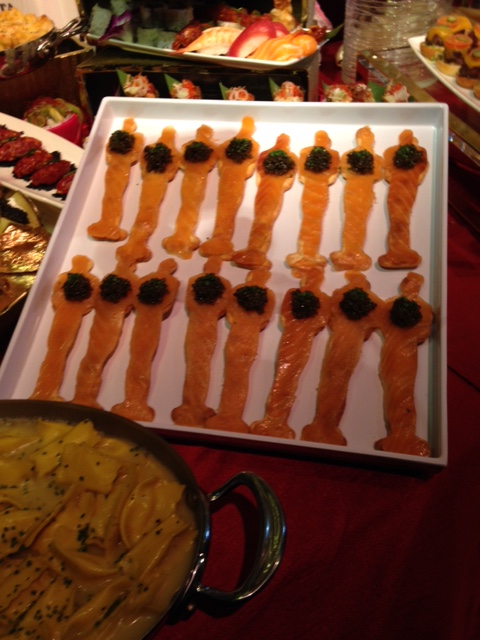 To accompany this style of dining, there are tables and smaller lounge-type areas within the ballroom, all lushly decorated in the gold, white and red color scheme.
Puck indicated that he's excited about two dishes this year – a vegan pasta dish infused with carrot juice, and a deconstructed Black Forest Cake that's created using liquid nitrogen.
He says that the key to satisfying all of the attendees is to combine innovative dishes with real comfort food.
"We have a lot of fancy concoctions and that's fun, but one year, John Travolta and Barbra Streisand couldn't get enough of the Chicken Pot Pie! So we keep that on the menu because obviously people like those foods too," he says as he laughs.
Puck says that some partygoers pop into his restaurant shortly after the Ball to have more of what they had at the event.
"Michael Caine came in the Monday after the Ball one year with his whole family," says Puck. "He said he wanted the food from the Oscars, so we made it for him."
The celebrity chef wants to be clear that using sustainable food is very important to him. "Since I opened my restaurant 35 years ago, we've used organic eggs and shopped locally, like at the Santa Monica's Farmer's Market. We only use humanely treated animals and I go there — to those farms — to make sure. For me, it's important that we get ingredients that are the best. When you taste it, it really makes a difference."
For the event, Puck has acquired 500 pounds of chocolate, 7,500 individual shrimp, 250 Maine lobsters, 125 pounds of five-year aged Gouda, and 250 pounds whole Jidori chicken, as well as many other ingredients. To prepare everything Puck will use 300 chefs divided into two kitchens.
At the end of the evening, all unused, unprepared food will be donated to the not-for-profit organization Chef's to End Hunger, which will immediately take the food to a local food bank. Plastics, metals, glass paper and cardboard will be recycled as well. A percentage of the floral arrangements will be donated to homes for the aging with the rest being composted.
"On this night, after preparing all day and then attending the long Oscar ceremony, our hope is that the attendees of the Governors Ball will just kick back, and have some food, some wine or a cocktail, and enjoy the music and talking to other guests," says Cecchetto. "If we make them feel comfortable and they enjoy this party, then it's worth it for everyone involved.
The 2017 Governors Ball will take place immediately following the Oscar telecast on Sunday, February 26th.