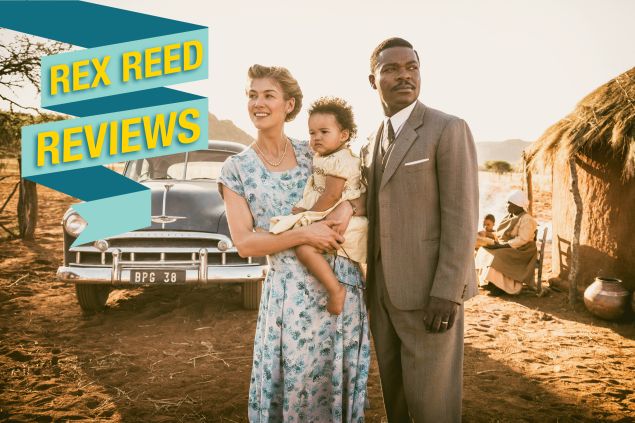 I can remember a time when mixed-race love stories on the screen were considered brave but so shocking that audiences stayed away in record-breaking numbers and cinemas refused to show them. Katharine Hepburn, Spencer Tracy and Sidney Poitier broke the mold in 1969 with Guess Who's Coming to Dinner, making controversial breakthroughs like One Potato, Two Potato (1964) and A Patch of Blue (1965) seem dated and almost quaint. Mixed-race love stories are now so common that nobody raises an eyebrow. In fact, history has almost been reversed. We just had Loving, the recent mixed-marriage drama about Mildred and Richard Loving, arrested in 1958 for illegally marrying in the state of Virginia and sentenced to a year in prison, in a case that dragged itself all the way to the U.S. Supreme Court, ending anti-miscegenation laws in that state forever. It was highly praised by critics and roundly treated with disinterest and box-office indifference by audiences. Hot on its heels, we now have A United Kingdom, another true story, chronicling the headline-rocking relationship between Seretse Khama, the first president of Botswana, and Ruth Williams, the white and very beautiful English office clerk from London whom he married and moved to South Africa to face the horror and anger of a country on the threshold of apartheid. It will be interesting to see if this one is embraced or ignored by a jaded public that already considers the subject passé.
---

A UNITED KINGDOM ★★★
(3/4 stars)

Directed by: Amma Asante
Written by: Guy Hibbert
Starring: David Oyelowo, Rosamund Pike and Jack Davenport
Running time: 105 mins.

---
They met in 1947 at a missionary dance in England, where Khama (David Oyelowo) was a law student at Oxford and Ruth (lovely, patrician Rosamund Pike) was already deemed a hopeless old maid by her parents. Connected by their love for jazz music, they were instantly attracted to each other, yet advisedly cautious. He didn't tell her he was a prince, first in line to the throne of a country where whites were the enemy. But despite the obstacles, true love met resistance from racial tensions on both sides—both the injustice and cruelty endured by his country and the snobbish postwar prejudice of the British government, which acted to exile the couple from England despite her country's dependence on his country's uranium. When the time came for Khama to return home and lead his people's move to independence, Ruth impulsively married him, thinking she would find the acceptance in Botswana that her own country denied them. Instead, she was forced to live with the continual disapproval of her family and his, as well as the bigotry of two countries that would not tolerate an interracial couple in a position of power. Labeled an outsider and insulted by her new in-laws, Ruth was separated from Khama, politically and geographically, for a large portion of her marriage, but her tenacity and stiff reserve beat the odds in time for a happy ending that seems natural and unforced.
In her third film, director Amma Asante (Belle) resorts to a few corny clichés (spinning newspaper headlines to denote time, place and issues of the day), but she has a charming way with the actors and her leads are truly irresistible. Oyelowo, who already established his strength and presence as Martin Luther King in Selma, is natural and mesmerizing. As Ruth, Pike melts with beauty and compassion. Guy Hibbert's screenplay is evenly balanced, making the political aspects seem personal in a universal way, without getting preachy about apartheid, a subject that has been done to death on film already. In light of the rise in hate crimes across the canvas of western society, a responsible, mature and well-researched feel-good film such as A United Kingdom seems like a healthy antidote to racially motivated violence, as well as a reassuring reminder of the progress minority groups have made in the 20th century. Best of all is the way A United Kingdom demonstrates how love is stronger than prejudice. The theme is nothing new, and the film has no shortage of clumsy biopic clichés, but sometimes we need to see the simplicity of humanity at its best. On that score, this movie delivers in spades.