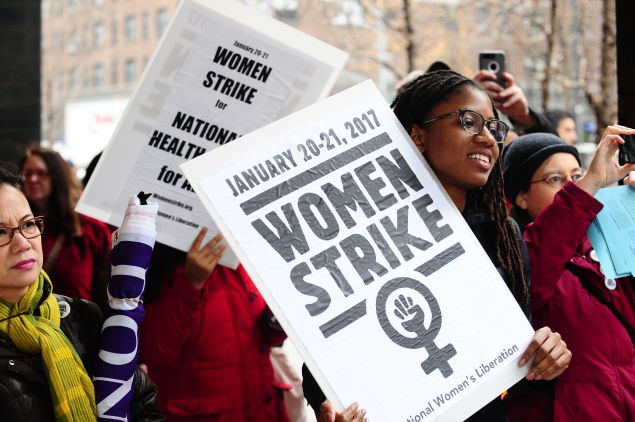 The Women's March on Washington was almost a month ago, when just under 5 million people worldwide grouped together to stand in solidarity for women and a variety of issues stemming from the inauguration of President Donald Trump. This article is part of our Marching On series about activists who are keeping the momentum going.
For Paulina Davis, vice chairwoman of the New York chapter of the National Women's Liberation and a member of the group's Women of Color Caucus, participating in the Women's March in New York City during Inauguration Weekend wasn't anything new or unusual—she's had the seeds of activism brewing in her since her young days growing up in a black, female-led household in Queens.
She lived with her mother, her grandmother, her cousin—whom she considers a sister—and her late grandfather. Her grandmother was born in Georgia, and her great grandmother moved her grandmother and her siblings to Boston to ensure that they had access to education.
"I remember hearing stories at a young age of my mom and my aunt going to hear Malcolm X speak at the mosque in Corona, Queens, which is where I grew up," Davis said. "So I grew up hearing stories about activism and I guess when I got to college…I wanted to go on and have a career where I could be fighting for civil rights."
And she continued to pursue her passion for activism when she started college at the University of Delaware. There, she got involved with the Black Student Union. Very early on life, she said, she had a "sense of race consciousness" and understood that there were particular injustices that black people and people of color in general face.
But as Davis got older, she became more aware that she faced challenges not only as a black individual but also as a woman. When she hit her late 20s, she started to engage in more gender-related activism. And in the winter of 2015, her friend and colleague introduced her to the National Women's Liberation, a feminist group for women combatting male cultural dominance and seeking more freedoms for women.
The group originated from a joint effort between organizers from Redstockings of the Women's Liberation Movement—a radical feminist think tank and one of the original groups of the 1960s Women's Liberation Movement in New York City, and Gainesville, Florida—and Women's Liberation (the first women's liberation group in the South) starting in 1968.
Ready to take action beyond discussing the issues with her friends, Davis attended a meeting of the group's Women of Color Caucus. That day, the caucus was having a "consciousness-raising" session. She said that it felt good to be in a room with women of all backgrounds—including black, Latina and Asian American—and spanning a variety of age groups.
In July 2015, she went to her second meeting, the group's general meeting, and she once again felt a sense of solidarity with the women sharing their experiences and the reasons that motivated them to participate—and has been involved with the group since. Her first activity with the group centered on a beach body campaign ad in Union Square that they believed shamed women over their appearance.
"It was clear that this was a group of people who had been organizing for a long time and that study was included in their way of organizing," she said.
To protest Trump's history of demeaning women who question or denounce him and casually conversing about his practice of sexual assault, the group got more than 7,000 women to pledge to boycott unpaid and paid labor for two days starting on Inauguration Day. Among the strike's demands include putting an end to racist and sexist assaults, paid family leave for a minimum of six months, a new national health care system, a $15 minimum wage, free childcare and unfettered and de-stigmatized access to family planning services.
National Women's Liberation had strike delegations participating in the Women's March on Washington—of which the group was an official sponsor—the Women's March on New York City, and similar demonstrations in Gainesville, Tallahassee and Tennessee.
Davis said that she brought her mother, her aunt, her sister and her friends from out of town "who aren't necessarily politically active," and was happy to share the moment with them. She witnessed men and women alike disrupting traffic, recalled how the march route fell apart at one point "because no one was going anywhere." People headed to Trump Tower.
"I think it was just great to see people willing to do that, to say we're not going to celebrate a world where misogyny is propped up and celebrated or at the very least easily dismissed or forgiven," she said. "We're not going to live in a world where Muslim women are under attack and women of color more generally are also under attack and that we're not going to live in a world where anti-blackness or anti-gay or anti-queer rhetoric is acceptable."
As far as next steps, Davis said the group is looking forward to supporting and engaging with other groups. They received an invitation to speak at a #ResistTrumpTuesdays event last week that the Working Families Party and the Democratic Socialists of America organized, and they are planning to do an event with them in the future.
"There are some people who I believe are affiliated with the Women's March whom we've been in contact with about potential future events," she said. "We're definitely trying to keep the momentum. We experienced a huge influx in interest after the election, and so we were a small group, and now we're growing, and we're excited about that."
---
Marching On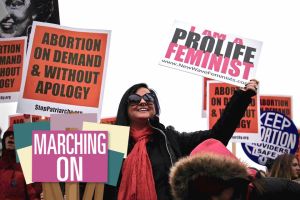 New Wave Feminists | Pro-Life Feminist Fights to Keep Women Empowered, Connected to Health Care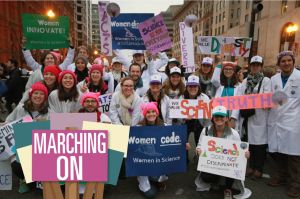 500 Women Scientists | Post-Women's March, These Scientists Focus on Education, Gender Diversity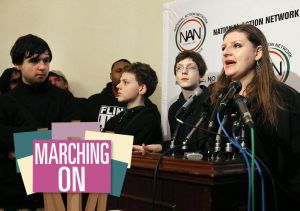 Flint Water Crisis | Flint Water Activist's Battle Continues Into Day 1,028, While US Cities Benefit
Read more.
Princess Leia Poster | Legal Issues Won't Keep This Artist Out of the Rebellion