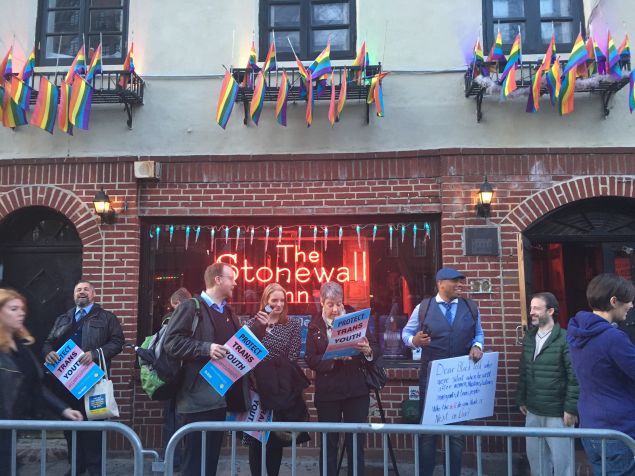 Advocates and elected officials warned President Donald Trump in front of the landmark Stonewall National Monument last night that his rollback of protections for transgender students "won't last too long" and that they'll see him in court.
Hundreds of New Yorkers flocked to the "Rally to Oppose Trump Attack on Trans Students" an emergency rally organized in the morning to protest the administration's decision to rescind late-Obama era stipulations that public schools must allow pupils to use the restroom that corresponds with their self-identified gender. The political action committee Equality New York hosted the event at the historic bar, recognized as the birthplace of the modern gay rights movement.
"I am here to say to the trans youth across the city, across the state and across the country that you are loved, that you are seen, that you are respected, that your life has value and dignity," said Bryan Ellicott, one of the event's organizers. "I'm also here to tell the federal government that we as New Yorkers are fighters, that we will be heard and we will resist."
In 2014, Ellicott—who works for Brooklyn Councilman Carlos Menchaca—sued the city when Parks Department employees forced him to leave a men's locker room at a Staten Island pool.
Congressman Jerrold Nadler, who is a founding member and vice chairman of the House Lesbian, Gay, Bisexual and Transgender Equality Caucus, reminded the crowd of past fights—including LGBTQ activist Edie Windsor's successful lawsuit that led to the elimination of the Defense of Marriage Act, and the Obergefell case that formally legalized same-sex marriage. He said such victories were established in a manner that "no Trump and nobody like him can take away our challenge."
He also lashed out at new U.S. Attorney General Jeff Sessions, who came under fire decades ago for unsuccessfully prosecuting civil rights activists he accused of voter fraud.
"Now we stand here, at the beginning of the fight that I don't think is gonna last too long, to resist the assaults on transgender youth," Nadler said. "Leave it to someone like Donald Trump to mount such an assault. Leave it to someone like Jeff Sessions to mount such an assault. It's traditional. First, you prosecute people for trying to register black voters in Alabama, then you attack transgender youth. Why not? It's the same tradition."
Nadler added that he believes the gay rights movement will ultimately succeed in their right because of protections under Title IX of the Education Amendments Act of 1972, which bans sex-based discrimination in federally-funded education programs or activities.
"Title IX will prevail, the courts will prevail and that little man in the White House will go slinking home," the congressman said. said.
Trump justified his administration's move by asserting that states and public schools should make that decision.
Gov. Andrew Cuomo sent a letter to state Education Commissioner MaryEllen Elia yesterday calling on the state Education Department to immediately issue a directive to school districts making it clear that transgender students in the state are protected from discrimination and harassment under the state's laws and policies.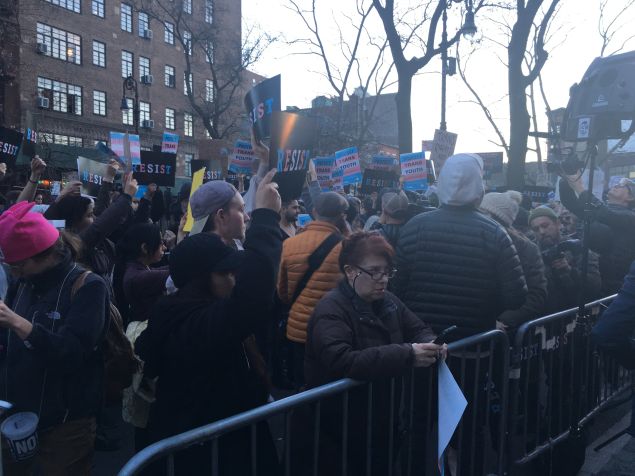 Jillian Weiss, executive director of the Transgender Legal Defense and Education Fund, said that the rally at the Stonewall Inn wasnot just about who stands "in a particular position of power" but about human rights and the law.
"What I wanna tell you is we'll be in court fighting for you every single day without stop until we move this so that transgender kids can come out at school and not have to wonder, 'Am I OK? Am I going to be supported? Am I gonna be harassed today by my administrators?,'" Weiss said.
Argentina native Cecilia Gentili, assistant director of policy at GMHC, said she dropped out of school in her home country because she could not use the bathroom, but wishes she could go back "because the laws there are much better."
"I just saw this child behind me and I saw myself 40 years ago and I just couldn't stop the tears out of my eyes," Gentili said, crying and her voice cracking. "Do not let this child have to go to the bathroom where she's not gonna feel OK. Let's not do this, please, let's not do this to our country."
Some 100 attendees, led by the leftist group Bash Back! NYC, broke off from the rest and marched up Seventh Avenue onto Greenwhich Avenue. Demonstrators yelled chanted "Build a fence around [Vice President] Mike Pence!" and "I am perverted, I will not be converted!"
"At the end of this rally, there were a lot of people standing around and quite frankly, we should be showing solidarity by showing more than just applause, by showing more than our very quiet and very passive audience participation-ship," Caribu Vague, one of the leaders, told the Observer during the procession. "We should be marching, we should be demonstrating, we should be exhausting our lungs, showing lustily that we care about our trans youth."