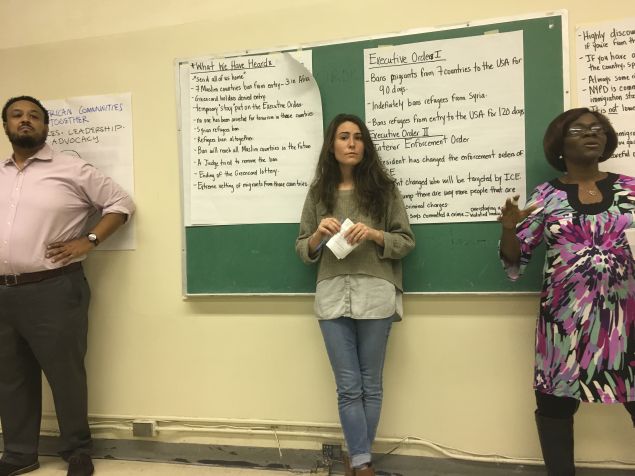 Advocates warned members of the African community at an event last night that Donald Trump's controversial executive orders would lead to "more growth of detention centers," drastic reductions in the number of refugees entering the country and changes to the the asylum process.
So far, Trump has signed executive orders that call for the construction of a wall on the Mexican border, federal funding cuts for sanctuary cities—cities that provide a haven for undocumented immigrants—and bar entry to people from seven Muslim-majority countries. But Melanie Zuch, a staff attorney in the Urban Justice Center's Immigrant Rights' practice area, said that another executive order that she feels has not received as much media attention is his interior enforcement executive order— which calls for federal authorities to expel undocumented immigrants not just when are convicted of any criminal offense, but also when they have been charged with any criminal offense, even "where such charge has not been resolved."
Zuch asserted that this fiat, like Trump's others, would lead to court fights—but could still impact the lives of thousands of people living in New York City and elsewhere.
"I imagine that aspect, too, can be challenged because it violates the Constitution to say that someone has committed a crime when they have never been formally adjudicated, right," Zuch said during African Communities Together's monthly membership meeting Monday night. "But there's just not a lot of clarity on exactly what that means. What we know is that the group of people who are now the priority for enforcement is much bigger than it was before."
Zuch said that the order seems to suggest that if the government can provide some evidence that an individual has perhaps committed a crime but has never been formally convicted in criminal court, that that individual would be at risk of being put into removal proceedings.
Still, she asserted that it would be "shocking and extremely unlikely" that all of a sudden ICE officers are going to be "sweeping the streets" looking for people. She also insisted that Trump cannot simply purge all 11 million undocumented individuals living in the United States because "we don't have the resources."
What Trump has done is simply expand the categories of foreign nationals that the federal government will prioritize for expulsion.
"In practice, we have yet to see what this will actually mean," Zuch continued. "He has said he wants to hire 10,000 more ICE officers to do enforcement, but the immigration courts are incredibly backlogged. There are sometimes up to five-year waits for a case, so we'll see what he's able to accomplish without hiring more judges."
Zuch also reiterated that both the city and the state have committed to remaining havens for undocumented immigrants, and Mayor Bill de Blasio has threatened a lawsuit should Trump try to cut off his federal funding.
Amaha Kassa, founder and executive director of African Communities Together, pointed out that there are two elements of the enforcement order that have not been put on hold by a judge. The first is a call for an end to the so-called "catch-and-release" policy under President Barack Obama.
"What that means is that when they pick someone up for an immigration violation, they are going to more likely to hold them and detain them, put them in a prison, than they have been up until now," Kassa said. "So we're going to see more growth of detention centers most likely if they follow through on these priorities."
The Trump administration also plans to have asylum cases move faster—which Kassa said must be accompanied by a fair hearing.
"Those decisions are made by judges and so they can, they can argue about what the government will argue for or will accept but the judge still sits and says, 'Look, this is what the asylum law says, this is what your case is and I decide or not if I'm gonna give you asylum,'" he said.
Audu Kadiri, a community organizer with ACT, said that African immigrants have a responsibility to "resist, to organize and fight," noting that the issue of refugee settlements particularly affects Africans.
"It is a point to note that 30 percent of refugees in the U.S. are Africans and a quarter of all direct resettlements in the U.S. come from Africa and ACT as an organization, you know, are serving African immigrants who feel we need to do something," Kadiri said.
Indeed, during the town hall, Kassa and attendees noted that refugees in the United States hail from African countries such as Liberia, Sierra Leone, Somalia, Sudan, Rwanda, Burundi and the Democratic Republic of Congo. He noted that refugee, asylum and TPS are all considered humanitarian immigration relief and that Trump is proposing cutting the number of refugees from about 100,000 last year to roughly 50,000.
Trump's executive orders both required a 120-day pause in the refugee program and barred entry to travelers coming from Sudan and Somalia—though a Seattle federal judge has temporarily suspended the latter.
"If they're not gonna let someone in who's already been through this two-year process of being screened and vetted and looked at, you know, and sometimes the two years is just the admission process," he said. "Sometimes people are living in camps for 10 years, you know. Then what does that mean when we ask them, 'Well, you should do asylum because it's humanitarian and we should do TPS,' right? It's all connected."
Zuch also recommended that anyone from the seven Muslim-majority countries avoid traveling outside of the United States and suggested that if individuals have a green card and want to travel outside of the country, they should speak to a lawyer.
And she said that it is lower risk to travel domestically—though not internationally—with Temporary Protected Status, which gives individuals temporary protection from deportation. After May 20, TPS will expire for Guinea, Liberia and Sierra Leone. Anyone with TPS who does not have a valid visa, at that point, she said, would go back to having no status, urging them to see if they qualify for another form of relief.
But he also said that people should not be afraid to call the NYPD if they have a problem, because the city has long committed to not asking questions about people's immigration status.