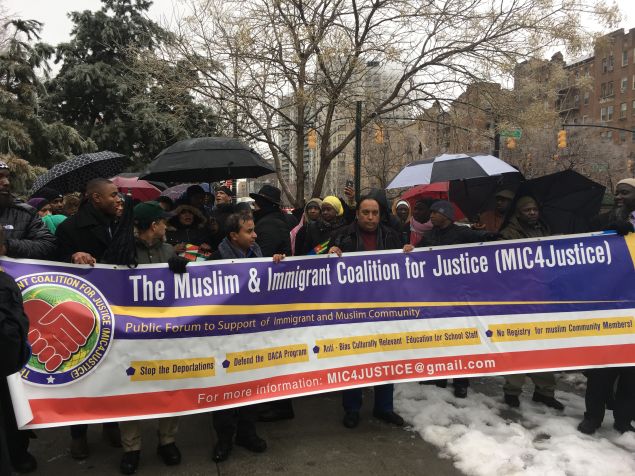 Roughly 200 African Muslims took to the streets in the Bronx this afternoon in cold, rainy weather to "defend the United States Constitution" against President Donald Trump's executive orders targeting travelers from Muslim lands and undocumented immigrants—just hours after U.S. Immigration and Custom Enforcement confirmed that it had arrested 40 foreign nationals in the greater New York area.
The Muslim and Immigrant Coalition for Justice, which organized the "March Against Muslim Ban," kicked off the march on 170th Street and Grand Concourse and concluded with a rally at the Bronx County Courthouse at 851 Grand Concourse. The demonstration objected to the White House fiats barring entry to people coming from Syria, Sudan, Somalia, Iran, Iraq, Libya and Yemen—temporarily suspended thanks to successive rulings by West Coast courts—and expanding the scope and scale of federal deportation efforts.
"We're here today to defend the Muslim community and the undocumented," Bourema Naimbele, a Mali native and one of the founding members of the coalition, told the Observer during the march. "I'm here to defend the United States Constitution because our Constitution has been violated by one president."
He said the coalition formed in November after Trump won the election, and that the march today was the group's second event.
"The first one we did was just to show the president the creation of this organization and now we're coming for the first time to show our support to all those immigrant groups who have been fighting for immigration and all those people who have been fighting for justice," Naimbele continued.
Protesters shouted "Allahu Akbar!"—Arabic for "God is greatest"—"No ban, no wall!" and "Immigrants, not criminals! Refugees, not criminals!"
In a memo leaked this morning, ICE said that its operations during the past week in the New York City metro area sought "immigrant fugitives, re-entrants and at-large criminal aliens." The memo stated that about 95 percent of the individuals had criminal convictions, while roughly 5 percent did not.
Make the Road New York, an immigrant activist group, announced last night that five male Mexican nationals were arrested in ICE raids on Staten Island.
Immigration authorities have so far arrested hundreds of undocumented immigrants in at least six states. ICE can now arrest undocumented immigrants if they have ever been accused of any crime, even "where such charge has not been resolved."
Bronx Congressman José Serrano was among the pols who attended the march. He told the Observer that he and 37 other Democratic members of Congress in sent a letter to the Department of Homeland Security's Inspector General and Office for Civil Rights and Civil Liberties asking them to thoroughly investigate the implementation of Trump's travel ban.
"We are supposed to participate with the community, with the community in general, the Muslim community specifically to do the extension of what I do in Congress, which is to say that this travel ban, this ban on letting people come into the country and any possible registry, any possible singling out of people is totally un-American," Serrano said.
Sarah Sayeed, senior advisor for Mayor Bill de Blasio's Community Affairs Unit, and Hina Naveed, a community organizer for the mayor's Office of Immigrant Affairs, also addressed the crowd. Naveed promised her office is committed to celebrating the diversity of the city and ensuring that New Yorkers have access to all city services, regardless of any federal action.
"These volunteers came together to advocate on behalf of the detainees and advocates challenged the legitimacy of the ban in court," she said. "And what happened, we won, and we are just getting started."
Naveed noted she herself benefited from former President Barack Obama's Deferred Action for Childhood Arrivals program, which shielded undocumented immigrants who came to the United States as minors from deportation. The future of the initiative, and those who lived under its protection, is uncertain.
Fatou Ndiaye, a Senegalese Muslim woman who was among a large number of African Muslim girls and women in attendance, said that she wanted to show solidarity with the Muslim and immigrant communities of the Bronx.
"I come here to support all immigrants," Ndiaye said. "They need to stop these deportations. I'm here for the Muslim community and all immigrants."
Student activist Hebh Jamal, the 17-year-old Palestinian-American who recently organized a high school student rally against Trump's executive orders, rallied Africans during the march.
"I think it's interesting that the Bronx community is finally coming out, the idea that we're actually coming together for the first time, not [the] first time but the idea that we're, you know, coming together," Jamal said. "And when you see those protests in [the] Upper West Side or in Washington Square Park, the majority are white people. I feel like this crowd is super, super diverse."
Bronx resident Lalleyah Camara, an 11-year-old Muslim girl who wears a hijab, recited a poem before the crowd highlighting the impact of Trump's Muslim travel ban and Islamophobia in general.
"When I'm walking down the streets, people look at me like they see something weird, like I'm different just because I'm wearing my hijab on and because I'm walking outside with a long dress on," Camara told the Observer after her speech.