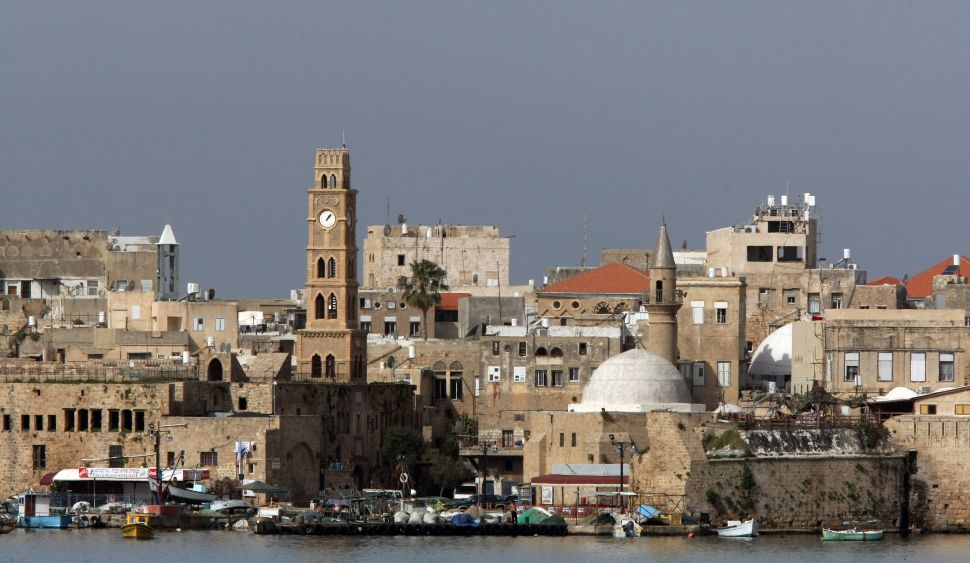 How can one man, the thrice-elected mayor of one of the oldest cities in the world—who is so smart, pragmatic, charismatic and effective—be unknown outside the tiny world of Israeli politics? Before attempting an answer, it helps to know the story of Akko itself.
Located just north of Haifa, Akko is small city that has been continuously inhabited for 4,000 years. Within the walls—literally—of the city, urban history comes alive. Underground, visitors can tour an extensive restored 13th century crusader fortress while above their heads, modern-day Akko goes about its business. For millennia, Akko has been home to multiple and varying populations; Bronze Age Etruscans, biblical dynasties, Canaanites, Phoenicians, Romans, many Muslim empires and Ottomans all shared these ancient walls.
More recently, Akko was critical to the British Mandate period and the Zionist movement that gave birth to the state of Israel.
Today, the city is both a UNESCO world heritage site and an incubator for Jewish and Muslim co-habitation, cooperation and economic pragmatism.
It was not always so. As recently as October 2000, northern-based Israeli-Arab citizens demonstrated and rioted in support of their Palestinian brethren. Adding to the tensions in Akko, hundreds of Israeli-Jews counter-rioted, vandalizing Arab cars and businesses. By the end of the riots, 13 Israeli-Arabs had been shot throughout the north.
In 2003, a self-defined outsider (he is from a neighboring village) named Shimon Lankri ran for mayor of Akko. He promised to improve the city and its governance for everyone. A miracle, as they like to say in this part of the world, happened, and Lankri won the election. Thirteen years later, he is still the mayor. It has not always been easy; he was shot and wounded by gangsters in 2013.
"I start from the place of mutual respect," Lankri says. As a Jew from Morocco, he is comfortable with friends and neighbors of the Muslim faith. "In Morocco we lived together for centuries, did business and socialized; tolerance was part of life."
In conversation, Lankri reiterates his governing philosophy: Work for everyone and build up the economy of the city so that all boats are lifted.
For example, in the most recent election, due to Arab party infighting, no Arabs received enough votes to qualify as one of the two deputy mayors, so Lankri was not required to appoint any. Ignoring the advice of his Likud Party, he gave one of the positions to an Arab. "Without a real representative coalition," he explains, "we could not govern Akko properly. There was no need for revenge."
Akko's governing body is the city council. Of the 17 members, five are Arabs, which makes the city council roughly representative of the religious demographics of Akko.
Lankri regularly meets with Sheikh Samir Assi, the leader of Akko's Muslim Arabs (there are also Christian Arabs, Druze and Baha'i in Akko). Together, the Sheikh and Mayor plan the necessary improvements. "People here of all religions want good schools," Lankri says. "Along with schools, we built recreational areas and concentrated on revitalizing the old city, which is 95 percent Arab."
Recently Lankri and his supporters pulled off a coup by convincing a Pittsburgh philanthropist, Bill Strickland, to locate A-CAT, a state-of-the-art technology school that is open to all, in an industrial park.
Another example of close cooperation, which was so noteworthy that Israeli press covered it, occurred in 2015 when the two holy holidays of Yom Kippur and Id al-Adha fell on the same day. As Lankri put it, "They're not exactly celebrated the same way. Yom Kippur is a day for quiet reflection; Id al-Adha is a day for festivities, horn honking and BBQ'S." What to do to head off conflict in this tightly packed city? The mayor and the Sheikh sent emissaries to the schools and community groups to explain each holiday tradition to the other. The Arabs graciously agreed to limit their festivities to one main street. The Jewish community appreciated the gesture and everyone celebrated peacefully.
Lankri's focus on inclusiveness has helped nurture and build a vibrant Arab middle class. Today, he proudly speaks of the Arab businessmen, doctors and lawyers that form a bedrock of his constituents. He received 93 percent of the Arab vote. Deeb Bader, scion of prominent coffee merchants in the old city agrees, "The Mayor has improved all of our lives. He's brought the old city back to life."
Akko doesn't exist in isolation. With its waterfront walled city and lauded history, tourism is a big part of the economy. For the sybriatically minded, Uri Buri's seafood restaurant—which is number one in Israel—and the Efendi, a newly restored Ottoman-era hotel, draw well-heeled visitors. Uri, whose mantra is, "It all starts with mutual respect," is on board with the mayor's program.
To increase the tourist shekels even more, Lankri actively promotes his city's theater, music and cultural festivals.
Dare we ask, is there a larger message that is applicable to other Israeli cities? Lankri and his General Director, Ohad Segev, reply with an unequivocal "Yes!" Lankri's message is being heard. He is regularly visited by the mayors of mixed towns like Lod, a troubled, violence-prone municipality near Tel Aviv, and even Jerusalem. Israeli President Reuven Rivlin has visited Akko and was "supportive" of Lankri's efforts.
Does he have higher aspirations? When asked this question, he answered with the Israeli version of the Cheshire cat, a wry smile and upturned hands. According to an influential Israeli political scientist, Lankri's next step should be a national position.
Israel and the Mid-East might be a better place if he tried.
Additional reporting and editing by Deborah Grayson.
Jonathan Russo has been observing and writing about the Mid-East, domestic politics, and China for decades. In the last 10 years his articles have been published in The Huffington Post, Times of Israel, and his own site JavaJagMorning.com. He's been an executive in the NY media world for over 40 years and resides in Manhattan.